Diane Temme knows every name of the nearly 200 employees at TMCO.
As the company's chief administrative officer, she regularly tours the expansive facility, saying hi and chatting with workers.
It's through these conversations that she's able to see her refugee and immigrant employees' English improve, helped by twice-weekly classes the company offers.
"It starts very basic, learning letters and numbers and things," she said. "It becomes conversational ... when you walk in the shop and you say 'good morning' or 'how are you,' to see them slowly be able to respond, that's really cool."
More than one-third of TMCO's employees are refugees or immigrants, like Rafed Rida, a Syrian refugee who went to Iraq and then the United States.
Rida, who has worked at TMCO for 18 years, has moved up the ranks and now oversees the company as its chief financial officer.
He went to veterinarian school in Syria but had to start over every time he came to a new place.
"It is what it is, you have to face the reality," he said. "Every time we went from country to country, you have to start at zero or below zero.
"I'm not regretting — it just makes us stronger, to be honest."
Working with people from different backgrounds and overcoming language barriers has been a part of the company's fiber since founder Roland Temme hired his first employee.
The employee was deaf, didn't speak and had developmental disabilities, but was a skilled laborer and worked for TMCO until he retired, Diane Temme said.
"His family didn't think he could really work or do anything," she said. "I think that's always something we liked: We like to see people overcome and see people succeed."
TMCO started in 1974 and offers a full range of manufacturing fabrication services including assembly, prototyping, fabrication, powder coating and welding. It has served clients like the Pinnacle Bank Arena, Lincoln North Star High School, the Haymarket and the Sunken Gardens in its more than 40 years of business.
It has also developed a reputation as a good place to work for any employee, regardless of their background, Diane Temme said. It's one of the companies in town that is strengthened by Lincoln's diverse workforce.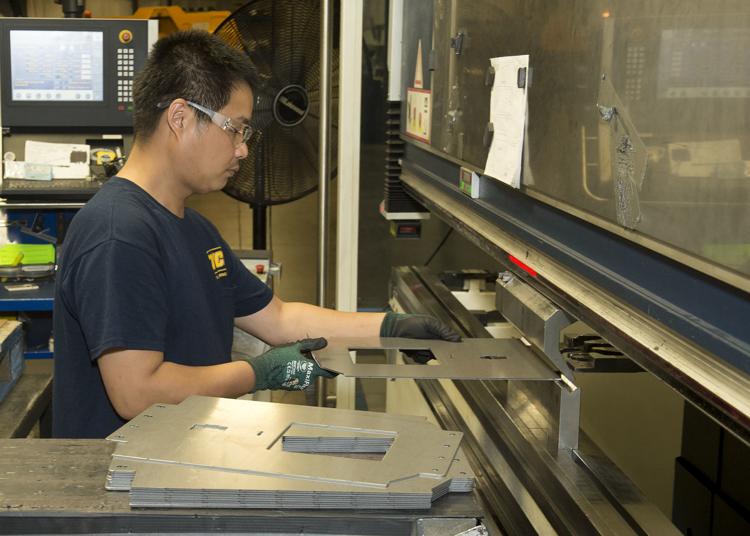 In the nearly four decades that refugees have called Lincoln home, they have become an integral part of the workforce and local economy, said Chris Decker, professor and chair of the Department of Economics at the University of Nebraska at Omaha.
The most common areas refugees are employed are meat processing, hospitality and construction, he said.
Refugees make up at least 20 to 30 percent of many of these businesses, according to a 2018 Fiscal Policy Institute study.
This year's reduction in resettlements will likely impact population growth, especially in a state where 95 percent of growth in the past decade was attributable to minorities, said David Drozd, research coordinator at the University of Nebraska-Omaha.
Population growth creates more demand for goods and services, which helps local businesses thrive, but a decline in population can create a downward spiral, Drozd said.
"Any slowdown does impact the population numbers and growth," he said. "When you have population loss it's a vicious cycle of businesses closing and people moving away."
While migration used to be a primary driver of population growth, it has recently been surpassed by births, Drozd said. Second migrations are also playing a large role, with refugees and immigrants moving from other cities for already-established communities, immigrant-based services and specialized shops like ethnic grocery stores.
Decker has heard the argument that refugees take local jobs, but he doesn't see that as a pervasive issue in Nebraska.
He believes when there is a larger pool of potential employees to choose from, wages often fall and employers are more likely to hire more people.
Conversely, having fewer hireable workers raises wages, which may cause businesses to hire fewer workers.
"If you remove the immigrant group you're not necessarily going to have jobs for everyone else," Decker said. "Simple supply and demand."
Lincoln has a 2.6 percent unemployment rate with 4,000 open jobs every day, said Bryan Seck, director of workforce development at Lincoln Partnership For Economic Development.
Having fewer new arrivals will have repercussions in many sectors of the job market, he said. Already, there are many Lincoln employers looking to fill empty spots, as evidenced by issues like the seasonal laborer shortage.
There are many reasons refugees make good additions to companies, said TMCO Vice President of Operations David Temme.
"They're just trying to make it however they can and they want to work, so they'll show up, you don't have to worry about them being unreliable," he said. "They work hard because they need to keep their jobs to support their family."
Some refugees are taken advantage of because they need to make ends meet, and they face obstacles like the language barrier, he said. Because of this, many will work demanding jobs in poor conditions.
Recently in western Nebraska, U.S. Immigration and Customs Enforcement officers issued criminal arrest warrants for 17 employers and other individuals charged with exploiting illegal immigrant employees in six Nebraska communities during a series of raids that swept up 133 workers.
"They're in survival mode of providing for their families here and I think sometimes, anybody in that situation would be taken advantage of," David Temme said. "A lot of people are working in poor conditions or they're not getting paid well or there's no advancement opportunities for them."
TMCO tries to make the workplace positive by providing a comfortable work environment, a family-first mentality and ways to move up in the company.
Some refugees come in with degrees or other experience from their home country and have to start over. Diane Temme is cognizant of these disadvantages and provides additional support like helping them through insurance paperwork or making doctor's office calls.
In turn, the company is stronger for its diverse workforce, with employees learning from each other, she said.
The company makes concerted efforts to integrate its workforce with potlucks and other social events, which employees have come to look forward to, she said.
"Everybody brings something and it's so diverse and everybody's welcome to it," she said. "Some of our (white) employees, they look forward to the noodles and the sushi.
"It's not a coincidence that people like to come here and we have a really integrated and diverse workplace that we all work together. We really actively try to get people connected and engaged."