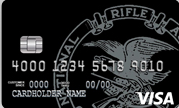 Nebraska's largest bank has decided to cut ties with the National Rifle Association.
First National Bank of Omaha said Thursday that it will not renew its branded credit card deal with the NRA.
Kevin Langin, a spokesman for First National of Omaha, which is the largest privately owned bank in the United States, said the decision was made after "customer feedback (that) has caused us to review our relationship with the NRA."
The bank had faced the prospect of a public protest from the group Nebraskans Against Gun Violence, which sent an email to bank officials on Wednesday asking the bank to take "a stand against gun violence by ending its NRA promotions."
"If you decide to continue offering benefits to NRA members, we intend to organize a public protest of your bank and have already secured the commitments of several of your customers to cancel their accounts because they do not want to support a bank that actively promotes the single largest obstacle to the reduction of gun deaths in the United States," the email said.
Amanda Gailey, the group's director, said she applauded the bank for listening to customer concerns that, "the time has come for us to stop aggrandizing gun culture."
"I'm really thankful that they heard that message," she said.
First National's announcement came after the progressive news website ThinkProgress listed the bank as a company that supports the NRA. ThinkProgress noted that First National Bank offered two NRA cards with a $40 bonus and touted it as "enough to reimburse your one-year NRA membership!"
The NRA has faced intense criticism following the school shooting in Florida earlier this month that left 17 people dead.
NRA officials could not be reached for comment.
First National, through its First Bankcard subsidiary, does branded Visa credit cards for a number of businesses, including Scheels and Best Western hotels.
First National did not say when the contract will end or how long it has had a relationship with the NRA. However, the website for the NRA-themed credit card was disabled as of Thursday.
Reach the writer at 402-473-2647 or molberding@journalstar.com.
On Twitter @LincolnBizBuzz.
The Associated Press contributed to this story.