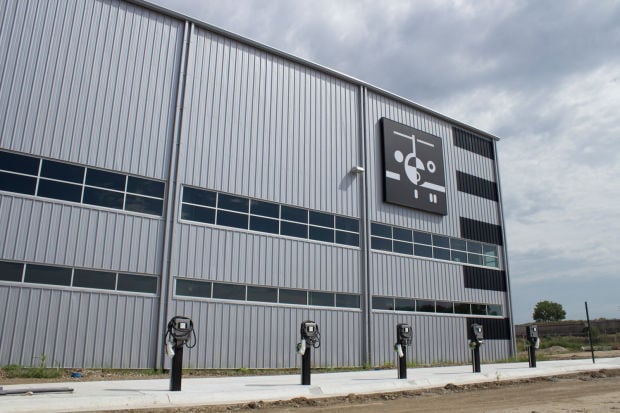 Electric car owners in Lincoln will soon have places other than their homes where they can charge up.
Lincoln Electric System is putting two electric vehicle charging stations in a city parking garage that's under construction at 530 P St.
Marc Shkolnick, manager of energy services at LES, said the two stations will be on the first level of the Green Deck No. 2 garage.
Each station will have two charging ports, and one port will be dedicated for LES use for charging its three electric vehicles. The other three ports will be open to the public, the first in Lincoln.
Shkolnick said the project is sort of a test to gauge the demand for electric charging stations in Lincoln.
"This really is all about learning and understanding, since it's all new," he said.
Electric car use is growing in the U.S., although it remains a very small portion of overall auto use. There were about 96,000 plug-in vehicles sold last year, a more than 80 percent increase over the 53,000 sold in 2012.
Shkolnick said there are between 100 and 150 "electrically charged" vehicles registered in Lancaster County. That includes plug-in hybrids such as the Chevy Volt, as well as all-electric cars such as the Nissan Leaf.
Most people charge their cars at home, but he said he envisions several potential users for the new charging stations, including people who live downtown, those who work downtown and people coming in from out of town to go to an event such as a concert or basketball game.
Shkolnick said the charging stations, which come from a company called ChargePoint, will be installed next week and should be operating when the garage opens next month.
The stations will charge a $2 flat rate for a charge, which can be paid by credit card, a special ChargePoint card or over the phone.
The two charging stations will join five that were recently installed at Duncan Aviation's new maintenance hangar H at the Lincoln Airport.
Duncan's stations will not be open to the public, only to employees and customers.
In a news release, Duncan said many of its employees commute from smaller communities, making a charging station not only convenient but necessary for those who exceed the 60 to 260 miles per-charge range of most electric vehicles. The company said it has left room for expansion to add up to five more charging stations if employee usage dictates it.
The seven new charging stations will give Lincoln nine -- there are charging stations at Sid Dillon Nissan and BMW of Lincoln -- more than any other city in the state.
Seward has more public stations, with three. Kearney has two public stations, both at Hy-Vee grocery stores.
Several other smaller cities in the state, including Nebraska City, Sidney, Wayne and South Sioux City, also have public charging systems. Those towns are all part of the Nebraska Community Energy Alliance, which received a $400,000 grant from the Nebraska Environmental Trust to provide matching funds to pay for electric cars and charging stations.