It could be a while before Lincoln startup companies see another year like 2021.
Firms based in Lincoln raised nearly $300 million in venture capital in 2021. Not only was that the most for one year among Lincoln firms, it blew away the previous high for the state.
Leading the way was Monolith, which secured $120 million in venture capital from a consortium of big-time firms, including SK Inc., NextEra Energy and Warburg Pincus.
The high-tech manufacturer is in the midst of a $1 billion expansion project to increase the size of its carbon black manufacturing plant near Hallam and add a plant that will produce anhydrous ammonia using the hydrogen generated by the carbon black process.
While Monolith wasn't founded in Lincoln — it moved its headquarters here a few years ago from California — the city's homegrown startups shared in the big year.
The list was topped by BasicBlock, a financial technology company that makes it easier for truckers to get paid, which hauled in $78 million in November from a number of investors, including Nelnet.
Among homegrown startups, that was the largest amount of money raised by any company not named Hudl.
November was a big month for Lincoln startups, as Virtual Incision, which makes a surgical robot that can perform minimally invasive abdominal surgeries such as colon resections, received a $46 million investment during the month.
That amount brought Virtual Incision's total venture investment to nearly $100 million since 2015, a cumulative amount that's also second only to Hudl among Lincoln-based firms.
The other major venture capital raise last year was the $30 million reeled in by CompanyCam in October. The startup created a photo app that helps contractors document and track their projects.
Among other investments that were publicly disclosed were a couple of $500,000 investments, one in March targeting Pawlytics, a company that produces software that helps manage small-animal shelter and pet rescue organizations, and another in November for Bumper, a company with an app focused on helping teenagers invest.
Not all of the news involving startups over the past year involved companies getting money. In a significant move, Lincoln-based Invest Nebraska announced it was partnering with Burlington Capital of Omaha to start a venture capital fund aimed at investing in agricultural startups based in Nebraska and other Midwestern states.
The fund's goal was to raise $11 million by the end of the year.
In other notable Lincoln startup news:
* After spending more than a decade in the former Salvation Army building at Eighth and P streets, Don't Panic Labs, which provides software and engineering development services to other companies, moved to a larger space in the Larson Building at 13th and Q.
* In early 2022, a new crop of companies was named to the Lincoln Partnership for Economic Development's LaunchLNK program, which provides $25,000 grants as well as free professional services and connections to mentors.
The five companies named to the program were FanWord, Senior Care Finder, Sentinel Fertigation, Tiiga and Little Movements Apparel. All five companies are based in the Lincoln area.
The 10 most-read stories of 2021 on JournalStar.com
'I think it's ridiculous we're at 48': John Cook pushes for late changes to NCAA Tournament
Two of the top volleyball coaches in the country are making a late push for a 64-team NCAA Tournament.
The entire tournament will be played in Omaha from April 13-24. The tournament selection show is just 12 days away.
Kelly Sheffield, the coach of top-ranked Wisconsin, and four-time national champion coach John Cook would like to see 64 teams in the field as it has in recent years. Currently, the plan is for 48 teams to converge upon Omaha.
The topic came up last week as the nation watched the NCAA men's and women's basketball tournaments go on with 64. Those sports had their tournaments canceled last year, which wasn't the case for volleyball.
On Monday, Sheffield posted on social media that six months ago when the coaches learned there would only be 48 teams in the tournament, they were just happy to have a season. Now after seeing the basketball tournaments go on as scheduled, Sheffield says the NCAA should do the right thing and increase the volleyball tournament back to 64 teams.
Cook was asked about the topic during his weekly news conference on Tuesday.
"I totally agree with (Sheffield)," Cook said. "I think it's ridiculous we're at 48. Basketball didn't cut back, why are we cutting back? Football didn't cut back, why are we cutting back? Especially the fact that it's all in one place. You're really looking at 16 more teams, and it's all going to be in one place anyways, so they can make that adjustment."
Last week the NCAA staff apologized after differences in the men's and women's tournaments were revealed on social media, such as the size of the weight rooms for the athletes and COVID-19 testing procedures. Several women's basketball coaches spoke out on the men's and women's tourneys not being equitable.
"The NCAA is under a lot of fire right now, especially with women's sports," Cook said. "They're going to pay a big price, I think. This would be one way they could start showing that women's sports are important. I think they lumped volleyball in with other sports that they're trying to limit the championships, but the fact we've gone to one place saves money. To me, it's a no-brainer. I'm glad he tweeted something about it. Maybe they'll listen."
The volleyball tournament will have 30 automatic qualifiers and 18 at-large selections. If Wisconsin maintains its current lead in the Big Ten standings, No. 5 Nebraska (12-2) will be among the teams vying for one of the at-large bids.
Players set to return: Defensive specialists Hayley Densberger and Emma Gabel weren't able to play in Nebraska's last match due to COVID-19 contact-tracing reasons.
The players were negative on their most recent COVID-19 test, and Cook says they could have remained with the team but chose to be extra cautious and stay home.
Densberger and Gabel were scheduled to rejoin the team on Tuesday.
"We're trying to follow the strictest protocols and be as safe as we can with all of this, just because we've seen what's happened with Michigan, Michigan State and our men's basketball team," Cook said. "Once it gets going, and one of these new variants, it can wipe out the whole team. We're just trying to be as careful as we can."
Professional league nears finish: The professional volleyball league playing in Dallas is down to its final week of matches. Former Huskers Jordan Larson and Kelly Hunter are ranked first and seventh, respectively, on the leaderboard in the league's unique format where players earn points for wins, individual statistics and MVP awards. Ex-Husker Briana Holman is also in the 47-player league.
The league is different because captains draft new teams for each week. Several of the matches have been on TV.
"I think it's great that we're trying pro volleyball in the United States," Cook said. "The format for me is really hard to follow, and the teams are really hard to follow. I can only get connected to either Jordan's team or Kelly's team. … I think they're having fun, and it's good for women's sports to a take a shot at this."
Creighton ends lengthy streak: Creighton dropped out of the coaches' poll after a loss to Kansas State last week. The Bluejays (8-3) had been ranked in 63 straight polls dating to the 2016 season.
Watch now: Hundreds show up for Josh fight in northwest Lincoln
Josh Swain, a college student from Arizona, challenged other Josh Swains on Facebook to a duel over their name, randomly picking Lincoln as the battleground. On Saturday, hundreds gathered in Air Park to watch them fight with pool noodles.
Steven M. Sipple: Judging Frost harshly for McCaffrey decision? Be careful with that trap
There'll be a variety of reactions to quarterback Luke McCaffrey's decision to enter the transfer portal. 
Some Husker fans will use it as further evidence that Scott Frost's program is spiraling quickly.
As losses mount, everything becomes a crisis.
I'm not getting caught in that trap. Not this time. 
Every time a student-athlete decides to enter the transfer portal, or opt out or do whatever best suits him individually, I'm not going to make a lot of assumptions about what the head coach is or isn't doing right with his program at large. Making those sorts of assumptions is ignoring what's going on in the world. 
Here's what's going on in the world: A transfer portal was created to help facilitate the process of players leaving programs for other programs. A portal — tell me you don't love that word — needed to be created because players are leaving programs across the country in increasingly large numbers. The last I heard, there were more than 1,400 players in the portal, including 130 from Big Ten programs, or 9.3 per school. 
Here's what else is going on in the world: The NCAA at some point is likely to enact a one-time transfer exception, meaning transferring student-athletes can play immediately at their new school. That'll only increase the number of departures.
Someday soon, perhaps someone will explain to me how a transfer portal (and eventually a one-time transfer exception) is helping college football. Think about it. How is it really helping? I'll wait for your response. 
I do know that a transfer portal and one-time transfer exception give players an easy "out" if their coaches actually are requiring them to compete for a starting job, or pushing them hard to be their best. Heaven forbid.   
This is not necessarily to suggest McCaffrey jumped in the portal because he was averse to competition with 27-game starter Adrian Martinez and freshman Logan Smothers and whoever else. McCaffrey, a redshirt freshman, perhaps has perfectly legitimate reasons to bolt. You have to respect that.
There's awkwardness in this story, though. By waiting for the spring semester to begin Monday before making his exit official, McCaffrey ensured he'll receive his full grant in aid, including a stipend of around $1,600 per month, even though he's not even in Lincoln. Frost will bite his tongue on that part. The McCaffrey family is royalty in American football. It probably would be unwise to make life difficult for them. 
Man, this stuff can be messy if you overthink it. So I'm not overthinking it. 
I'm also making it a practice to judge these matters on an individual basis.
Kade Warner fell far down the Nebraska receiver depth chart, and Will Farniok takes a deep back seat at center. They'll search for better situations elsewhere. 
This is the world we're in. Robinson had his own reasons for leaving, reasons that had absolutely nothing to do with playing time. In transferring to Kentucky, Robinson can be closer to his mother, who has health issues. What's more, Robinson wanted to find a program that better highlighted his skill set and therefore improve his NFL Draft stock.
If McCaffrey's making decisions based on his future NFL Draft stock as a quarterback, then he's getting bad advice from someone. With development, he perhaps can become a good college quarterback somewhere, perhaps even a starter, but at this point, McCaffrey becoming an NFL quarterback seems a far-flung notion.
He completed 48 of 76 passes this season (63.2%) for 466 yards and a touchdown, with six interceptions. 
Martinez started the remaining four games. If McCaffrey was going to re-win the job, he was going to have to earn it throughout the offseason. He likely would've again pushed Martinez, and perhaps NU coaches eventually would've had to make a decision. That sort of competition can be beneficial to the principals as well as the entire team. 
Such competition also might require a redshirt freshman to be patient and wait his turn. Nobody's saying McCaffrey lacks patience or didn't want to compete. But you wonder because, well, he bolted. 
You also wonder because his brother, Dylan McCaffrey, opted out of the 2020 season in mid-September while remaining enrolled at the University of Michigan until late last week, when he finally entered the portal. A 6-5, 220-pound senior, Dylan McCaffrey had been competing for the starting job in the preseason with Joe Milton and Cade McNamara but reportedly fell behind in that competition. 
It's difficult to know exactly why two McCaffreys each chose a similar path. You can make all the assumptions you want. You can even use it as evidence against Frost (and Michigan coach Jim Harbaugh) if you choose. 
You won't catch this college football fan doing that, though. In this day and age, with players leaving programs frequently, it seems irresponsible to lay blame on and/or judge coaches every time a high-profile player makes an individual decision. 
Let's face it, the notion of "team" often takes a back seat in these discussions. 
'Little Josh' dubbed winner of the Battle of the Joshes; community also benefits from event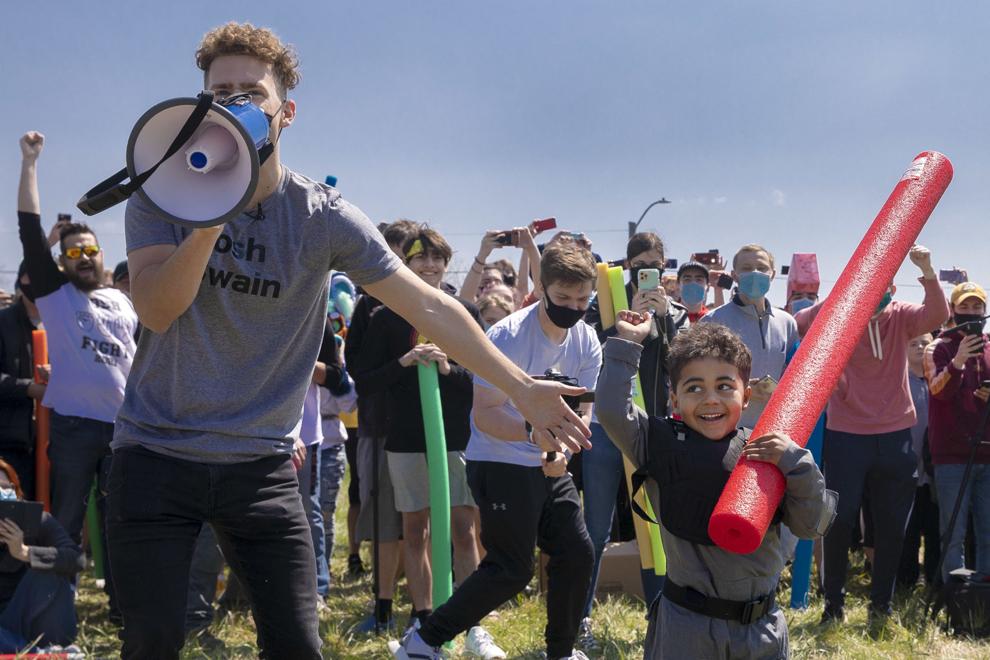 With one final swing of his red pool noodle, Josh Vinson Jr. — nicknamed "Little Josh" by the crowd — won the inaugural Battle of the Joshes on Saturday.
Hundreds of people — some from as far away as Washington and New Jersey — circled around him as a Burger King crown too big for the 4-year-old's head fell to his shoulders. His dad — Josh Vinson Sr. — shouted "lift him up," and a man proudly lifted Little Josh on his shoulders. The crowd cheered as Little Josh showed his championship belt.
"It's pretty awesome," said Vinson Sr., reflecting on his son's new fame.
The idea for the event originated a year ago with a Facebook message to people named Josh Swain. The original Josh Swain — a college student from Arizona — wanted Joshes to battle to determine the real Josh Swain and picked random coordinates and a date to meet.
The coordinates placed Swain in Lincoln, and Joshes from across the country gathered at a green area in Air Park and swung pool noodles to determine the one true Josh.
A Josh Swain from Omaha showed up, but lost a game of rock-paper-scissors, and thus his chance of being named the real Josh Swain.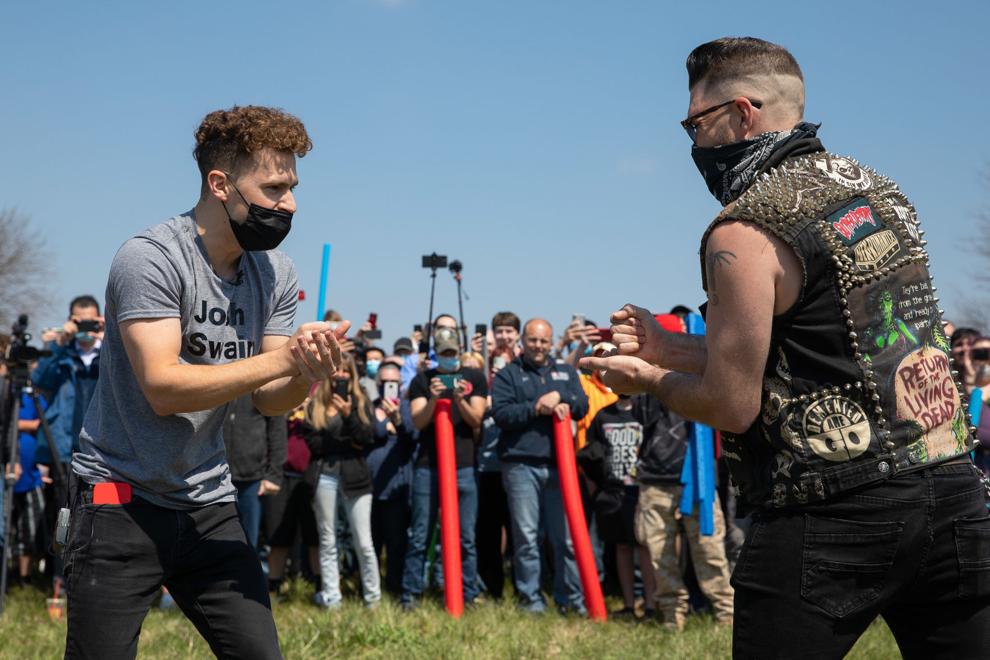 In addition to the pool noodle battle and rock-paper-scissors duel, people donated nearly a ton of food for the Food Bank of Lincoln and raised more than $8,000 for the Children's Hospital and Medical Center Foundation in Omaha. "Little Josh" suffered from seizures when he was about 2 years old and received treatment at Children's Hospital, so his victory seemed meant to be, his dad said.
With the donations, large turnout, superhero costumes and well-designed pool noodle weapons, the event exceeded most everyone's expectations, including Swain's — the one from Arizona.
"I am having, like, an out-of-body experience," he said. "I'm sitting in my hotel room alone, just trying to act like I wasn't with 2,000 people just fighting for their name. It's incredible."
Ryan Wall — a sophomore majoring in physics and theater at Nebraska Wesleyan University — became the public spokesperson for the event after a TikTok he created received 1.3 million views. He helped Swain by shopping for masks and other supplies.
Before the TikTok, he didn't think he would attend. But now he's glad he was involved. 
"It's something that's very rare to happen in Nebraska, for this many people to come together and do something silly like this," he said.
Swain also posted a Reddit message asking for help to contact local food banks. Betsy Walker, a 20-year-old from Lincoln, stepped up and helped Swain spread the word about food donations. By the end of the event, she had four carloads of food and supplies.
"It's been such a really good show of people coming together for a good cause, but also something just really fun," she said. "I think after everything we've been through in the past year, it's really good that we've had this."
Connor Hogan came from Montrose, Colorado.
People who were at the event will remember Hogan as the guy with the drills. In a stroke of genius, Hogan attached pool noodles to cordless drills so the noodles could spin around him, instead of him having to physically swing the pool noodles.
Though he is not named Josh, he said he was stepping in for his friend named Josh. That Josh doesn't know he came to represent him, but Hogan believes he would be OK with his representation.
"Better to ask for forgiveness later than permission now," he said.
High school friends from St. Louis also reunited at the battle of Joshes. Josh Kelsey — who was shirtless with "Big Josh" written on his chest — drove to Lincoln from St. Louis thinking that if the battle was a bust, he could at least hang out with his friends.
Kelsey quickly became popular, as several people asked to take a picture with him. His friends — Union College students David Gutierrez and Finn Stevens — also were there. The friends said the event exceeded expectations.
"I was expecting 30 people at max," Kelsey said. "This is insane."
As people wandered through the crowd, they signed a plaque to prove they witnessed the battle and asked for autographs from people named Josh. The Joshes signed anything from a can of corn to pool noodles. Swain had a line of hundreds of people who all wanted a photo with him.
"I'm just a dude," Swain said. "I'm just a guy, and people are like 'Oh, my god. Can I get your autograph? Can we get a picture?' I'm like, 'Yeah, I guess.' It's so weird. It's so bizarre."
"Little Josh" has also gone viral on Twitter and has been the center of many new memes, including one where he is compared to Jesus. His father took him to the event after hearing about it on Facebook, and he certainly did not expect for his son to receive so much attention.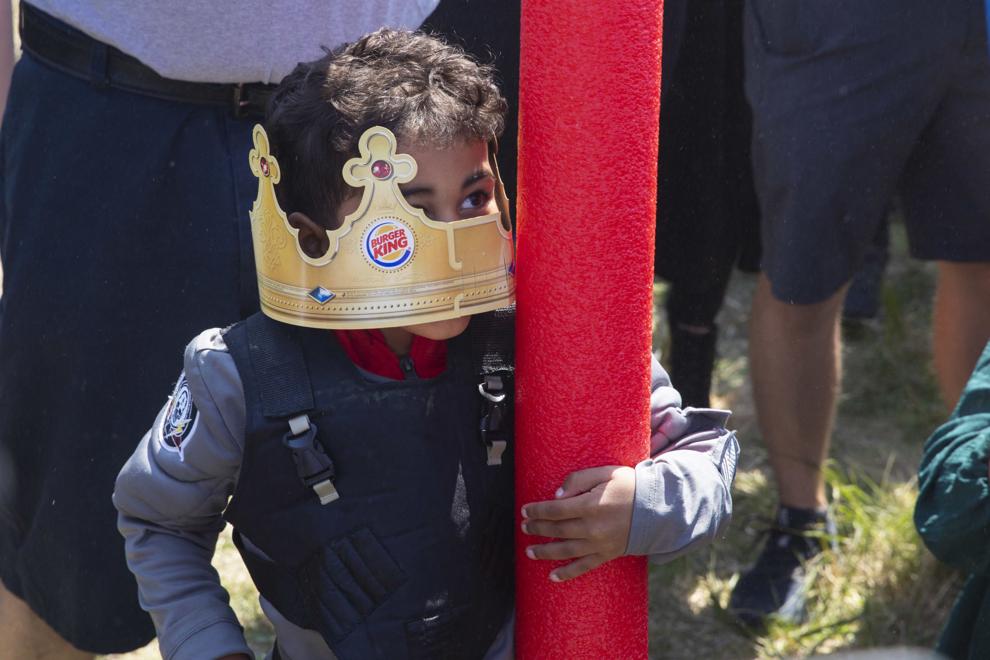 "He loves attention," his dad said. "He's always wanted his own YouTube channel, so there he is. He's famous."
Swain encourages people to continue to donate to Children's Hospital, and he's thrilled that so many donated food.
"It just shows how Lincolnites — how incredible they are, how incredible the internet is," he said. "It's bizarre, but (in) such a good way."
Calling all Josh Swains: The battle for your name is taking place right here in Lincoln
Josh Swain from Tucson, Arizona, is the Josh Swain, or so he claims.
He's not the only Josh Swain, though. Certainly not the first with that name, either. But he is likely the most famous Josh Swain in the world.
Last April, this particular Josh Swain, a 22-year-old college student with aspirations to be an engineer, messaged dozens of others who shared his first and last name on Facebook, challenging them to a battle for the right to that name.
Now, the Josh Swain Fight, which first started as an innocent joke to while away the hours early on in the pandemic, is actually happening in Lincoln, of all places.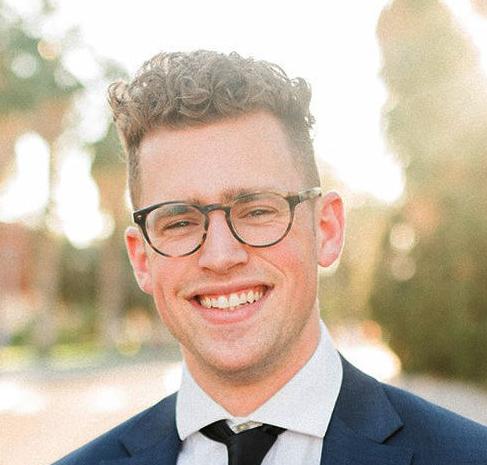 "I picked the coordinates at random," Swain said over the phone from Tucson on Wednesday. "It was like throwing a dart at Google Maps."
Swain said he always noticed how when he signed up for online accounts — like on Twitter or Instagram — his username would already be snatched up.
"I've never met a Josh Swain in my life," he said. "How is this such a common thing?"
So last April, in the quarantine doldrums and with nothing better to do, Swain messaged 20 or so people who shared his name on Facebook. 
"You're probably wondering why I've gathered you all here today," Swain messaged them.
Another Josh Swain replied: "Because we all share the same names ...?"
He then gave out coordinates for the Josh Swain Fight. It was to be held a year from that date, April 24. The rules were clear: Whoever wins gets to keep the name. Everyone else has to forfeit theirs.
About three Josh Swains replied, but it didn't turn into much.
"It was entirely a joke," he said.
Swain tweeted screenshots of the group chat on Twitter and garnered thousands of likes and retweets. Then came the pages on Reddit devoted to the fight: Swain Bowl and Josh Swain Battle, which has more than 3,000 members. There's an entry on it at Know Your Meme, the online meme encyclopedia.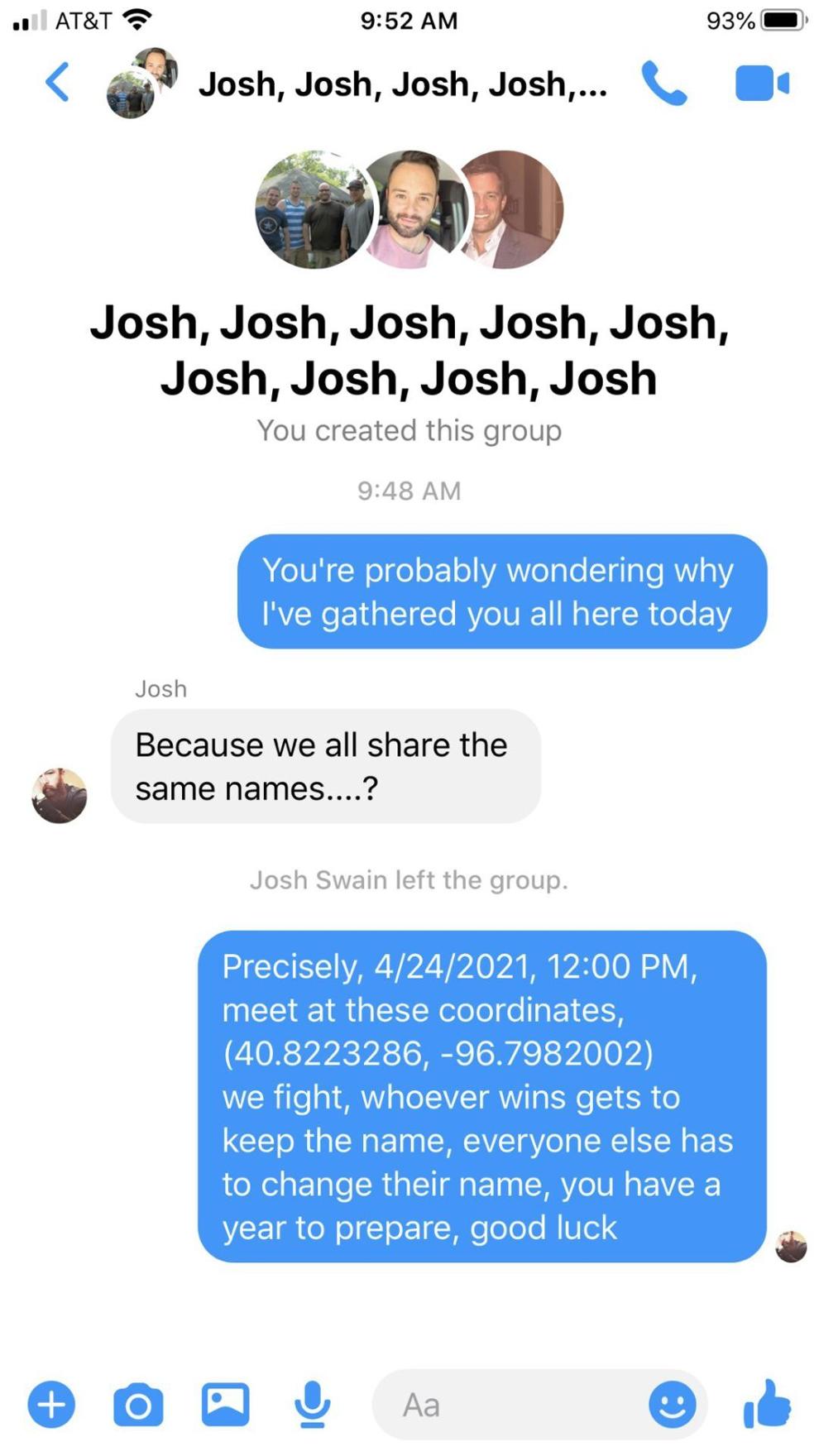 "Everyone is talking about my name," he said. "I see people making memes about me and my name, and it's the weirdest feeling ever."
Swain himself didn't think it was actually going to happen until some friends about three months ago brought it up again. People were still sharing the meme online.
"'Remember this thing from nine months ago?'" his friends told him.
"It was like, 'Oh, my gosh, they remembered.'"
So he messaged the Josh Swains again and told them he booked a flight to Lincoln for the battle. He changed the meeting place slightly to a green space in Air Park, at 4500 N.W. 45th St. The original coordinates led to a farm whose owner "did not agree to host such a ridiculous event."
He'll be there at noon Saturday, exactly a year after he challenged the Josh Swains of the world to a duel. He isn't sure if anyone will show up.
One Josh Swain said he couldn't book a flight, and the Arizona Swain hasn't heard from the others. He says he's heard there is a Josh Swain in Lincoln and one in Omaha who may come.
"Honestly, I'm hoping I'm the only one, and I can just take my title."
But if any Josh Swains do show up, there won't be an actual fight (although someone online from Lincoln offered to bring boxing gloves).
Instead, people are invited to bring pool noodles for friendly jousts: one for the Josh Swains, one for people named Josh, and one for anyone else who comes.
Swain, who is fully vaccinated, said it's awesome to be holding this event as a marker of how much has changed in a year.
"It's a cool kind of reminder that we're getting over this," he said.
It'll be a nice vacation, too. He's never been to Nebraska, even though his dad was born here, and he's looking forward to visiting Lincoln. Plus, kind strangers are already giving him some solid advice when he does get here.
"People told me I had to go to Runza."
The Scene: Frost's idea comes to fruition as Huskers exit team buses looking especially spiffy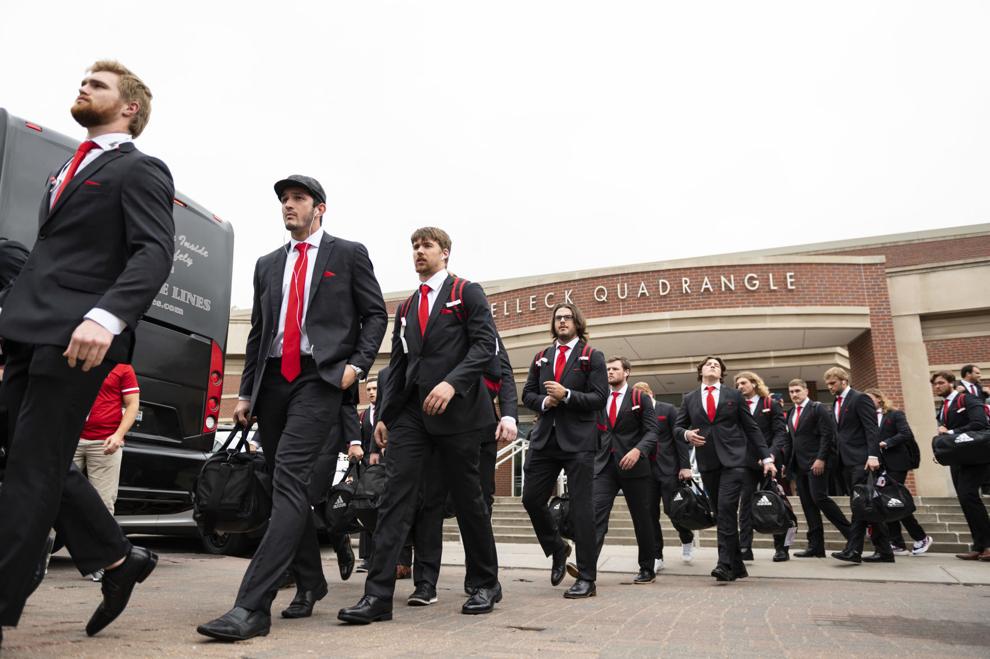 This gives new meaning to a team looking impressive as it comes off the bus.
Nebraska players exited team buses a couple of hours before Saturday night's game looking especially spiffy.
Each wore a new charcoal-gray suit and white shirt with a red tie and pocket square.
Husker fourth-year head coach Scott Frost came up with the idea during the summer, thinking it would be a good way to improve team unity and image.
Nathen Rutt of Gary Michael's Clothiers in Lincoln quickly flipped into action.
"Scott told me, 'Hey, I'm trying to get this thing turned around and it's taking longer than I hoped for, but I'm really trying to get the unity thing going and get everyone on the same page,'" Rutt said. "He said he would like to have all the guys in a suit so when they get off the bus, it's kind of like what Ohio State, Minnesota and some other Big Ten schools do."
Unveiling the look on Homecoming made perfect sense.
However, from Rutt's standpoint, it's been a challenge, although one he fully embraced.
In fact, outfitting the team in this manner was something Rutt and Gary Michael's Clothiers owner Gary Novotny had on their minds for several years.
Long story short, the process of getting it done has kept Rutt busy in recent weeks.
He measured some 100 players for their suits Aug. 11, a process that took 2½ hours. After the suits were delivered to Gary Michael's, Rutt's tailor worked on them for a solid month.
This week, Rutt went to the stadium as all the players tried on their suits — paid for by the university as part of an allotment for team-required apparel.
"They were excited about it," said Rutt, a 46-year-old Hastings native who's worked for Novotny for 27 years. "It's a nice suit, an all-wool suit."
The players showed off the new look at a different drop-off point than usual. This time, they got off buses near Selleck Hall and the Student Union and walked through the new student tailgate area north of the Union before proceeding to Memorial Stadium.
Nebraska will wear the suits for all homes games.
Frost originally requested black suits.
"You've got to understand that in our business, it's just like everything else in the country right now — the supply chain is totally messed up," Rutt said. "So I got the inventories from some companies, and the one major company that I used said, at this price range, there's no way we could get black."
"You really can't tell the difference from 10 feet away," Rutt said. "I mean, it's a dark charcoal."
What's more, "With black, you've always got to wear black shoes," Rutt said. "With charcoal gray, a guy can wear a brown shoe or tennis shoe or whatever."
You're welcome for the clothing tip.
Watch Now: Hundreds protest outside UNL fraternity after reported sexual assault
Hundreds of protesters converged on a University of Nebraska-Lincoln fraternity house Tuesday night after reports surfaced of an alleged sexual assault at the house. 
The crowd organized outside of the Phi Gamma Delta house at 1425 R St. at 10 p.m. on Tuesday, chanting at the men inside, one of whom is alleged to have sexually assaulted a UNL student sometime Monday night.
UNL Police Chief Hassan Ramzah said the alleged assault is under investigation and the department is "looking at a variety of different factors based on what was reported."
The alleged assault was reported to campus police at 3:47 a.m. Tuesday. 
Around 18 hours later, a wave of UNL students flooded the block of R Street in front of the Nebraska Union and largely remained there for more than two hours, holding signs and shouting chants and expletives as officers from the university's police department and LPD looked on.  
Largely unmasked demonstrators shamed and made demands of the fraternity, often in rhythmic, call-and-response fashion.
"Kick him out," they chanted, referring to the UNL student accused of the sexual assault whom the crowd later identified by name. The Journal Star is not releasing his name pending the police investigation. 
"Twenty-to-life," they chanted.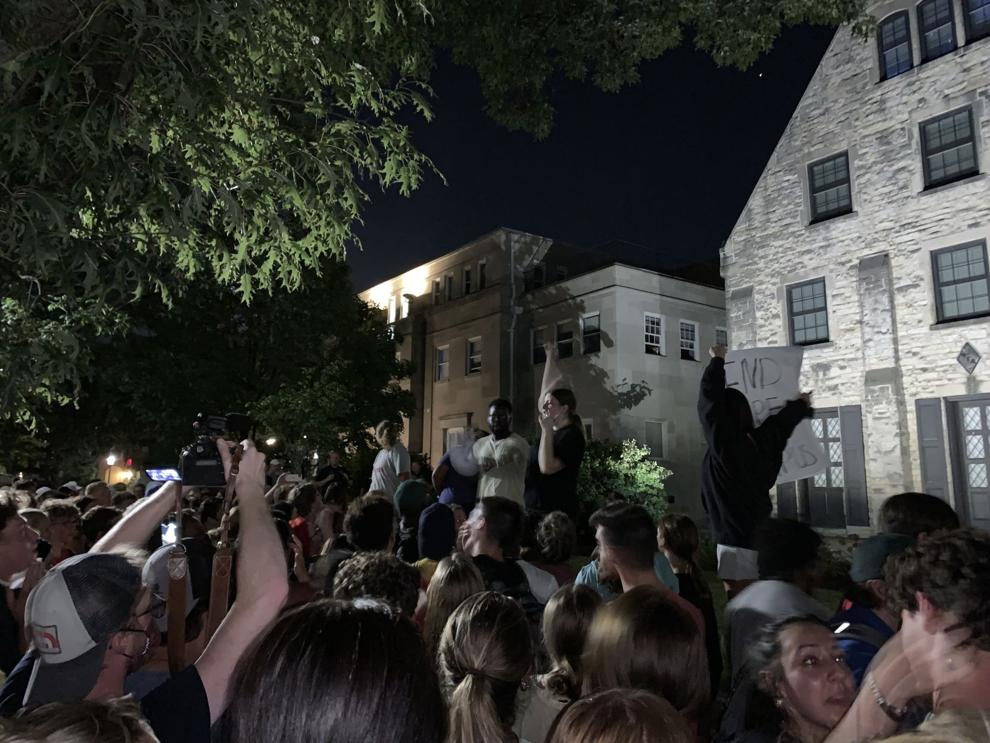 First gathering on the steps of UNL's student Union across the street from the Phi Gamma Delta, or Fiji, house, protesters trickled out onto R Street and then consumed the entire block, inching closer to the fraternity's front door as the night dragged on.
Police intervened only when some demonstrators hopped a thigh-high stone wall and stood on the fraternity's front lawn, where UNL police officers told protesters they were trespassing. 
Ramzah said the department's goal was ensuring students had a safe environment to express their right to protest. One demonstrator had contact with police after he entered the fraternity house's lawn and tried to take someone's bullhorn, Ramzah said, though the police chief wasn't sure if the man was actually detained or if he was just escorted away from the crowd. 
There were tense moments scattered throughout the night, when the crowd's rhetoric escalated with calls for the accused to show his face and for demonstrators to "burn it down," referring to the fraternity house. 
At around 10:30 p.m., a video emerged from inside the house via AirDrop — an Apple sharing feature that, depending on your phone's settings, allows you to share images with nearby strangers. In the video, men standing behind the camera watching the crowd from a window appeared to laugh as protesters chanted outside. 
Shortly after the video circulated through the crowd, a faction of protesters maneuvered toward an alley behind the row of houses on the south side of R Street, but police blocked that effort — prompting some to turn their frustrations toward officers. 
"You're here for the rapist, right?" one protester, a woman, screamed. 
Nearly an hour into the demonstration, Dominique Liu-Sang — who emerged last summer as an active voice in local protests over racial bias in policing — carried a bullhorn and gave a series of impassioned speeches to the crowd. 
Liu-Sang led the crowd of hundreds in a moment of silence for the alleged victim that stretched on for five minutes — a striking show of solidarity from a crowd that had seemed untameable for more than an hour leading up to the moment. 
In the minutes following, the 22-year-old called on attendees to email their concerns about both the accused student and the fraternity to UNL Chancellor Ronnie Green. 
In 2017, UNL suspended the fraternity, often called Fiji, for "reckless alcohol use, hazing and inappropriate sexually based behavior," a university spokesperson said at the time. The suspension lasted until 2020. 
As the protest neared its second hour, Liu-Sang seemed to call for a reckoning with Greek life as a whole, asking fraternity members of any stripe to step back into R Street, allowing space for women to come forward, closer to the house where the assault is alleged to have occurred. 
"You pay to be safe here," she told the women, later calling for the expulsion of the accused student. 
Other than a few men peeking out of windows, the Phi Gamma Delta house remained still throughout the night. 
In a statement released amid the protest, the fraternity said it was "working closely with UNL Police" to help investigate the alleged assault. 
"As the investigation continues, we are prepared to take immediate, appropriate action to ensure the safety and security of all who are part of or visit Phi Gamma Delta," the statement read in part. 
By midnight, much of the crowd had dispersed, but a small, engaged group — led by Liu-Sang and a handful of sign-wielding demonstrators —  clustered about 10 yards in front of the fraternity's door, still chanting. 
"She could've died," they repeated in unison. 
As storm clouds rolled in from the northeast, the group kept chanting. And they pledged to return on Wednesday night.  
Steven M. Sipple: McCaffrey's decision sparks serious discussions; and Georgia eyed Fisher
Things I know, and things I think I know (emergency midweek edition): 
Well, it seems a lot of people think Nebraska football is in a state of emergency in the wake of another losing season followed by a rash of players jumping into the transfer portal.
If nothing else, it makes for a spirited point-counterpoint discussion.
Sage Rosenfels, a former Iowa State and NFL quarterback, sparked conversation with a Tuesday tweet:
"Nebraska football reminds me of the time that Army used to have a highly regarded nationally ranked football program. Btw, two of these players are sons of former NFL players. Their dads know a bad culture when they see one." 
Luke McCaffrey and Kade Warner, who entered the portal Tuesday, are sons of NFL legends. Perhaps Rosenfels heard directly from Ed McCaffrey and Kurt Warner that the culture in Nebraska's football program is indeed "bad." You hope Rosenfels didn't simply see the news of the portal entries and jump to conclusions. You can get away with wild speculation easily in this day and age, but it doesn't make it right.  
On the other hand, Scott Frost perhaps should be somewhat concerned about at least one statistic that applies to this discussion. Of the 25 scholarship players who have left his program since Dec. 1, 2019, 17 were from the offensive side. The offense is Frost's baby. He spends the majority of his time dealing with that side of the ball. 
The most significant hits in terms of talent were Wan'Dale Robinson, JD Spielman, Noah Vedral and McCaffrey. Marcus Fleming flashed potential as a receiver. Maurice Washington also showed potential (read: perimeter speed) before he was dismissed from the team. Katerian Legrone and Andre Hunt also were dismissed.
Warner's decision to enter the portal raised eyebrows not because he was a main contributor at receiver, but because he was a team captain. 
Interior offensive lineman Boe Wilson started 24 games in his career but fell to the second string early in the 2020 season as a senior and transferred to Western Kentucky for one last go of it. 
The others on the list either didn't make much of an impact or weren't around long enough to do so: John Raridon, Jaron Woodyard, Jaylin Bradley, Darien Chase, Jaevon McQuitty, Matthew Anderson and Will Farniok. 
I've said it before: I try to consider each case on its own and carefully avoid sweeping generalizations. It seems dangerous to try to accurately assess almost any program's culture unless you're around it at least semi-regularly. 
It should be noted that Frost feels the culture in his program is better than it's been at any point since his arrival at NU in late 2017. He's adamant about it. 
On the other hand, you can't ignore that the vast majority of players who have left the program recently are on the offensive side of the ball. 
Frost, during an appearance last week on the "Sports Nightly" radio program, said programs all over the country have to get used to the volume of players transferring.
"Honestly, that's kind of the world we're living in now," he said. "Particularly this year when kids are expecting to become immediately eligible with the one-time transfer exception. That's just what we're going to have to deal with.
"Each one of those is different circumstances and different reasons, and we're certainly not alone. There's teams in our league that had really good years and lost nine or 10 guys. Guys all over the country are jumping in the portal. Some of them probably for good reasons and some of them are not. I think a lot of times when you decide to transfer, you think the grass is greener somewhere else and it doesn't turn out to be."
One final point: Nebraska has had seven players enter the transfer portal since the season ended Dec. 18 — the same number as Northwestern, the Big Ten West Division champion. The Wildcats' top two running backs from this past season both entered last month. In addition, receiver Kyric McGowan entered as a graduate transfer after playing four seasons in Evanston, including three as a starter.
Is there a crisis in Pat Fitzgerald's program? Northwestern won the West in 2020, but is it headed for a fall?
Bottom line, Nebraska needs to start winning on Saturdays. That would quell much of the hand-wringing (and hysteria). Much of it; not all of it. Ask Hall-of-Famer Tom Osborne about that. 
Meanwhile, I'll try to hold off on snap judgments. 
* Jahmile Addae, defensive backs coach at West Virginia the past two seasons, has taken over the same role at the University of Georgia. That may not mean a lot to Nebraska fans unless they know Husker secondary coach Travis Fisher was squarely on Bulldog head coach Kirby Smart's radar. 
The longer Fisher is at Nebraska, the better for Frost and his program. A native of Tallahassee, Florida, Fisher has helped develop Cam Taylor-Britt into one of the Big Ten's best corners. Fisher started at corner in the NFL for seven seasons. Taylor-Britt's decision to stay around for another season was a wise move.
Same goes for safeties Deontai Williams and Marquel Dismuke.
All three could wind up in the NFL, their chances enhanced by Fisher's coaching. 
*  From 1977 to 2008, Tennessee football had two head coaches. Now it has its fifth — Josh Huepel from Central Florida — in the past 12 years.
Sound familiar, Nebraska fans?
The parallels between Tennessee and Nebraska's downturns are an interesting study. And here's another: New Vols athletic director Danny White hired both Heupel and Frost while at UCF.
Heupel will encounter a fan base with lofty expectations even though the program has been trapped in an awful cycle for years. He was an underwhelming hire. But at this point, top-shelf coaches aren't exactly crawling to Knoxville.
There's probably a lesson in there somewhere.
Steven M. Sipple: The sad story of the end of Frost's tenure at NU may now be writing itself
Nebraska athletic director Trev Alberts missed the Huskers' football game Saturday to attend his son's wedding.
If you're a Nebraska fan, you might say he didn't miss much. After all, the Huskers played a generally awful second half and dropped a 28-23 decision to a good-not-great Purdue team before 85,902 spectators at Memorial Stadium. NU finished minus-4 in the turnover category, and the Boilermakers held the ball for 38 minutes, 38 seconds, running 86 plays to the Huskers' 58. 
Didn't miss much? Anybody who missed this game actually missed what ultimately could be judged as an extremely important day for the program. 
This was perhaps the day that the story of the end of Scott Frost's tenure as Nebraska's head coach essentially began writing itself. 
It seems increasingly possible that when the 2021 regular season closes, Alberts will be left with a decision that isn't all that difficult — assuming he hasn't made a decision already.
Nebraska's record fell to 3-6 overall and 1-5 in the Big Ten. The Huskers' chances to reach a bowl game dropped to slim and none, and slim left town. NU's remaining schedule has home games against fifth-ranked Ohio State and No. 9 Iowa sandwiched around a road game at Wisconsin, winner of four straight games. 
In other words, any objective observer would tell you there's an excellent chance Nebraska will finish 3-9, which almost seemed unfathomable three weeks ago. Think about it. On Oct. 9, then-No. 9 Michigan escaped Lincoln with a 32-29 victory. At that point, Frost's supporters had a reasonable argument that his program was headed in the right direction. After all, NU was losing close games to ranked opponents. What's more, it hammered Northwestern to the tune of 56-7. 
Think about those night games Nebraska played against Northwestern and Michigan at Memorial Stadium. The place was absolutely alive. Charged to the max. Those scenes felt nothing like the scenes you often see in stadiums where an embattled coach is leading a team. In those types of scenes, you see empty seats and long faces and feel a sense of dread.
Yes, that's exactly what you saw and probably felt in the late-afternoon shadows Saturday as Nebraska stumbled around in the second half against Purdue (5-3, 3-2 Big Ten). 
Yeah, if you missed it, you missed plenty.
You missed seeing literally thousands of Nebraska fans head to exits after Purdue pushed its lead to 28-17 with 10:05 remaining in the game. It frankly felt like an indictment on Frost, a vote of no-confidence.  
I've been saying for weeks that both sides of the aisle — Frost's supporters and Frost's detractors — had strong arguments. I felt it was important for both sides of the aisle to respect one another's viewpoints. But then came Nebraska's dispiriting loss Oct. 16 at Minnesota. The Huskers had a bye last week, so you figured they would come out firing on all cylinders against Purdue. 
We now know otherwise. Nebraska junior quarterback Adrian Martinez had perhaps his worst game as a Husker, throwing four interceptions — including a pick six in the second quarter when the Huskers should have been headed toward a 14-0 lead, then another doozy of a pick in the third quarter when his team appeared in position to take control of the game. 
So, Frost's detractors suddenly have ample ammunition. They now more easily can minimize close losses to then-No. 3 Oklahoma and then-No. 20 Michigan State. They can point to an offense that still lacks anything resembling an identity in the head coach's fourth season. They can point to a defense that has had trouble getting off the field in each of the last three games. 
They can point to all those empty seats early in the fourth quarter. And, yes, they can absolutely point to Frost's record at Nebraska: 15-26 overall, including 10-22 in the Big Ten. 
What's more, Frost doesn't necessarily do himself much good in his postgame sessions with reporters. I asked him if the fact Nebraska was coming off a bye week — and still was mistake-prone — added to his disappointment. 
"I don't know what could make this more disappointing, bye week or no bye week," he said. "We've got a good enough team to win these games, and we're not winning them." 
That sounds like an indictment of his coaching, and his staff's coaching. 
Frost in July said, "There's no doubt we have more talent in the building right now, by far, than we've had since I've been at Nebraska."
He said his roster is better in essentially every area. He said his team is more confident than ever and more unified. He thinks the leadership is better. Of course, Frost saying all this basically put much of the onus on the coaching staff.
If the talent and culture have improved, you would expect the win-loss record to improve significantly at some point, right? 
Instead, it's going the other direction, or so it seems. Maybe Nebraska can surprise everyone and pull off a couple of upsets in its final three games. Based on what we've seen in the last two games, that would really be one hell of a surprise.
"We've just got to play better," he said. "We're a good team — we're not a great team — talentwise." 
Of course, that's on Frost. He went on to say a great team doesn't need a coach to motivate it all the time. That made me wince. 
The anti-Frost crowd's ammunition is increasing quickly. And, yeah, it's a sad story to watch unfold. 
Nebraska bull sells for $900K, setting record for second-highest-selling Angus in history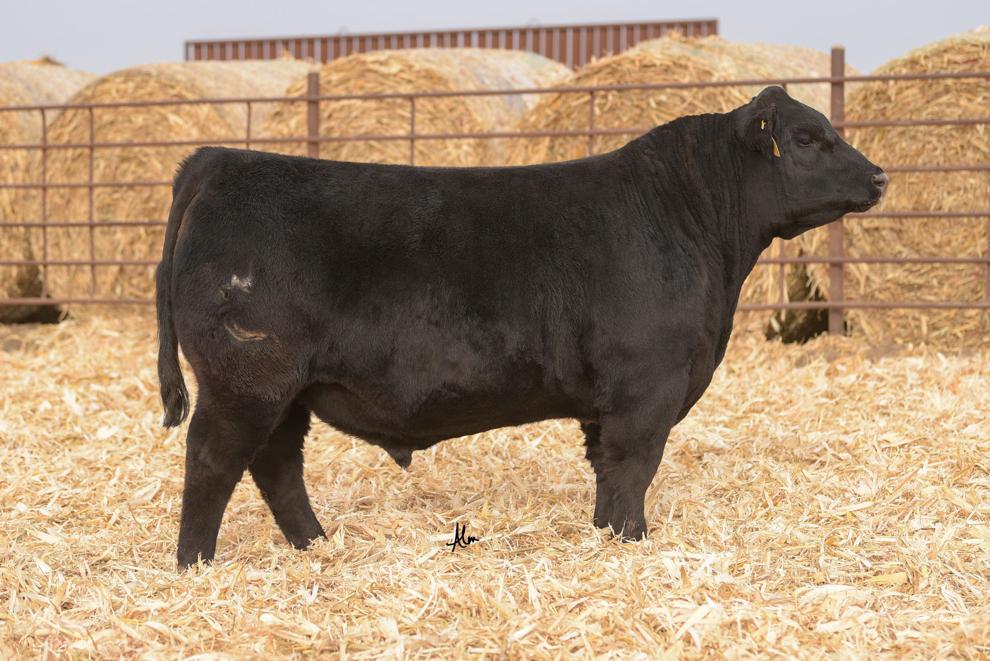 It's not every day that an Angus bull sells for $900,000, but Danny Poss was not surprised.
His bull, Poss Deadwood, sold via phone bid to TK Cattle of Menard, Texas, during the Poss Angus Ranch annual bull sale Feb. 5 in Scotia.
"Everything just kept leading up to this sale," Poss said.
He had an idea that Deadwood would bring a lot of money when before the sale, the ranch had semen orders of 4,500 units. Buyers expressed interest from Texas to Montana, from California to Florida, and all the way to Delaware.
"People in almost every state wanted semen from this bull," Poss said, adding that he also had calls from Australia.
The American Angus Association says the $900,000 price tag makes Deadwood the second-highest-selling Angus bull in the last 25 years. Cattlemen recall that another bull in Nebraska sold for a higher amount sometime between the late 1980s and early 1990s.
Herbster Angus Farms in Falls City in 2017 purchased half-interest in a bull for $755,000, so American Angus Association officials say, all told, that bull from Schaff Angus Valley ranch in North Dakota was valued at $1.51 million.
Mark McCully, chief executive officer of the American Angus Association, credits the Poss family's quality program for commanding the price.
Poss said his family is proud of Deadwood's genetics.
"The cool thing is most of Deadwood's pedigree is outcross genetics and allows for mating flexibility," he said.
The bull has the muscle, structural correctness, good feet and legs and EPD (expected progeny differences, which evaluate an animal's genetic worth as a parent). Poss calls it a profile that was hard to fault.
Deadwood is an artificial insemination bull sired by Poss Maverick, born in September 2019. His mother was raised at the Poss Angus Ranch.
In the sale book, Danny Poss calls Deadwood, "a standout since day one and on the radar of the Angus world."
He is long-bodied, thick, stout and long with a square-hipped stature. He has "unspeakable eye appeal," Poss said.
"No bull in the breed can compete with his combination of calving ease, growth, carcass merit, and a big-hoofed bull and a strong deep heel designed for covering large areas of rangeland," the sale book said.
Even commercial breeders want semen from the bull.
"Deadwood is the ideal Angus bull, whether you're in the Badlands, the desert, or in highly productive areas," Poss said.
Poss farms corn, soybeans, hay and alfalfa and ranches with his family, which includes his wife Kristi, sons Nolan and Nathan, and daughters Neleigh and Natalie.
A first-generation Angus breeder, Poss credits his family for their immense support. Each plays a major role in the operation.
"For some, it may seem like we had some good luck, but the fact is we work together for the same vision," Poss said.
He credits Nolan for having a keen eye for cattle and a memory that is far better than the rest of them. He takes care of a lot of the paperwork, his dad said.
Nathan is their hands-on cowboy who can handle any kind of cattle husbandry. He's been running the feed wagon since he was 10.
The girls are hardworking and dedicated to the operation, their dad said. They help with AIing, night checking and working the cattle.
"They are all excited about their own cattle and the progression they are making with them," Poss said. "We work together, and we are blessed."
A progressive Angus breeder is how Poss labels himself.
"I want the best of everything," he said.