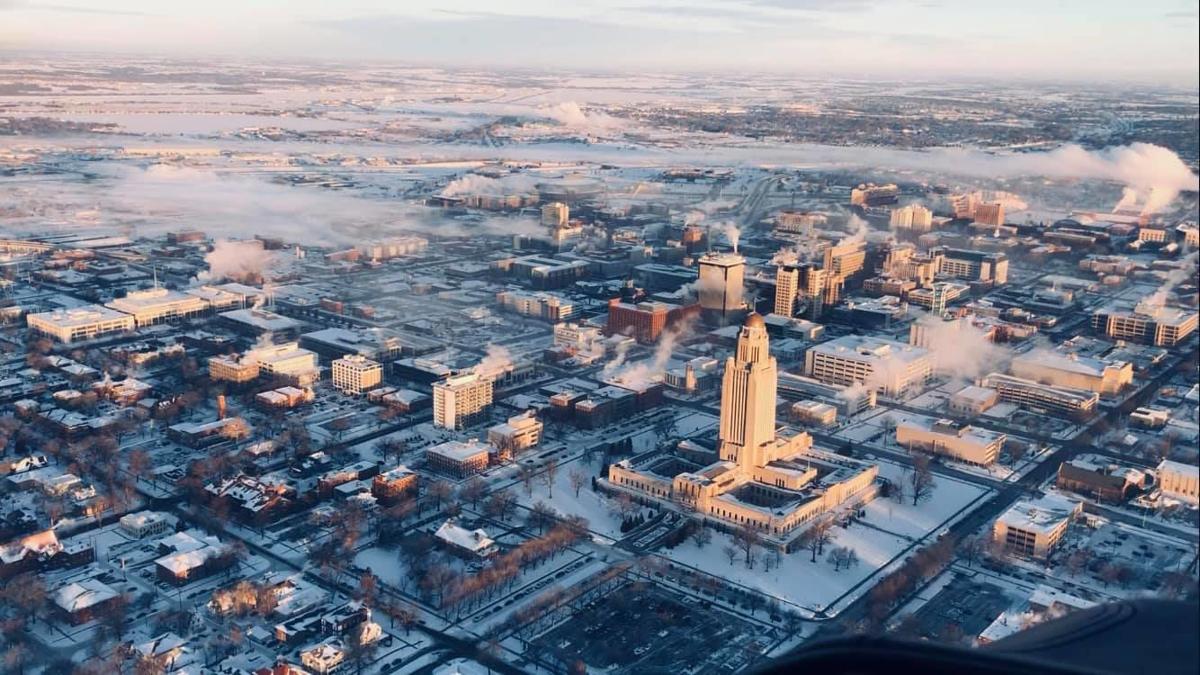 Before this week, most Nebraskans had never heard of the Southwest Power Pool.
The regional transmission organization, which is based in Little Rock, Arkansas, exists to help ensure the reliability and resiliency of the electrical power system in the footprint it covers, which stretches from the Canadian border with North Dakota all the way south to the northern part of Texas.
It was formed during World War II to help ensure power availability to companies that were part of the war effort, and one of its main duties is to balance load, shifting power from places with low demand to those with higher demand, something it's been able to do largely without hiccups until last week.
But the record cold snap that dropped temperatures below zero as far south as Dallas sent power demand soaring at a time when some power sources were offline because of the weather.
That caused the Southwest Power Pool to do something it never had before: direct its member utilities to lower their use of power.
It first tried to do that through pleas for power conservation, asking people to lower their thermostats and do other things to conserve power.
But with temperatures dropping into the minus 20s and 30s in Nebraska on Monday and Tuesday, and into the minus 20s as far south as parts of Oklahoma, the organization took the biggest steps in its 80-year history: directing its members to implement forced outages.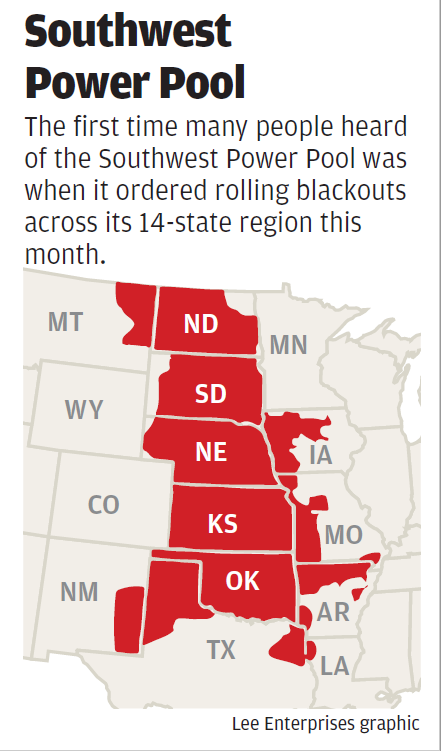 On Monday, about 3,000 Lincoln Electric System customers, mostly in southeast Lincoln, lost power for about an hour. That occurred after the Southwest Power Pool moved to an Emergency Alert Level 3, its highest.
LES was prepared to take down power to more customers, but the rolling blackouts paused when the power pool moved to a lower alert level.
Then came Tuesday morning, with a low of minus 31 in Lincoln and extremely cold temperatures throughout the region.
LES got notice a little after 6 a.m. that the power pool was moving back to Level 3, and it started shutting off power to parts of the city at about 6:45 a.m. Those rolling blackouts continued for more than three hours, eventually affecting nearly 45,000 customers.
LES President and CEO Kevin Wailes told the Journal Star that the power pool asked the company to reduce its power usage by 40 megawatts, equal to about 7.5% of LES' total power generation.
Nebraska Public Power District was asked to shed more than four times as much power, and a number of its utility customers across the state implemented rolling blackouts, including Norris Public Power.
At times Tuesday, demand in the power pool's footprint was outpacing supply by more than 2,000 megawatts, requiring power companies all over the Plains and South to cut power to customers.
While it was an inconvenience, especially when it was so cold, it likely prevented more widespread outages, officials said.
The rolling blackouts "did prevent something that was potentially much more serious from happening," said Tom Kent, CEO of Nebraska Public Power District.
If you're wondering what could have happened, look no further than Texas.
Nearly all electric utilities in the country are hooked into two interconnected grids: the eastern grid, which Southwest Power Pool members are part of, and the western grid. The one exception is Texas, which runs its own electrical grid for most of the state.
The Texas grid was put under tremendous pressure by extremely cold temperatures that caused power demand to spike to unprecedented levels while at the same time knocking power generation offline as wind turbines slowed and natural gas lines froze.
The Electric Reliability Council of Texas, which performs a role similar to the Southwest Power Pool for the Texas grid, had to try to balance that supply and demand by deploying power outages, just on a larger scale.
Bill Magness, the council's president, told the Texas Tribune that the Texas grid was minutes, and possibly even seconds, from a catastrophic failure that could have left people without power for months.
Coincidentally, utilities in northern Texas, which are part of the Southwest Power Pool rather than the Electric Reliability Council, fared much better, with customers losing power for hours rather than days, even though the conditions were as bad as, if not worse than, other areas of the state.
Kelley Porter, a spokeswoman for Lincoln Electric System, said a failure to implement the load reduction across the power pool's footprint could have destabilized the electrical grid across the entire eastern U.S. and led to Texas-style power outages across a much larger area.
"This coordination of reliability for the entire region is a large benefit for LES and all entities like LES that serve load," she said in an email.
Other benefits that LES, NPPD and the Omaha Public Power District get include access to lower-cost energy and the ability to sustain service during power plant outages.
Porter said that before LES joined the power pool in 2009, there were times during extreme summer or winter weather when power plants became overwhelmed and went offline, which made it difficult to meet local demand.
"At times, the loss of that generation could be very difficult for LES to manage, in part because other entities were also concerned about meeting their own load," she said. "However, those instance are no longer as eventful, as SPP plays that role of making sure that all generation and load is balanced, and LES no longer has to do that on its own."
Kent echoed that, saying that NPPD can take a unit offline for maintenance for as long as it needs to without having to worry about its ability to keep the lights on.
In crisis situations, such as the massive floods that hit the state in 2019 or 2011 floods that damaged the now-closed nuclear power plant in Fort Calhoun, Nebraska imported electricity from the power pool to meet demand.
Even Gov. Pete Ricketts, who was critical of the rolling blackouts, calling them "completely unacceptable," said he believes having Nebraska utilities as members of the power pool is beneficial.
The power pool also allows state and local utilities to add renewable energy sources to their portfolios.
The organization last year became the first grid operator in the U.S. to have wind as its top power source.
However, the heavy reliance on wind power became a detriment last week.
Winter storms often pack high winds, but the one that smacked Oklahoma and Texas last week didn't. There was virtually no wind farther north, either.
NPPD, which has a wind portfolio with a generating capacity close to 500 megawatts, was at times producing less than 15 megawatts earlier last week, Kent said.
While the lack of wind was not the primary reason for the call for blackouts, "had there been more wind blowing, it would have been helpful," he said.
It also highlighted a big drawback to renewable energy sources: they can't be summoned on demand.
There is no current cost-effective technology that allows electricity to be stored, Kent said. If the wind isn't blowing, then wind turbines aren't producing power.
On the other hand, coal-fired and nuclear plants have fuel on hand and can produce power on demand when needed.
"We need to step back and really think about the resource mix," he said.
Kent said the Southwest Power Pool and all of its members need to use this event as a learning experience.
While he admitted that what happened Monday and Tuesday was "unprecedented" in terms of how cold it got and the area of the country that was affected, it still will likely yield lessons on how to improve operations and perform better the next time an extreme event comes around.
That could include having the southern utilities in the pool invest more in winterizing their plants to deal with extreme climate events, which many experts believe will occur more frequently in the future.
But even as temperatures warm, leaders of Nebraska utilities are expected to face questions from customers and elected officials about the rolling blackouts and what is being done to make sure they never happen again.
"We need to learn every lesson we can from this," Kent said.