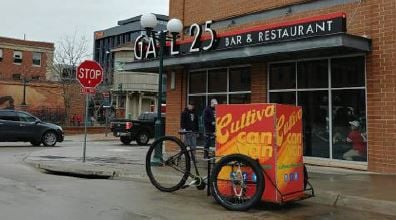 You can get coffee at a cafe, a kiosk or a drive-thru, so why not from a bike cart?
Dan Warren is planning to give it a try.
Warren, who runs a pedicab company, has partnered with Cultiva Coffee to sell cold-brewed coffee in cans in the downtown area.
The city Urban Design Committee gave its blessing Tuesday to the concept and the look of the cart, and Warren said he's planning to start serving drinks within the next two weeks.
He said he got the idea from colleagues in the pedicab industry who are seeing the concept in larger cities.
You have free articles remaining.
He plans to operate weekdays and Saturdays, mirroring business hours Monday-Thursday and serving until 1 a.m. on the weekend.
Warren said he's had contact with several downtown businesses that want the cart to roll past on certain days, so he envisions a sort of loop where he will hit certain businesses at certain times. He also plans to hit events such as concerts and the farmers market.
The cart will also be on the streets on football Saturdays.
Warren believes the concept will work because of the popularity of coffee, which has become something that people drink, "morning, noon and night."
"It's a healthier option than Red Bull or Monster (energy drinks)," Warren said, "and it's local."
While he plans to initially sell only cold coffee, Warren said he will adjust his offerings seasonally, likely switching to hot coffee in the fall.