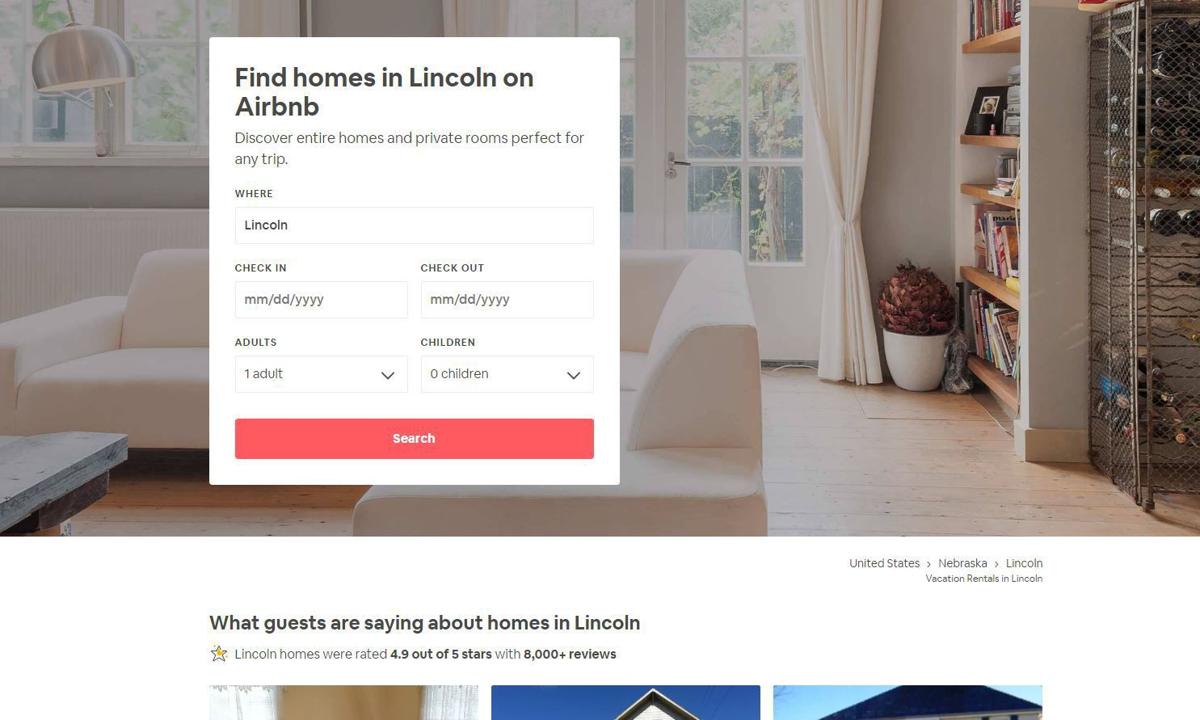 The city of Lincoln is proposing new regulations for short-term rentals.
Under the proposed changes to the city's zoning code, property owners could rent out part or all of their primary residence for up to 30 days at a time by obtaining a license from the Building and Safety Department.
The proposed rules also would allow renting out accessory dwellings under the same conditions. There would be no limits on how often a residence could be rented out, as long as stays don't exceed 30 consecutive days.
To meet the primary residence designation, owners would have to live there at least six months out of the year and prove that residency through documents such as a driver's license, voter registration or tax statements.
The rules, which would apply to all properties in the city limits, as well as those in areas covered by Lincoln's 3-mile zoning jurisdiction, would not allow rental or investment properties to be rented out, nor would they allow rentals of any residence for parties or other gatherings, such as weddings.
The city is proposing an annual licensing process, with a fee that could be anywhere from $150-$300. To qualify, dwellings would have to meet a number of standards, including having smoke and carbon monoxide detectors and working appliances and utility systems.
Rentals would be subject both to sales tax and the city's hotel occupation tax. Sales taxes already are collected by home-sharing platforms such as Airbnb; occupation tax collections would be the responsibility of the property owner.
The city used to ban most short-term rentals that weren't at hotels or bed and breakfast operations. However, the Legislature passed a law in March that prohibited cities from instituting blanket bans, hence the need for local regulation.
"To comply at the local level and make sure we have appropriate safety standards and licensing, we had a draft proposal to put forward to the public for input," Mayor Leirion Gaylor Baird told the City Council on Monday.
City staff will be soliciting input on the proposal via email and on a website as well as attending neighborhood and homeowners associations meetings, she said.
The proposal still must be finalized, at which point it will go through the city lawmaking process, including public hearings before both the Lincoln-Lancaster County Planning Commission and the City Council.
Despite technically being illegal in Lincoln until last year's legislative change, home-sharing rentals are big business in Lincoln.
Airbnb, the largest home-sharing platform, said Lancaster County residents made $1.1 million through its site in 2018, up from $480,000 in 2017.
They're popular in neighborhoods such as Fallbrook and Capitol Beach, said Lincoln City Councilwoman Tammy Ward, who has heard concerns from residents there about the parking problems and noise complaints. 
She's glad the administration is taking the approach it is to the problem, she said. 
"I know they want it to be equitable," Ward said.
The business news you need
With a weekly newsletter looking back at local history.