If you've seen a guy who looks like a Ghostbuster tooling around on a scooter and serving drinks out of a tank on his back before Husker football games, don't be alarmed.
It's just Jeremy Furrow with his latest coffee venture.
The Lincoln man with a long history of innovation in the bean business debuted his latest venture, Roastbusters, in late August on the Saturday of the South Alabama game.
Furrow hadn't really done any marketing to let people know about his business, so he didn't know what to expect, but things couldn't have gone any better in his eyes.
"It's the most exposure we could have asked for," he said. "We had such an overwhelming response. People were sharing photos on social media. All in all, it was a huge success."
Roastbusters is the third coffee business for Furrow, and each time they get a little smaller and a little more mobile.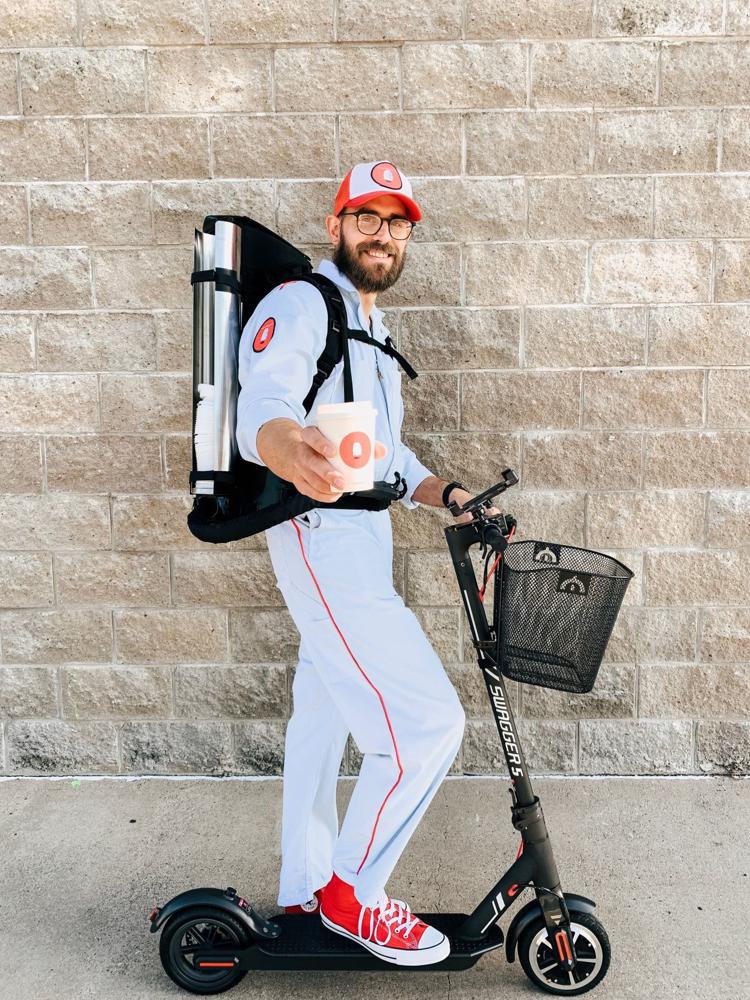 His first turn as a coffee entrepreneur came more than a decade ago when he and a coworker from his Starbucks days started a specialty coffee catering business that turned into Lincoln's first walk-up coffee window when it took up residence in the former State Theater at 14th and O streets.
After running that business, Kinetic Brew, for a couple of years, he left the coffee world and then came back a few years later with GoJoe, a mobile coffee shop operated out of a restored ambulance.
Furrow called his coffee entrepreneurship a labor of love, joking that it's "like golf, except I'm not getting any exercise."
However, he decided to give it up for awhile after getting married.
You have free articles remaining.
Keep reading for FREE!
Enjoy more articles by signing up or logging in. No credit card required.
But the entrepreneurial bug wouldn't go away, and Furrow eventually gave in.
After trying to envision smaller and smaller mobile coffee concepts, Furrow said he finally decided, "Man, I just want to wear something."
"I wanted to make it such a small scale that it would just blow people's minds," he said.
He did some research and finally found what he was looking for from a German company.
The Drink Man is a "mobile vending service," according to the company's website -- essentially a pack you can wear on your back out of which drinks can be served.
Furrow decided to go with the Drink Man Vario 2, which has two tanks, allowing him to dispense both hot and cold coffee.
"Having both hot and cold -- I think that's really the key," he said.
He started out serving at private tailgating events that first football Saturday but last month got approval for a sidewalk vendor's permit from the city, which allows him to serve people on public sidewalks in the downtown area.
Right now it's just him doing it in his spare time, but with his sidewalk vendor's permit in hand and a successful debut of the business, Furrow is already thinking about expanding.
He said he is looking at doing special events such as weddings and also would like to set up a regular daily route downtown and add more people with packs on their backs.
"I think the goal is really to move this to a regular thing," Furrow said.