When Sarah McFarland and her husband, Patrick, moved to Lincoln from Hawaii last summer, their plan was to build a home in southeast Lincoln near the Firethorn development.
They worked with architect Dave Johnson, owner of 951 Studios, and McFarland said she fell in love with a lake house home design Johnson offered.
But she also had a thought: Would there be a demand for the sustainable lifestyle she and her husband wanted for themselves in Lincoln?
They decided it was worth finding out, and they purchased a 10-acre parcel of land near 91st and Van Dorn streets, right in the middle of a larger development called Wandering Creek, and formed a company called McFarland Development.
Their planned 16-home development, which will be called Lokahi at Wandering Creek, is offering lots for sale and hopes building can start sometime in the fall.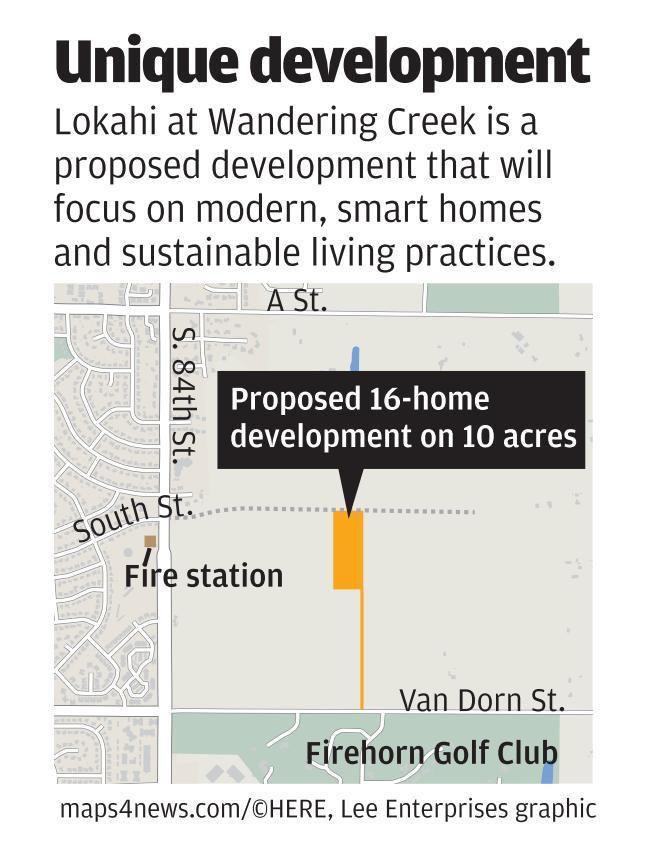 The development will focus on sustainability and modern design and plans to incorporate environmentally friendly practices such as geothermal heating, passive solar power, natural and sustainable landscaping, renewable and reusable building materials and smart technology.
Homes will be encouraged to use a mix of Hawaiian and Scandinavian architectural concepts, including large open spaces.
"We wanted to bring a little bit of the Hawaiian Islands back to our neighbors in Nebraska, and our goal was to create a place that we desired to live in," said McFarland, who said she doesn't think there is a similar development anywhere in Nebraska.
"It's definitely something that's unique to the market," she said.
The name for the development comes from a Hawaiian word, which McFarland said roughly translates to "sustain" and "balance."
Johnson joked that he picked the name, "because it was a Hawaiian word I could say."
You have free articles remaining.
He said one of the advantages of the location is that it offers privacy, with the area mostly surrounded by a tree line.
Johnson said there are people in Lincoln who want to build a modern home but they don't want to stand out from their neighbors.
"This will offer a safe place where 16 owners are going to be able to express themselves with modern architecture," Johnson said.
He and the others involved with developing the subdivision plan to keep as much of the natural topography of the land as possible, using somewhat larger lots that are laid out to take advantage of the existing landscape. Most of the lots are at least one-third of an acre, and more than half offer the availability of a walkout or daylight basement.
As for the home designs, Johnson said he wants to "blur the lines between the interior and exterior" with features like sliding window walls that are common in Hawaiian homes.
While Johnson has design and architectural control over the development, he said the goal is not to have the houses look the same but only to share elements of sustainability. The development will be open to any home builder that is interested.
The McFarlands are planning to build on one of the lots, meaning there are 15 for sale.
Johnson said that is a good number to start with for a concept that will be so new to the area.
"There is demand for this size of development," he said.
Modern, sustainable homes are becoming more popular with younger people, but Johnson said he expects the ones at Lokahi to also appeal to pre-retirees in their late 40s to early 60s. That's due in part to the fact the homes will be pricey, with both he and McFarland describing them as in the "luxury" category.
"It will be exclusive, but not exclusive in a negative way," he said.
McFarland said that if this development is successful, she and her husband would like to do similar developments that might offer lower price ranges.