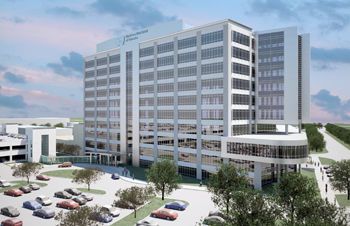 Nebraska's largest health insurer plans to exit the individual Affordable Care Act market.
Blue Cross and Blue Shield of Nebraska on Friday announced it will stop selling ACA-compliant individual health insurance policies through the federal marketplace exchange.
CEO Steve Martin said the insurer has been "agonizing over the past several weeks" trying to figure out a way to make its continued participation work but couldn't come up with a solution.
"This was not an easy decision," he said.
Martin said Blue Cross and Blue Shield has lost $140 million on its individual exchange business since inception and expects to lose another $20 million to $40 million this year.
As a mutual insurer owned by members, he said the company operates on 1 percent margins, aiming to pay out 99 cents or less for every dollar of premiums it brings in. On the exchange policies, it has averaged a payout of $1.56 for every $1 brought in.
Another year of those kinds of losses, and "we would be digging a hole we will never get out of."
Blue Cross had sought and received rate increases of more than 30 percent for 2017 rates, but Martin said those increases turned out not to be high enough to cover losses.
Blue Cross and Blue Shield becomes the second major health insurer to stop selling individual exchange policies in the state.
UnitedHealth Group, which is the second-largest health insurer in Nebraska, announced earlier this year it would stop selling such policies in the state next year.
Those defections leave only two insurers, Aetna and Medica, serving people seeking individual policies on the exchange.
Blue Cross's move affects only the 20,000 or so of its customers who have individual policies bought on the federal marketplace exchange. The insurer will continue to offer small-group plans on the exchange as well as off-exchange individual plans that were grandfathered in before the law took effect in 2014.
And Blue Cross officials did leave the door open to possibly returning to the exchange if some fixes to the ACA are made.
Lew Trowbridge, president of Blue Cross and Blue Shield, said the federal government has to close some of the loopholes that allow people to enroll during so-called special enrollment periods. Trowbridge said too many people are gaming the system, getting coverage when they are sick or injured and then dropping it after receiving treatment.
Another issue that needs to be fixed are the risk pools. There are too many old and sick people getting coverage and not enough young and healthy ones.
And Trowbridge said the states need to have more control over the design of health plans, rather than the federal government dictating a one-size-fits-all approach.
Martin said the federal government is trying to respond to insurers' concerns, "but it's too little, too late when we are on the razor's edge."
"We believe the law can be fixed," he said.
And if changes are made in the next year, Blue Cross will seek to re-enter the market in 2018, Martin said.
The state's Republican politicians said Blue Cross's decision is further evidence that the law isn't working. Various statements from members of the state's congressional delegation described the law as "unsustainable," "failing" and "deeply broken."
"When solid companies like Blue Cross Blue Shield pull out of the market, something is structurally wrong with the system," Gov. Pete Ricketts said in a statement.