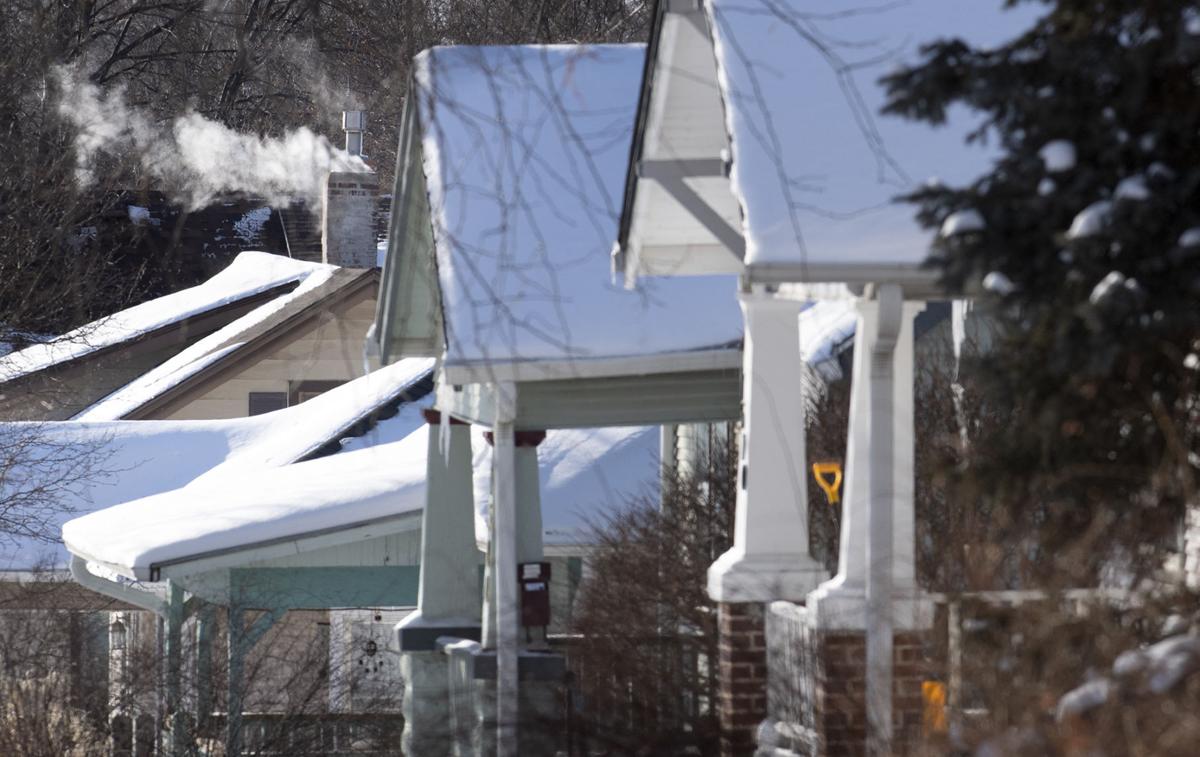 Black Hills Energy customers in Nebraska are facing some significant rate increases to pay for costs the company incurred to keep furnaces and fireplaces running during the extreme cold in February.
Black Hills officials told the Nebraska Public Service Commission during a workshop Tuesday that the utility spent $80 million in Nebraska to purchase natural gas Feb. 12-18 —  more than it spends in a typical year. Over the past five years, the company never spent more than $13 million on gas for the entire month of February.
By law, Black Hills, which has more than 300,000 customers in Nebraska, the bulk of which are in Lincoln, is allowed to recoup the cost of the natural gas it provides to customers, and in the case of the February cold snap, the costs are astronomical.
Douglas Law, Black Hills' associate general counsel in Nebraska, said it paid prices on the spot market as high as $381 per dekatherm of natural gas during the cold snap. That's compared with prices of about $3 per dekatherm earlier in February. A dekatherm is 1 million British thermal units.
Robert Amdor, manager of regulatory services for Black Hills, said the company experiences a significant winter cold snap about once every five years, but he said that in his 30 years he has never seen one as significant as the one in February.
He said it was "unique" because of how cold it got, how wide of an area experienced the cold and how much it drove up demand for natural gas.
In Lincoln, overnight temperatures dipped below zero on 11 consecutive days, capped by a minus 31 reading Feb. 16 that is the coldest temperature ever recorded in Lincoln in February.
The freezing temperatures extended to the Gulf Coast and demand caused unprecedented disruptions to the power grid, as well as rocking the natural gas market.
"This event was far beyond any we've experienced in the past," Amdor said.
Overall, across its six-state territory, Black Hills had more than $600 million in additional energy costs during the cold snap.
Now the company is working with regulators in those states to lessen the burden on customers by spreading out the bills to cover those additional costs over years.
In Nebraska, the additional costs work out to an average of $332 per residential customer and $1,277 per commercial customer.
Normally, Black Hills customers would have just received a larger bill in March reflecting the increases, but Nebraska's Public Service Commission directed the company to delay passing on the costs to customers and to come up with a plan to mitigate the increases and prevent customers from experiencing sticker shock.
Black Hills is proposing to spread the costs out over three years by adding a surcharge to customer bills. Under that plan, the average residential customer would pay an extra $9.21 a month and the average commercial customer would pay $35.47 more.
The amounts would work out to about $110 more a year for the average residential user, a nearly 17% annual increase, and $422 a year, or about 21% more, for the average commercial user.
The surcharges are structured based on usage, so the increases would be higher for households and businesses that use more natural gas, and higher in the winter months.
About half of all Black Hills residential customers use between 80 and 140 therms of natural gas per month during the winter, and they would see monthly bill increases in those months ranging from 19-22%. Households using 40 therms would see an average monthly increase of about 14%, while those using 200 would see an average increase of 23.5%.
The approximately 7,000 customers who participated in Black Hills' annual price option last fall, which allows them to lock in a price for the winter, will not face any increases.
The surcharges will not apply to customers in central and western Nebraska who participate in the Choice Gas program, because they purchase their gas from other suppliers and Black Hills transports it. The surcharges also won't apply to industrial users and large commercial users, who also buy their own gas from other suppliers.
Black Hills presented the commission with plans to have customers pay back the costs over anywhere from one to five years, but Amdor said it settled on three years because it was a "sweet spot" that kept the average increase less than $10 a month.
Tuesday's workshop was for informational purposes only, and it's not clear when the PSC will vote on Black Hills' proposal. Commissioners asked for some additional information, and the company has a week to provide it, although it could ask for additional time.
Commissioner Tim Schram said it is important for the PSC to move "thoroughly but expeditiously."
In a statement, Black Hills said it will "continue to work closely with the Nebraska Public Service Commission to manage the long-term impact of increased natural gas pricing for our customers.
"As the PSC determines the best path forward, we will keep our customers informed when a determination has been made."
The Public Service Commission is holding another workshop Wednesday for the other natural gas company it regulates, NorthWestern Energy, which serves about 43,000 Nebraska customers, mostly in Grand Island, Kearney and North Platte.
In materials it submitted to the PSC in advance of its hearing, NorthWestern said it spent nearly $26 million on natural gas purchases for its Nebraska customers from Feb. 13-18, the bulk of it — about $22.5 million — from Feb. 13-16.
It is proposing having customers repay that amount over anywhere from one to three years.
There also are dozens of municipal utilities in Nebraska that provide natural gas, ranging in size from Omaha's Metropolitan Utilities District, which has about 230,000 customers, to small-town utilities that serve only a few hundred customers.
Many of those utilities, which are not regulated by the PSC, also are struggling with how to deal with huge increases in natural gas costs.
Some examples include Pender, which paid $370,000 extra for natural gas during the cold snap, and Wahoo, which spent $511,000 more than usual.
The Nebraska Legislature is considering a bill that would provide $10 million in emergency aid to municipal utilities that got hit with large increases in natural gas costs.
PSC member Mary Ridder also suggested Nebraska should consider joining other states in an investigation into potential natural gas "price gouging."
"I think we should reach out to our attorney general ... and ask him to join that investigation," she said.
Suzanne Gage, a spokeswoman for Attorney General Doug Peterson, said it was "premature" to comment on the issue at this time.
PHOTOS: RECORD COLD IN LINCOLN