Add another feather to the cap of Lincoln's Union Bank & Trust.
The local bank, which at one point earlier this year ranked second in the country for the number of Paycheck Protection Loans it processed and was profiled in a lengthy piece in The Washington Post, has been named one of the top banks in the country by Forbes magazine.
In a ranking of the "World's Best Banks 2020" published earlier this month, Union Bank was ranked as the second-best bank in the U.S., behind only USAA, the well-known financial company that caters to military veterans and their family members.
Forbes said that it surveyed more than 40,000 customers and rated banks on "general satisfaction and key attributes like trust, fees, digital services and financial advice."
Union Bank wasn't the only Nebraska bank to make the list. First National Bank of Omaha, which has several Lincoln branches, came in at No. 15.
Will Delta come back?
It's a question that's on some people's minds: Will Delta Air Lines' temporary suspension of service in Lincoln become permanent.
The airline got permission from the U.S. Department of Transportation to temporarily suspend service to Lincoln and about a dozen other cities as it tries to navigate the severe drop in passenger travel due to the coronavirus pandemic.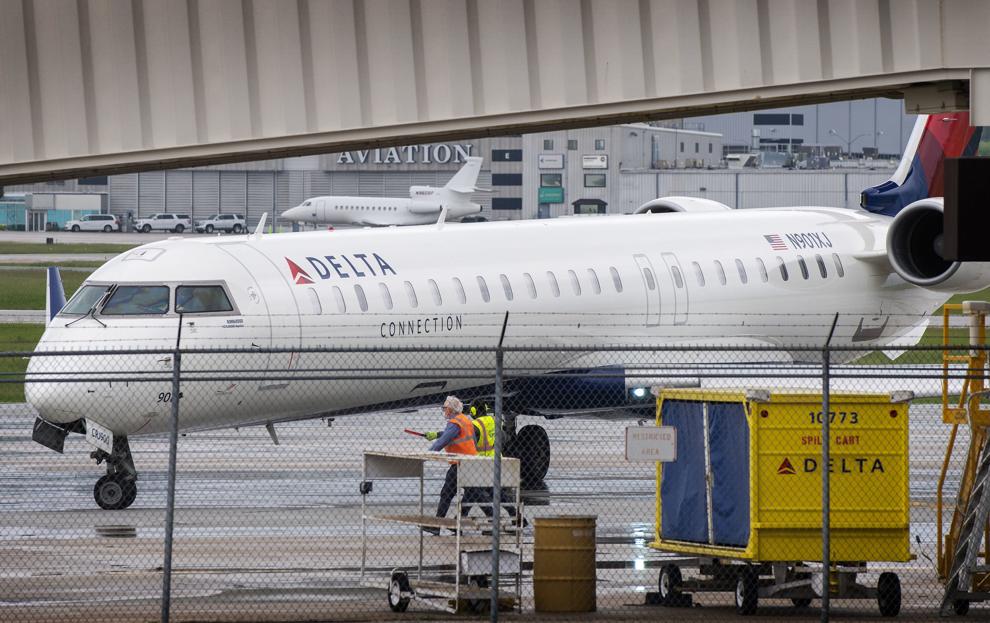 Delta isn't the only airline cutting airports from its schedule, as United Airlines, American Airlines and others have decided to pull out of smaller and even some larger airports for the time being.
Delta's last departure from Lincoln to Minneapolis is scheduled for July 8, and it has said it will not come back until at least Oct. 1.
Because Delta is receiving federal stimulus money, it had to get a waiver to stop serving Lincoln. However, to my knowledge, there's no requirement that the service ever return.
A consultant hired by the Lincoln Airport said he believes that when Delta says temporary, that's what it means.
"I have no reason to believe that they're not going to return," Nick Wangler, owner of Forecast Inc., told the Lincoln Airport Authority board on Thursday.
It's worth noting that until the pandemic hit, Delta had been steadily growing its passenger numbers here. Last year, the airline served nearly 121,000 passengers, up from 110,000 in 2017. And in the first two months of this year, Delta's traffic was up 11% compared with the first two months of 2019.
Here's to hoping the bean counters don't overlook those numbers when air traffic starts returning to normal levels.
Taking a pay cut to stay home?
I worked in the office this past week for the first time in more than three months.
I have to say, I very much enjoyed it, and I'm sure my family enjoyed the time away from me as well.
But not everyone wants to go back to the office. In fact, a recent survey shows that many Nebraska workers would be willing to give up some of their salary to continue working from home.
The survey of 3,500 American workers by Realbusinesssavings.com found that Nebraska workers who want to continue working from home are willing to take a pay cut of up to $216 a month to do it.
That's less money than the national average pay cut of $316 workers are willing to take to stay home. You can see the survey results and an interactive map at realbusinesssavings.com/Salary-Sacrifice.
Listing the lists
Regular readers of this column know I sometimes like to end it with a rundown of recent rankings of Lincoln and/or Nebraska in national reports. Here are the latest ones:
-- No. 1 Most Talkative State in the U.S. (CenturyLink)
Best of the Buzz
Excerpts from recent Biz Buzz posts:
* Chipotle Mexican Grill appears to have plans for a fourth Lincoln location.
A nearly $600,000 building permit filed earlier this month for a "new fast casual Mexican Restaurant with Drive-Thru" at 7133 Pioneers Blvd. lists Chipotle as the tenant.
There is a Taco Bell currently at that location, and the building permit is for an "alteration," so it appears the restaurant may be changing occupants.
Chipotle's other locations in Lincoln are downtown at 13th and Q streets, at 60th and O streets and at 27th Street and Pine Lake Road.