Biz Bits
Biz Bits: Allo near top in internet speeds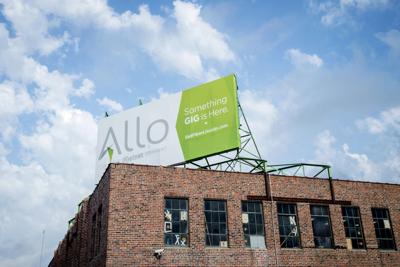 How fast is your internet speed? If you have Allo Communications, it's among the fastest in the country.
PC Magazine recently ranked the fastest U.S. internet service providers in 2018, and Allo came in fifth overall with an average download/upload speed of 142.4 megabits per second.
In the north-central region, which the magazine classified as 13 states ranging from Kansas to Wisconsin, Allo was second only to Google Fiber for average speed.
That's a pretty impressive performance, and it will be interesting to see where Allo ranks next year now that it has upped its minimum speed from 100 to 300 megabits per second.
Neither Windstream's Kinetic nor Charter Communications' Spectrum services made the list. In fact, the only other provider that serves Nebraska that was on the list was Cox Communications, which came in seventh among major internet providers with a speed of 71.3 but did not crack the overall top 10.
Apartment amenities
High-speed internet is an amenity that some apartment dwellers want, but it's nowhere near the top item on the wish list among the apartment population in Lincoln.
According to the website Apartment List, the one amenity local apartment residents seek out the most is air conditioning, with 62 percent of residents requesting it.
The amenity with the largest gap between demand and availability, however, is an in-unit washer and dryer. According to the report, 59 percent of Lincoln renters want them, but only 17 percent of apartment units in the city have them.
On the other end of the spectrum, 47 percent of apartments in Lincoln allow cats, but only 21 percent of renters seek out that amenity.
Whiffing on a whopper
In my last Biz Bits column, I referenced a financial analyst's estimate of the price Tyson Foods paid for Tecumseh Farms, the owner of Smart Chicken based in Waverly, and tried to give some context of how high that might rank all time for mergers and acquisitions of local companies.
What often happens when you rely on your own limited memory is that it fails you. I've been covering business for the Journal Star since 2005, and I've lived in Lincoln for most of my life, so I remembered some large deals from the 1990s and early 2000s.
When I was mentioning big local acquisition deals, I neglected to include what might be the biggest of all time: the 1998 purchase of Aliant by Alltel.
For all you nonbusiness types and those who haven't lived in Lincoln that long, Aliant was the name at the time of what had started out as Lincoln Telephone & Telegraph.
Alltel paid about $1.8 billion in stock for Aliant by the time the deal closed in July 1999, and it was closer to $2 billion when you include the assumption of debt.
That deal gave Alltel both landline and wireless phone businesses covering much of Nebraska. The company spun off its landline business in 2005 in a deal that created Windstream Communications, and in 2006 it sold its cellphone business to Verizon. Those two deals combined were worth more than $37 billion.
Listing the lists
I often use this column to give an update on recent national rankings that Lincoln and/or Nebraska have turned up in. Here are some of the recent accolades:
* Second-least housing cost-burdened city (SmartAsset)
* No. 9 city with the biggest increase in labor force participation among workers 65 and older (SmartAsset)
* One of the 27 cheapest places to retire in 2018 (Kiplinger)
Best of the Buzz
Excerpts from recent Biz Buzz posts:
* A couple of new Asian-themed restaurants are coming to Lincoln.
Thai rolled ice cream started hitting the U.S. a few years ago, and this particular business is based in Omaha. It opened its first location in Aksarben Village in April, and the Lincoln location is its second.
The other Asian-themed restaurant on tap is Koen Japanese Barbecue and Sushi. According to a liquor license application filed a couple of weeks ago, it will be located at 2601 Jamie Lane. It appears to be affiliated with Kinja Sushi & Japanese Cuisine at 70th Street and Pioneers Boulevard.
* Little Caesars Pizza is opening its third Lincoln location on July 10.
The new location will be at 4822 Pioneers Blvd., in the newer strip mall that has LaMar's Donuts and Colby Ridge.