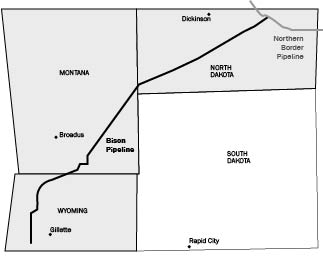 The rupture of a TransCanada Corp. natural gas pipeline last week outside Gillette, Wyo., was another public relations hit for the company, which just opened the line in January and had called attention to higher safety standards for its construction and operation.
It's the latest of pipeline problems for the Canadian firm, which is hoping to get approval of another pipeline, the Keystone XL, to ship Alberta oil across Plains states, including Nebraska, on the way to Gulf refineries.
The 30-inch-diameter Bison Pipeline, which runs from Wyoming to the Northern Border pipeline in North Dakota, as recently as May was touted by the company as an example of more stringent safety standards.
Unlike most natural gas pipelines, which operate at 72 percent of the pipe's rate pressure, Bison was designed to a standard that would allow for 80 percent pressure, according to an interview of company officials published in Pipeline & Gas Journal.
"In essence, it calls for the pipeline being treated like it runs through a high consequence area for its entire length," TransCanada Director of Pipeline Integrity David Chittick told the magazine. "It calls for more frequent inline inspections and other steps."
But while the pipeline is rated to handle up to a billion cubic feet of natural gas a day, the line only was running about a third of that level when the line ruptured, a company spokesman said. The investigation continues.
The pipeline exploded 20 miles west of Gillette Wednesday night. It shook nearby homes and echoed at least 30 miles away but didn't cause any injuries or property damage, other than to the pipeline, officials and a nearby resident said.
The explosion's shock wave hit Dan and Candy Mooney's house, about a mile from the rupture, as well as his brother's house not far away.
The shock and boom were followed by what Dan Mooney described as a "terrible roar" as natural gas under high pressure burst from the broken pipe.
"If you've ever heard a jet fighter going off, like an F-16 or something like that, it sounded like many of them going off at the same time," he said. "It roared, it just screamed."
Mooney said a friend from Recluse, about 30 miles north of Gillette, called in to say the explosion could be heard that far away. Several residents in and near Gillette dialed emergency dispatchers to report "sounds of rockets going off, whooshing sounds and some explosions," said David King, Campbell County Emergency Management Agency coordinator.
The roaring stopped as the pipeline system detected the drop in pressure from the rupture and closed off the flow of gas within 15 minutes of the breach, according to Terry Cunha, spokesman for TransCanada Corp.
A 40-foot piece of the pipe, split along its length and spread open with jagged ends, lay almost 70 feet away from the pipeline path, said Rod Warne, Campbell County Fire Department assistant chief, who visited the site. Warne said he saw at least one other piece of pipe blown nearby.
It's not clear what caused the pipeline to explode, and there's no clear timeline for when the company will rebuild the line and get it back into use, said Cunha, the TransCanada spokesman.
"Unfortunately, this incident happened, but we'll do a thorough review and work with regulatory agencies to investigate the cause of this and ensure we prevent it from happening again," he said.
It's also not known how much natural gas was vented, but the pipeline was transporting natural gas at a rate of 365 million cubic feet a day, Cunha said.
The 303-mile line was designed to transport up to 477 million cubic feet a day of natural gas from the Powder River Basin northeast through Montana to the Northern Border Pipeline in North Dakota for transport to customers in the Midwest. The pipeline is owned by TransCanada Corp. through its interest in TC PipeLines.
TransCanada's proposed Keystone XL pipeline has drawn criticism for its potential damage should the pipeline fail or leak.
Those objections intensified after the company's Keystone Pipeline leaked several times in the past few months, spilling oil in North Dakota and Kansas.
On July 1, an Exxon Mobil pipeline in Montana ruptured and dumped oil into the Yellowstone River, drawing attention to pipelines that cross rivers and streams. Keystone XL's route also crosses the Yellowstone and would cross bodies of water in Nebraska 160 times.