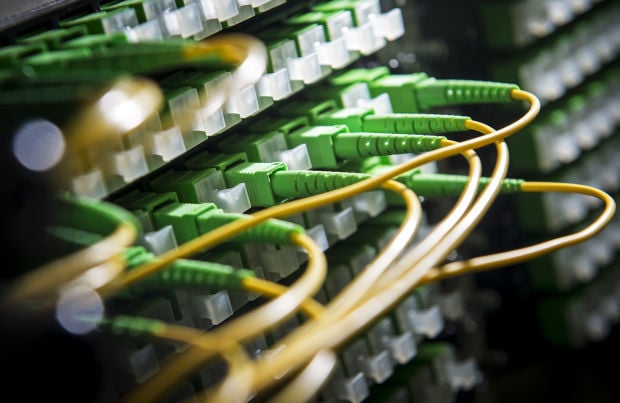 City leaders told residents in Spring Hill, Kansas, a growing community about 30 miles south of Kansas City, that their notoriously unreliable internet service would soon improve, igniting hope that they could stream Netflix or pay the bills online without relying on a mobile hot spot.
But recently, hopes for fiber optic internet at every home and business have twisted into suspicions over how the city government operates.
Critics question the City Council's plan to spend hundreds of thousands of taxpayer dollars on a so-called dark fiber network that would connect only a few city buildings before residents and businesses get access. And a secret bid process — paired with one council member's aggressive lobbying for Lincoln-based Allo Communications — raised wider questions.
Allegations of corruption and secrecy were so overwhelming that the mayor has called for the Johnson County District Attorney's Office to investigate the actions of the City Council.
"My main goal is I just want fiber. I want a reliable internet source. I don't want to have to worry about it being down for a day or two," said Shannon Frodsham, who moved with her family to Spring Hill last year. "Why can't the citizens know what's going on? What are they hiding?"
With controversy swirling and an inquiry underway, it's unclear how the city will move forward.
Though it's one of the fastest-growing cities in Kansas' wealthiest county, Spring Hill has been ranked among the rural cities with the slowest internet speeds nationwide. And residents say the spotty access has affected all aspects of life there, from how home values fluctuate to how businesses operate.
"I feel like we moved back in time 20 years," Frodsham said. "My husband works from home, so it's really put a damper on our source of income."
Craig Dutcher tells a similar tale. When he moved from Kansas City to Spring Hill, he said his internet bill nearly doubled.
Yet, every day he wonders whether his internet connection will last long enough to send some emails, check Facebook and back up his iPhone.
"Right now, I probably have bottom-tier internet, let's just put it that way," Dutcher said. "Our family usually runs internet off of Verizon hot spots. Or we'll go to McDonald's for the free Wi-Fi and get our work done that way."
Like many rural communities, Spring Hill has for years struggled with access to broadband. Even with two providers in town — CenturyLink and Suddenlink — city leaders reported frequent outages, causing government offices to lose access to both internet and phone service.
A 2017 city survey found the town was home to pockets of residential areas with limited to no internet access.
At the beginning of 2017, the City Council had launched a seven-member broadband task force that started examining the feasibility of a public broadband utility or private partnership.
That process played out in the open. Task force meetings were held in public with agendas and minutes posted to the city's website.
The city agreed to pay $60,000 to consulting firm CTC Technology and Energy to conduct a feasibility study. In a 175-page report, the Maryland-based company said the town lacks the scale needed for a stand-alone fiber service but that it also needs to plan for the future, as its population quickly expands.
The consultant report laid out a path for the city to follow, including issuing a request for proposals for a company willing to bring broadband to town.
Meanwhile, signs advertising a new fiber internet option from area company RG Fiber started popping up.
The city itself advertised RG Fiber's arrival and invited residents to attend a launch party in September: "Gigabit-class Internet service could soon be arriving at your doorstep. Learn more about fiber, how it gets to your front door and more," an announcement on the city website read.
After years of work to improve service, someone finally stepped forward and seemed interested in Spring Hill.
But slowly, RG Fiber's signs started disappearing.
Spring Hill's consultant advised that the city consider a so-called dark fiber network. Though models vary, dark fiber involves leasing out capacity of the fiber optic cables that propel high-speed internet. The consultant said Spring Hill could construct and maintain the cables for every resident and business and lease the system to a private partner.
After the consultant's work concluded, the city in August issued a request for proposals, seeking "a creative partnership" with an internet company to provide 1 Gigabit per second service. It promised to waive permit and inspection fees, among other incentives.
But the request also asked for a partner to build out a dark fiber network, connecting eight city facilities. Aside from improving the city's internet connections, that work could serve as a starter system and save the bidder money. A private broadband provider could lay its own fiber for homes and businesses starting with trenches dug for the city's needs.
That led some residents to question whether the City Council has pivoted to prioritizing municipal buildings over a wider citywide fiber project.
The bids were due by the end of September, even though RG Fiber had already been finalizing its plans to move into Spring Hill outside of the formal procurement process. With that company's commitment uncertain, the city then started to shield the process from public view.
In issuing a request for proposals, the city required companies to sign a nondisclosure agreement.
Still, the interest from providers was clear: 12 companies submitted bids, including RG Fiber. A committee that reviewed the proposals determined the best prospect was from Allo, which is owned by Nelnet.
The city budgeted $350,000 to spend on the project, but at a Jan. 23 meeting, Council President Steve Owen asked whether the city should even be selecting a firm, given the wide interest from multiple companies wanting to invest in Spring Hill.
"We're going to spend $350,000 and it's supposed to bring in more competition," he said. "But I think we're actually scaring competition away by doing it because we're picking a winner."
Councilwoman Andrea Hughes, who served as a liaison between the council and the broadband task force, urged the council to accept Allo's proposal — and to do so quickly.
In the days leading up to the vote, Hughes took to Facebook several times, urging Spring Hill residents to attend the meeting and back her preferred vendor.
"Tell the City Council that you want the City to begin Contract negotiations with Allo Communications NOW no more delays," she wrote multiple times.
Fueling public suspicions is the broadband consultant's ties to Allo. When it bid to work with the city, CTC touted its "deep relationships" with internet providers, including Google Fiber, MetroNet, Ting Internet and Allo. From that list, only Allo submitted a formal proposal.
CTC officials could not be reached for comment. In a statement, Allo said its response to the Spring Hill RFP "was similar to the dozens of proposals we submit each year to communities in the Midwest leveraging our experience, expertise, world-class technology, and local service."
"Throughout this process, we have had limited interaction with Spring Hill officials other than to request GIS data needed for a preliminary network design to determine project cost estimates and to answer questions regarding the proposal," the statement said.
Allo said in the statement that if the city goes forward with the fiber project, it believes it is the "ideal partner."
However, other proposals seem to be a good fit as well.
One of city's existing providers, Suddenlink, was among the companies that submitted proposals. That company wrote that projects were already underway to bring 1-gigabit broadband service by the end of the year.
Suddenlink sought no incentives and said its expansion plans were independent of the city's effort to build a dark fiber network.
RG Fiber proposed the city spend $250,000 — a full $100,000 below the city's own estimate for the project. But as the council prepared to vote on the measure, someone asked which of the prospective bidders was the lowest.
Hughes said the decision came down to two providers, and "when you added in all the extras, there were two that were very similar in costs." Without seeing the bids, residents had to take her at her word.
But RG Fiber owner Mike Bosch said that statement was a "blatant misrepresentation" of his company's bid.
Allo did not include an estimated cost to the city in its proposal, noting it would depend on the construction cost and time frame. But in city documents comparing each bid, Allo's cost was listed as $350,0000 — $100,000 more than RG Fiber's proposal.
Nonetheless, the council at its Jan. 23 meeting voted 3-1 to begin final contract negotiations with Allo.
But the controversy was only just beginning to unfold. Residents raised questions and lobbed accusations. And the public started requesting records to figure out what the city was up to.
RG Fiber ultimately received the second-highest score from a committee that judged the bids. City leaders say they still want the company to come into town. But Bosch said he's hesitant to invest now that city leaders seem to have identified a favored vendor.
So for now, he's waiting to see what the city does.
Residents might have scrutinized an effort to spend $350,000 on the project regardless, but many say the city's secrecy has fueled their suspicions.
The bids eventually did become public. City Attorney Frank Jenkins advised the council that confidentiality agreements would not preempt the disclosure requirements of the Kansas Open Records Act.
City leaders said they required the privacy agreements to encourage more companies to respond, without publicizing business secrets like detailed financial information. And Hughes said the city also wanted to protect any maps showing proposed locations of fiber lines to prevent saboteurs.
"We've never done this kind of RFP before," she said in an interview with The Star, noting consultants pushed for the nondisclosure agreements.
Residents have only intensified their scrutiny in recent weeks, with locals taking to social media to trade accusations of impropriety and kickbacks while digging for more information.
There have been suggestions that the city should start its procurement process over again, but this time in an open process.
The pushback has been severe enough to convince the mayor to seek an independent review of the process. A day after the council voted to approve Allo's proposal, Ellis asked the Johnson County District Attorney's Office to investigate "allegations of impropriety in the process."
A spokeswoman for the office said it had received no information from Spring Hill.
The mayor said he appointed special counsel from the Kansas City, Kansas, law firm McAnany Van Cleave & Phillips to gather information on the city's procurement process. The firm will then hand over material to the Johnson County DA, he said.
The business news you need
With a weekly newsletter looking back at local history.