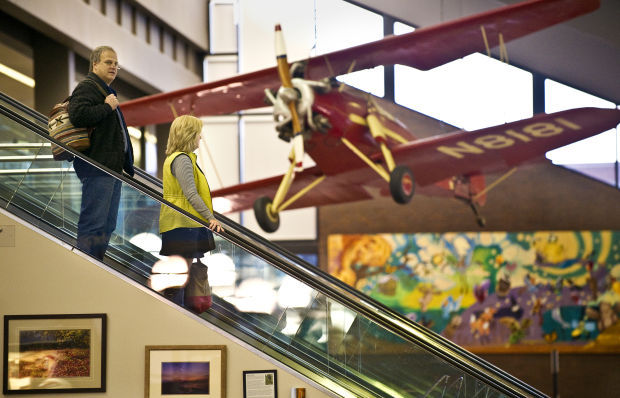 The Lincoln Airport has its first winning streak in at least 20 years
Passenger traffic was up slightly in 2014, giving the airport its first back-to-back annual passenger gains since the mid-1990s.
There were 288,082 total passengers last year, a 2 percent increase over 2013 and the most passengers since 2008. That followed 2013's 5 percent increase over 2012.
"Anytime you can see any growth, let alone consecutive growth, it's a good thing," said Lincoln Airport Executive Director David Haring.
Haring looked back at 20 years' worth of airport passenger numbers and could not find two straight years of passenger growth.
He attributed last year's growth mainly to the addition of a direct flight to Atlanta on Delta Air Lines that started in September.
Almost 12,000 travelers used the service between its introduction on Sept. 3 and the end of the year, the airport said in a news release.
"Without that we would have been fairly flat or even under" (last year), Haring said.
Passenger numbers for Delta, which uses its Delta Connection regional service for its Lincoln flights, were up 12 percent over last year. The nearly 93,000 passengers in 2014 was the most for Delta in Lincoln since 2008.
Those numbers helped to offset a decline for United Airlines, which reported 4 percent drop in passenger numbers.
Haring said two-thirds of that drop was due to factors out of the airline's or the airport's control. Bad weather last January forced numerous cancellations and delays, especially through United's hub in Chicago. A fire at an FAA control facility in suburban Chicago last September also caused flight cancellations that adversely impacted air travel to and from Lincoln.
What makes Lincoln's success even more impressive is that it occurred at the same time competing airports also are reporting more passengers. 
Neither Omaha's Eppley Airfield or Kansas City International Airport have released year-end numbers, but both were up more than 2 percent through the end of November. And Central Nebraska Regional Airport in Grand Island set another record last year with nearly 61,000 passenger boardings, which translates to more than 120,000 overall passengers.
Haring said another factor that has helped passenger growth in Lincoln is fares are more competitive. 
A recent random comparison showed that on comparable flights to 25 domestic destinations, the cost of a one-way ticket from Lincoln was within $50 of the Omaha price about two-thirds of the time. On a number of flights it was less expensive to fly from Lincoln.
Haring said falling oil prices could lead to some reduction in airfares, but a number of factors go into the cost of a ticket so it's difficult to predict the impact.
What will help the Lincoln Airport the most in 2015, Haring said, is more people using the Delta flight to Atlanta.
The flight is off to a good start, he said, averaging about 70 percent full so far on larger planes than are used on Lincoln's other routes. Haring said the goal is to get that occupancy closer to 80 percent.
The airport has a $750,000 grant from the federal government to make up for any losses Delta has on the flight. Under the terms of the grant, Delta must keep the flight for a year.
If it does so, Haring said he expects passenger traffic to rise again in 2015, by about 10,000 to 12,000 passengers over 2014.