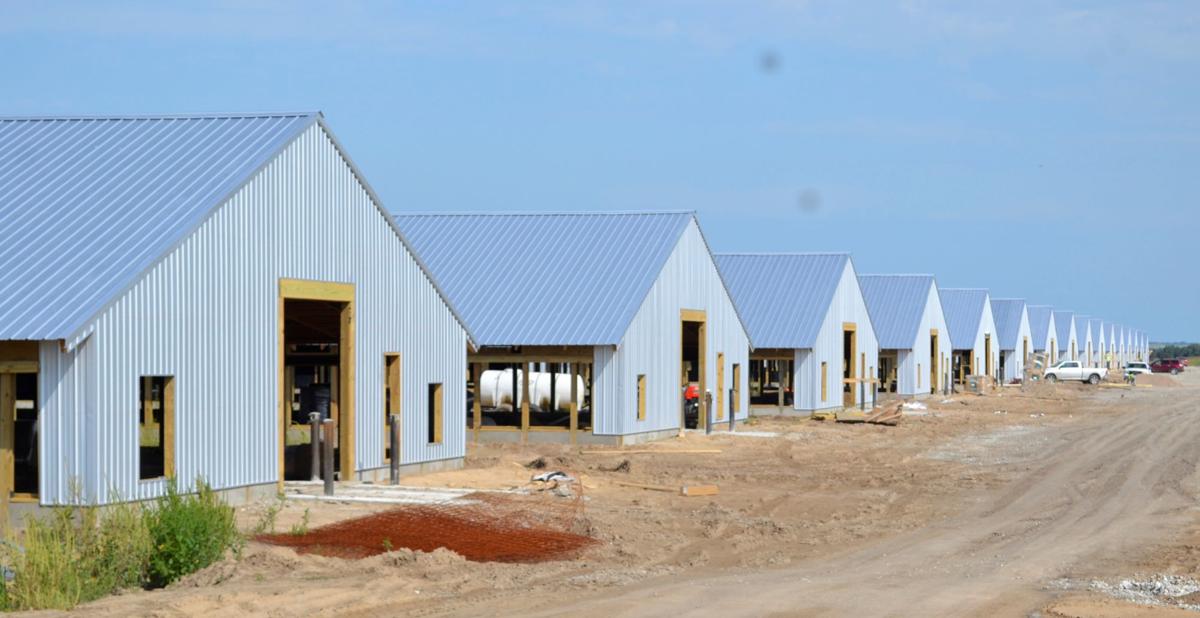 COLUMBUS -- Two adjacent plots of land in Platte County could wind up being home to more than 1 million chickens for the Costco processing plant in Fremont.
The two 160-acre sites about 10 miles west of Columbus will each host 16 barns housing up to 42,000 chickens each. That means more than 1.3 million chickens could be raised at once.
One of the sites already has barns constructed and machinery is expected to be moved in before the end of the month, according to an out-of-state subcontractor working on site there Wednesday.
Groundwork is currently underway at the other site.
Jessica Kolterman, a spokeswoman for Lincoln Premium Poultry, the company running the Costco operations in Nebraska, confirmed that each site will host 16-barn broiler operations.
She said that though each projected 16-barn setup is sizable, it is not out of the ordinary.
"In our world, there are setups that go from four barns to 24 barns," she said. "Every family has to look at what is best for them and what their needs are."
Kolterman said several barns are being erected across Platte County, part of the hundreds of barns in Nebraska and Iowa that will serve the Fremont plant, which started operations earlier this month.
The entire grow operation for Costco spans about 20 Nebraska counties and four to five counties in Iowa. The plan calls for 432 broiler barns, 24 pullet barns and 64 breeder barns, for a grand total of 520 barns in the region.
You have free articles remaining.
Kolterman said that most of Lincoln Premium Poultry's barns will be built by the end of 2019 and be operational sometime within the following year.
Many of the proposed operations have been controversial. The approval of the first one in Lancaster County was appealed in district court, where a ruling is pending.
A second application, scheduled for a public hearing before the Lincoln-Lancaster County Planning Commission next month, has generated heavy opposition.
A coalition of community and environmental groups has called for a moratorium on large animal feeding operations in the state and started a petition on Change.org earlier this week that has more than 500 signatures so far.
However, the Platte County operation has generated no known opposition.
That could be due to the fact that the county is one of a handful in the state that has no zoning requirements outside of incorporated cities and towns, meaning no public hearings are required.
Lee Rupp, a former state senator who lives a few miles away from where the barns are being built, said he has no problem with the size of the operation.
He said that he believes producers should get the best bang for their buck and that growing traditional crops isn't always cutting it for Nebraska farming families.
"Highest and best use of land is what farmers need to go for," Rupp said. "When I see soybeans out here in the field that are selling for cost of production, $7 per bushel, or whatever, that certainly isn't the highest and best use …
"Some people wish things were like they are in the old days, which is pie in the sky, or you can go with the flow of moving forward and improving as much as you can along the way, but accepting progress, not fighting it."
Kolterman pointed out that Lincoln Premium Poultry makes all its growers adhere to its internal standards, which include being at least 400 feet off a main road and at least a quarter mile from any residences or public buildings unless the owner signs a waiver. They also are required to get a construction and operating permit from the Nebraska Department of Environment and Energy.
Journal Star reporter Matt Olberding contributed to this report.