ST. PAUL — Joe Sack doesn't let anything get in the way of his mission.
Sack grew up on the family farm that his dad and uncles began working on nearly 50 years ago. During those formative years, Sack learned the value of hard work and developed an eye for how to make things better and more efficient. Years later, Sack would find himself back on the land that shaped his youth, with more information and a quest for soil health — a passion that he's passing onto the next generation of American producers, too.
"As a family farm, we had our set jobs that we needed to do growing up," Sack said, looking back. "My dad was always in charge of the hogs. We had a farrow-to-finish operation, and we were in charge of the alfalfa crop. Throughout my younger years and in high school, I will admit, I did not enjoy the hogs much, but I did learn about hard work."
Amid tough times in the ag sector, Sack said he only stayed on the farm a little over a year after graduating from high school in 1996. Then he decided it was time to continue his education.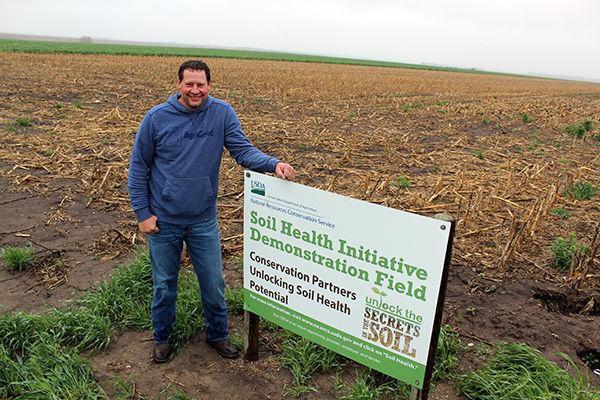 Sack headed to Central Community College in Hastings, where he pursued a degree in machine, tool and die. He took with him his work ethic, attending college from 8 a.m. to 3:30 p.m. and then working from 4 p.m. to 2 a.m. at Nebraska Aluminum Casting.
"Soon after I started working, they put me on a machine and I changed the process of how they had been doing it and was able to produce twice the amount of parts in the same amount of time," Sack said. "The supervisor asked how I got so many parts done, and I simply said, 'I changed the process.'
"The owner of the company came to me later that day and offered to pay for all my schooling and books, no strings attached. It was pretty unbelievable, and I appreciate their generosity to this day."
Sack's knack for being able to see how things can be made better has proven beneficial to him to this day. Even though he was away from the family farm, he never stopped learning about how to make things better in agriculture. The consummate student, Sack did research, thinking someday the opportunity to return home may arise. Once he graduated college, Sack moved back home to the St. Paul area with his wife, Tansy, and he worked as a machinist.
Then, the couple received a phone call from Sack's dad.
"He told us my oldest brother was getting out of farming and he wondered if I wanted to come back," Joe Sack said. "Before I came back in 2008, I sat down with my dad, two uncles and cousins. I printed off an article and gave it to them at the meeting and said, 'I believe these practices would make your farm more efficient and sustainable … These are some of my ideas."
You have free articles remaining.
Sack said he researched the work of Gabe Brown, a regenerative agriculturalist in Bismarck, North Dakota, before meeting with his family. And despite their willingness to listen to his ideas, he said he's faced an uphill curve trying to convince his family and neighbors who are used to heavy tillage and grow very little to no cover crops to make changes. But he refused to stop learning.
During a Four States Irrigation Council gathering in Fort Collins, Colorado, about six years ago, Sack said he was inspired by a young farmer who presented information that aligned with his ideas and objectives for the family farm.
"I asked him, 'How did you convince your dad to let you do these things?'" Sack recalled. "He said, 'I did not. I bought my own piece of land so I could show them on my quarter how it would work. Then dad allowed me to do it on his land.'"
Sack took that advice, came home and he and his wife bought a quarter. Not long after their first year of planting rye, Sack said that Kraig Beck of the Natural Resources Conservation Service approached him about participating in a soil health study. With Beck's help, they have established a soil health demonstration field.
"I want to break up the hard pan with a cover crop and its root system," he said of his objectives. "The other main goal is water infiltration, holding water so it is available for the crop to use when Mother Nature does not give us the moisture we need. We are very fortunate to have a good irrigation supply in Central Nebraska, but I think we need to learn how to be more efficient with our water because we are not going to gain more. In fact, we are going to have less in the future."
Sack's method is planting two years of corn and one year of soybeans. He said he's planting soybeans now, and then once harvested, he'll plant rye. Once the rye is harvested, he plans to start a high-grazing cover crop for the summer months, as he is looking to add cattle to his operation.
The biggest reason Sack is pursuing practices that rebuild soil health is the future.
"I want to leave this farm in much better condition for my children," he said.
The Sack children are catching on, too — his oldest daughter and two sons, age 14 and 12, have watched their father begin to make changes with interest.
"They come out with me a lot and say they want to be farmers," Sack said. "They will ask questions about what they are seeing, like, 'Dad, why would they disc that up?' I don't have an answer for them. The kids will say, 'All they are doing is making that dirt blow away and drying up the soil.' So, they may not fully understand everything about soil health, but they can see it."
Sack is looking forward to learning more through the Natural Resources Conservation Service Soil Health Initiative and he wants to share with others.
"Being part of the research definitely takes work, but that is how you learn," Sack said. "There are a lot of brilliant minds out there to absorb knowledge from. It's important to listen to others and have an open mind."