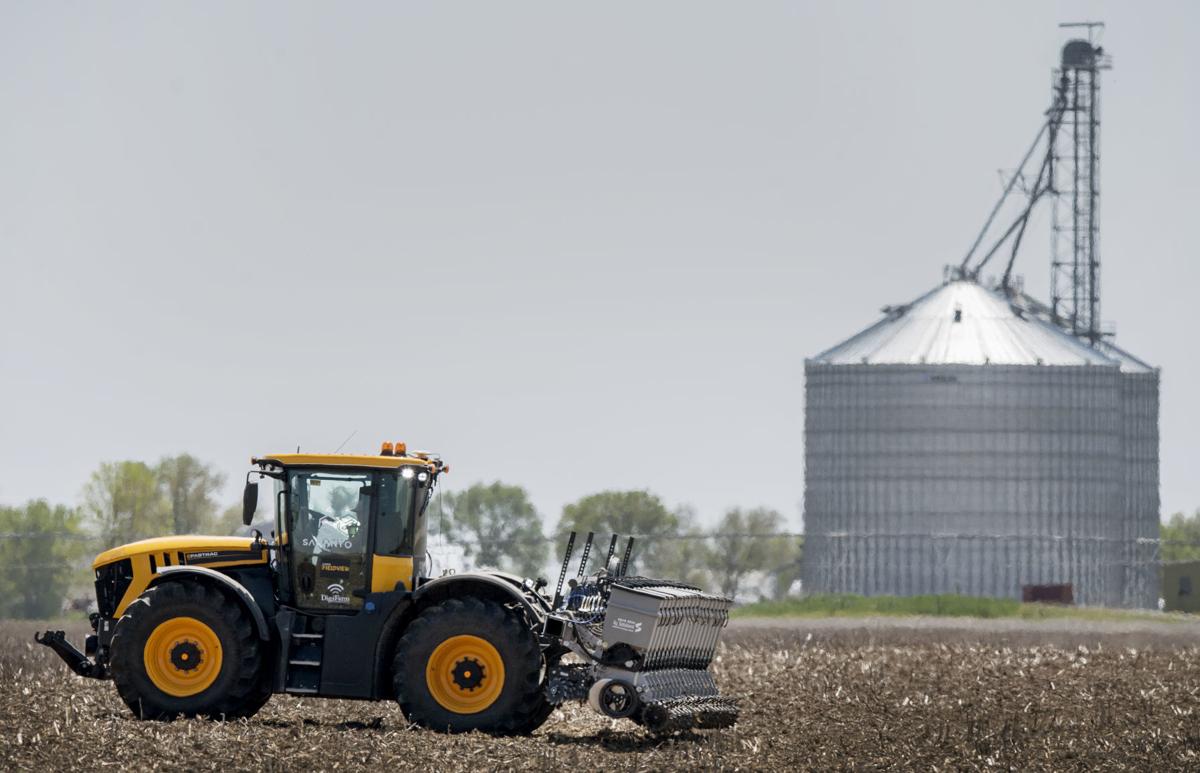 If you had driven past Shane Bristol's farm south of York earlier this month, you might have seen a construction yellow-colored tractor with a planter attached tooling around his soybean field.
The tractor looked like any other tractor — in fact it was just like any other tractor — with one big difference: it was modified to be controlled remotely.
The tractor and planter are owned by Sabanto Ag, an Ames, Iowa-based startup company trying to perfect a fully autonomous planting system.
Craig Rupp, half of the brains behind Sabanto, has an extensive background in agricultural technology.
He pioneered the use of global positioning systems while working for John Deere and later co-founded a company that was bought by Monsanto.
Rupp founded his newest venture, which is named for the Japanese word for "servant," last fall with Kyle Laird, an Indiana farmer with a degree in computer science who had already been experimenting with autonomous technology in tractors.
The two men came up with a goal to plant 10,000 acres of soybeans this year across the farm belt to demonstrate what their autonomous tractor can do.
Rupp said the partners sought to plant soybeans in several states, "because we want to learn what it's going to take to do autonomous planting."
Sabanto was at Bristol's farm near Fairmont in mid-May and used the tractor to plant about 200 acres of soybeans.
Rupp, who grew up on a farm in northwest Iowa, said planting in Nebraska showed him how different the conditions are from his home state.
"It was a great experience," he said. "Shane Bristol really educated us."
Bristol, for his part, called the experience "awesome." He said he found out about Sabanto through Ag Astra, a Kansas-based commodities trading advisory firm he works with.
At the time, Sabanto did not have a farm in Nebraska lined up, so Bristol volunteered.
"It was a really cool experience to be the first and only one in Nebraska," Bristol said.
Bristol said the autonomous tractor is not cheaper to use nor is it faster. The big advantage, he said, is that it frees up a farmer's time.
The tractor is controlled by a laptop computer, and though it does have to be monitored, a farmer can do other things while it is planting.
"You can have one guy doing the job of two," Bristol said.
Though Sabanto Ag's autonomous tractor is only at the proof-of-concept stage and far from becoming a commercial product, there are similar products already hitting the market.
The Los Angeles Times reported earlier this month that Dot Technology Corp., a Canadian company, has already sold some power platforms for fully mechanized spring planting. In Australia, a company called SwarmFarm Robotics rents weed-killing robots that can also do tasks such as mow and spread.
Rupp said that no matter how good autonomous technology becomes, it's never going to supplant farmers and their valuable knowledge.
"Our goal is not to replace the farmer, and I don't think the farmer can be replaced," Rupp said.
The goal of autonomous technology, he said, is to make farmers more productive.