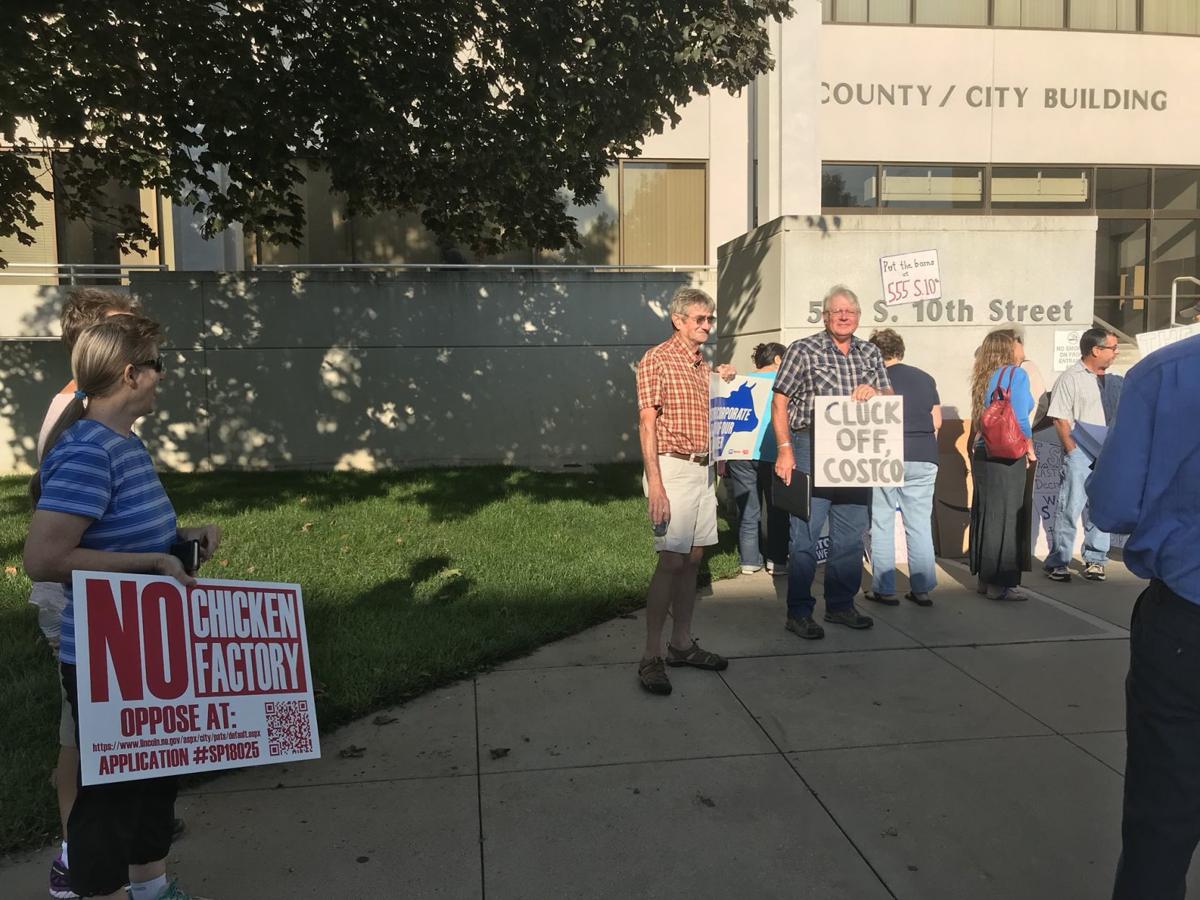 A coalition of citizen and environmental groups is calling for a moratorium on large livestock operations in the state.
At a media event in rural Valparaiso on Monday, the groups unveiled a Change.org petition seeking support to put a temporary stop to what they call "factory farms."
Randy Ruppert, a Nickerson resident who has been a frequent critic of the Costco poultry processing plant in Fremont, said such a moratorium is needed because state and local zoning laws are inadequate to deal with large confined animal feeding operations.
Most county zoning regulations "are 40 years out of date," said Ruppert, who helped to start Nebraska Communities United in 2015.
The event was at Pine Crest Farms Bed & Breakfast in advance of a Saunders County Planning & Zoning Commission hearing Monday night in Wahoo on a proposed poultry farm near Morse Bluff that would raise chickens for the Costco plant that started up this month.
The bed and breakfast also is about 3 miles from the site of a proposed poultry farm in northwest Lancaster County.
That operation, near Northwest 27th Street and West Ashland Road, would have 380,000 chickens in eight barns. It is tentatively scheduled for a public hearing before the Lincoln-Lancaster County Planning Commission on Oct. 2, after having two earlier scheduled hearings delayed as it tried to work out issues with county roads in the area.
It's the second poultry operation proposed in Lancaster County that would raise chickens for the Costco plant.
An operation that would have 190,000 chickens in four barns at 13350 West Wittstruck Road, near Crete, was approved last year. However, that approval was appealed in Lancaster County District Court, and a ruling is still pending after a trial last month.
A citizen task force that met for nearly six months has recommended changes to Lancaster County's rural zoning rules that would make it harder to site a large livestock operation in the county.
Many of the proposed regulations the task force recommended are in the petition's recommendations, including increased setbacks, at least a 30-day notice for properties near a proposed operation and proof of financial responsibility for disaster and decommissioning.
Residents who live near the proposed Saunders County poultry operation, which would have 12 barns and more than 550,000 chickens, said they received only five days'  notice of the hearing before the county planning and zoning board.
They said they are particularly concerned about the fact that it does not appear to be a local operation. The farmer who owns the land plans to lease it to a company called Y24 LLC, which is owned by Jody Murphey, an executive officer at North Carolina-based Gallus Capital Debt Fund and Gallus Capital Equity Fund.
According to media reports, Murphey may be involved in nearly a quarter of all the Costco-related poultry applications in Nebraska.
Jessica Kolterman, a spokeswoman for Lincoln Premium Poultry, the Fremont-based company running the Costco plant, said her understanding is that Murphey is an investor who will be partnering with local farmers on poultry operations.
She said it's no different than farmers who partner with seed or implement companies.
As for the opposition to the farms themselves and calls for a moratorium, Kolterman said, "It's unfortunate that people are using examples of bad actors in other places to try to characterize all poultry operations in America."
Kolterman said Costco and Lincoln Premium Poultry have been "very transparent about what our operations will look like," have followed the letter of the law for the applications and have in many cases gone "above and beyond" what local zoning laws have called for.
Costco, however, has never operated in the poultry business before, and though Lincoln Premium Poultry is run by a poultry industry veteran, the company has no track record.
"You just have to take their word for it," said Andrew Tonnies, who lives near the proposed Saunders County operation and also is a member of the Dodge County Farmers Union.
In addition to Nebraska Citizens United and other state-level groups such as GC Resolve, Nebraskans for Peace, the Nebraska Sierra Club and Nebraska Interfaith Power & Light, others calling for the moratorium include Lancaster Hills Alliance and RC Communities United, two groups formed to oppose the two Lancaster County applications; Elmwood First, a group formed to oppose a proposed operation in Cass County; and Community Advocates for Responsible Agriculture, a group formed to oppose the Saunders County operation.
The call for a moratorium on large livestock applications did not sit well with state agriculture groups.
Steve Martin, executive director of the Alliance for the Future of Agriculture in Nebraska, said livestock operations are well regulated at both the state and county level.
"Organizations opposed to livestock on the local, state and national level are undercutting the very fabric of Nebraska's economic foundation," Martin said in a news release.
Craig Head, a spokesman for the Nebraska Farm Bureau, said calling for a moratorium, "ignores the realities of what farmers must do to build and operate a new livestock farm.
"Nebraska farmers go through an extensive process and must adhere to numerous local, state, and federal regulations, governing everything from where barns can be located, to how they operate for the protection of natural resources and the environment," Head said in a statement. "A moratorium on Nebraska livestock farms, as has been proposed by some environmental and activist groups, would be nothing short of a disservice to Nebraska farmers, our rural communities, and our state."