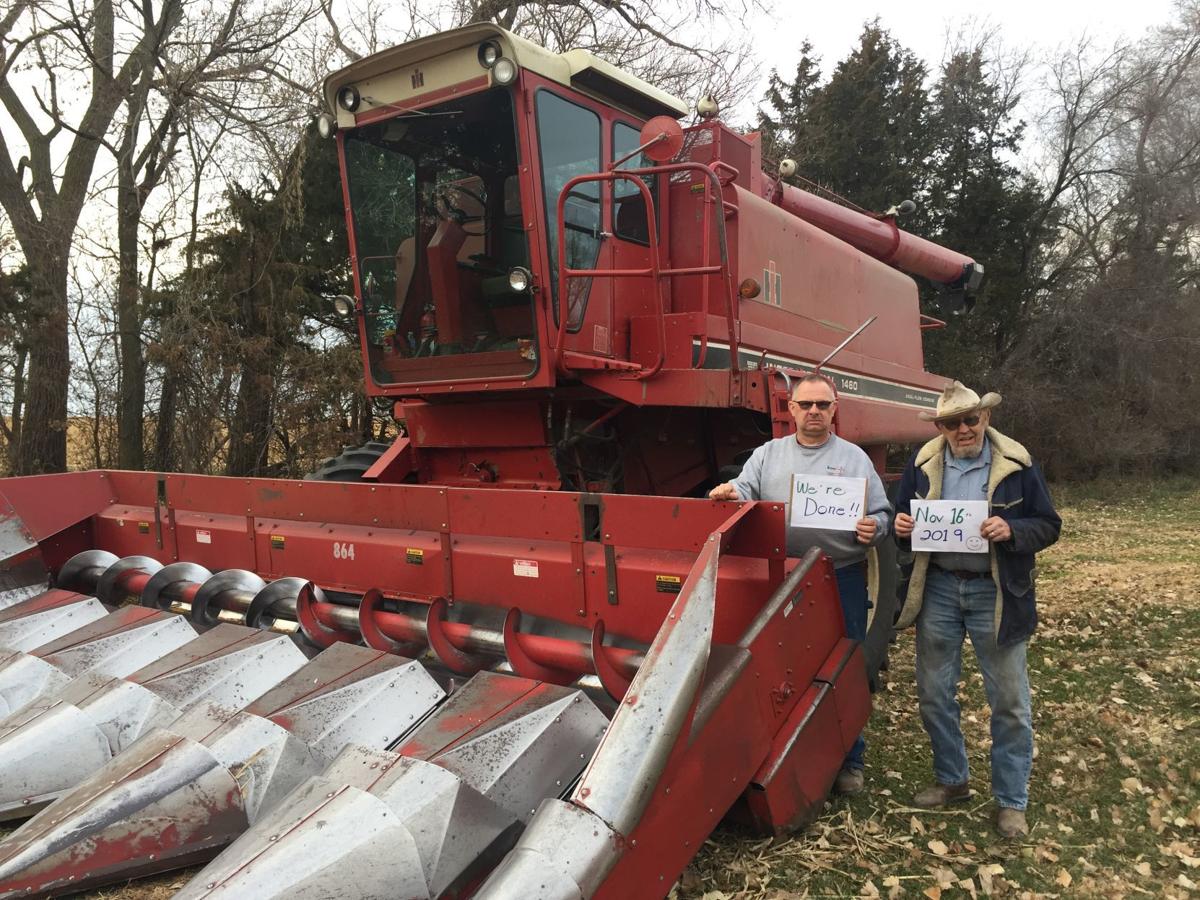 Eugene Glock completed his 70th harvest in November, cutting the crops in his Rising City fields with the same combine he bought more than 40 years ago.
At 87, Glock is retired, but his son, Ted, lets him help with his favorite seasonal tasks.
"I farm because I love to farm," Eugene Glock said in a phone interview. "It's an experience that many people can't have — that's working with God closely to produce something."
Farming just less than 400 acres of corn and soybeans, the 1978 International Harvester combine with a six-row corn head is enough for the Glocks. It's their workhorse.
When Eugene Glock bought it new, the IHC combine was a step up. He was asked to farm another half section a mile away, and he needed a bigger machine to get the work done. Glock paid $24,000 for the combine, the six-row corn head and an 18-foot grain head. He traded in a New Holland.
When he bought it new, the ICH 1460 was one of the first rotary combines made by the company. The Glocks grow soybeans for seed, and the model was said to reduce issues with cracking the seed. It seems to have worked as promised. Glock is proud that his soybeans had only 1.5% crack.
You have free articles remaining.
Glock has run the combine every harvest for 42 years. The motor has about 6,000 hours on it, but the combine is well cared for. It's tucked away in a shed every night, and after each harvest, a neighbor who is a good mechanic gives it a tune-up.
While sometimes the weather wreaks havoc on harvest, the combine has never had a major mechanical issue, Glock said. This year, a bearing went out on the bean head, which took three hours to fix. There was a problem with a connector on the corn head draft shaft and a hydraulic hose needed fixing. Those took a couple hours apiece, but Glock was pleased they had only eight hours of downtime this fall.
The closest the IHC came to a breakdown was on its first time through the field in 1978. Glock was harvesting corn when he heard a terrible exploding sound. He learned that the cleaning fan with a 1-inch shaft started to flex a bit when it ran at 1,200 rpm. A cob or something got stuck and tore all the vanes off the cleaning fan, he said. The factory sent a mechanic out to install a larger shaft.
At that time, the Glock farm was busier than it is today. He kept a 100-cow shorthorn cattle herd and farrowed sows, as well. His wife, Melba, took the job of running the new IHC 1460.
"My wife was the best combine operator we ever had," Glock said.
All of their kids and grandkids have ridden in the old combine, and it's been through harvests in good years and bad. Glock said he's never seen a year quite like this, though. Planting conditions weren't ideal, but the crop went in in a fairly timely manner, he said. Yields, however, were the most varied he's ever seen. Thin ground or heavy soils didn't yield well, he said.
Still, Glock is thankful to participate for one more year in the miracle of farming. He just wishes he could say crop prices had gone up the same that combine prices have. He guesses that corn was about $2.50 when he bought his International Harvester in 1978.
"Corn is not even twice that price, but that $24,000 would not hardly buy the tires on one of the new combines," he said.