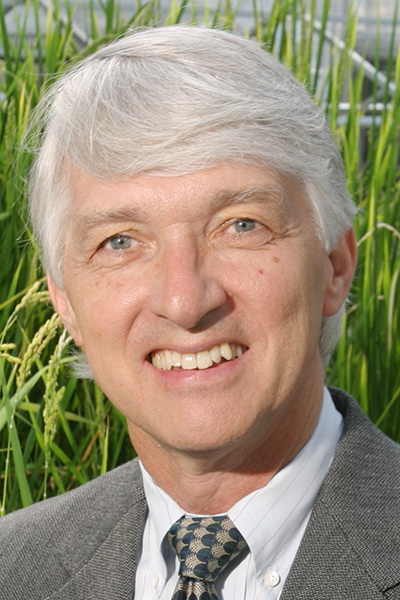 KEARNEY -- Roger Beachy, a pioneer in the development of biotechnology in the United States, thinks more transparency would do a lot to ease consumers' concerns about genetically modified foods.
But in an appearance at the Governors Ag Conference in Kearney on Tuesday, Beachy said transparency should come through the involvement of more university researchers in the high-tech improvement of food, not by labeling at food stores.
If labeling is allowed, poorly informed critics of genetically enhanced foods would use it "to demonize by labeling," he said.
Beachy, a plant pathologist and developer of the first genetically modified tomato, was the opening speaker at the two-day ag conference.
His one-hour presentation focused on "Investing in Research to Secure the Future Success of Agriculture."
Much of his emphasis was on finding public funding sources to support genetic research and help meet the goal of producing more food for what's expected to be a much larger population by 2050.
But in an interview, the man who went on to become the first director of the National Institute of Food and Agriculture talked about how the 1980s work of his research team in protecting the tomato against viral diseases never made it to the marketplace.
Regulatory costs were only part of the story, he said. The lack of acceptance by tomato growers was a big factor.
"If the tomato industry didn't want it, what good was it for science to push it?"
Since then, Monsanto and other private companies have made huge gains with insect resistance, herbicide resistance and other valuable traits in corn, soybeans and other field crops.
But some countries, including several in Europe, have been slow to accept biotechnology results, especially in foods meant for direct human consumption.
Some observers have characterized the collision of biotechnology advocates and critics as the battle of sound science against political science.
Beachy wants transparency in research, as opposed to food labeling, but he also wants reasoned debate.
"Every major event, every minor event in human history, has come through sound science of some type," Beachy said.
And he wants better informed news media. Too often, reporters "can't separate science from fiction, because they don't know science."
Now semi-retired, Beachy's resume' also includes the title of president emeritus at the Donald Danforth Plant Science Center in St. Louis, a research alliance that includes, among others, Monsanto, Purdue University, Washington University, the University of Illinois and the University of Missouri.
Earlier Tuesday, State Agriculture Director Greg Ibach and some of the 230 registrants for the conference reacted to a Monday USDA forecast of record farm income in 2013.
Ibach said the early outlook from USDA's Economic Research Service doesn't take an ongoing drought that blankets Nebraska and surrounding states into account.
"It's more of a function of last year's availability of corn and soybean production and the prices that corn and soybeans yield in the marketplace," Ibach said.
Pastures and dryland crops, including wheat, remain serious concerns in this and other states, he said.
Ken Boswell, an irrigated soybean producer from Shickley, and Lloyd Frandsen, who raises unirrigated wheat and maintains a cow-calf herd at Cambridge, have very different outlooks for 2013.
Boswell, vice president of the Nebraska Soybean Association, said he has ample water and an upbeat attitude about the upcoming growing season. "There's still the potential there," he said of record net farm income this year in his area.
Frandsen, meanwhile, said it's "terribly dry" in his area, about 30 miles east of McCook in the Republican River Valley. "The wheat crop did not come up very well. It's very spotty."
It will take another month or six weeks to know if rain will fall and whether his yield prospects will improve.
Frandsen also raises irrigated corn, but he's expecting an allocation limit of 6-8 inches in the Lower Republican Natural Resources District. That's about "half enough" to raise a good corn crop and compares to 12 inches last year.
Gross revenue might be a record for Nebraska farmers in 2013, he said, but high prices for diesel fuel, fertilizer and other inputs will exact a price. When that's subtracted to determine net farm income, "I don't see how it will be any greater next year than last year."
Boswell said crop revenue insurance will be an important component again in how farmers fare in 2013.
"You don't get rich on it," he said, "but you can hold it together so you can farm another year."
His last significant rainfall -- about 1.5 inches -- fell July 9, 2012.