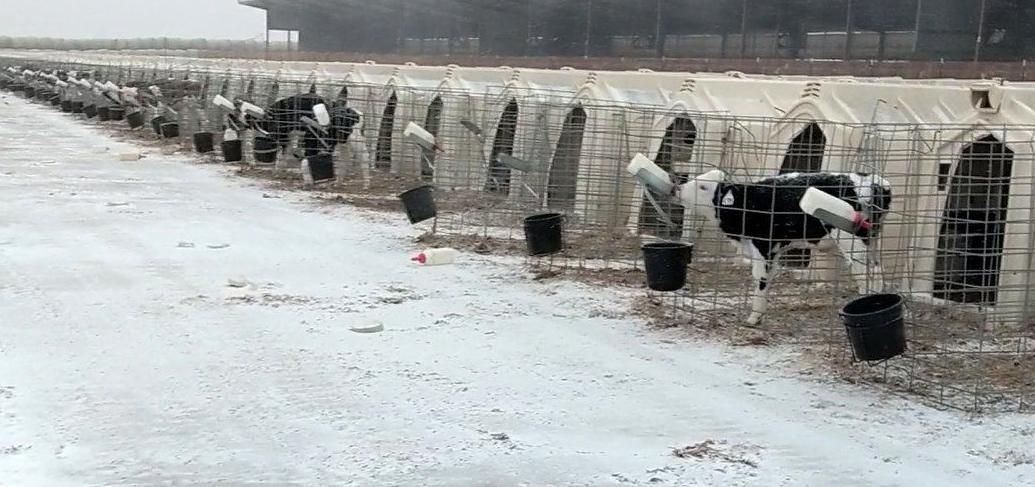 An animal rights group on Thursday leveled allegations of abuse at a Nebraska-based dairy operation.
Animal Equality said in a news release that it did an undercover investigation at Summit Calf Ranch in Rising City this winter and uncovered "shocking scenes" of animal abuse.
Summit Calf Ranch is a calf-raising operation owned by Tuls Dairies, which is based in Butler County and has operations in Nebraska and Wisconsin.
According to the Animal Equality report, its undercover investigator witnessed numerous instances of calves freezing to death or enduring frozen limbs after they were left outside in temperatures well below freezing.
The group also alleged that workers jabbed and hit calves with sorting sticks and hut rods, allowed dogs to bite the calves, failed to provide veterinary care to sick calves and also performed procedures on the calves without using pain medication.
"Our investigation into Summit Calf Ranch revealed a shocking lack of meaningful care provided to baby calves," Sean Thomas, international director of investigations for Animal Equality, said in a news release. "We documented sick newborns surrounded by their already dead pen mates in an area referred to as the 'hospital' where they were left to suffer for days and in many cases finally die."
In a statement, Tuls Dairies owner Todd Tuls said the company takes animal welfare very seriously, has a "strong commitment to animal care" and trains employees in industry best practices for humane and ethical treatment of animals.  
You have free articles remaining.
However, "this past winter presented farmers with some of the most challenging weather conditions faced in decades. The prolonged, extreme cold temperatures presented unprecedented demands on normal operations," Tuls said. "In spite of these difficult circumstances, this video shows our workers handling animals in a way that indicates they were attentive to their needs and following proper guidelines."
He said the company is having the Summit Calf Ranch operations reviewed by outside experts and will provide additional training and improve protocols if necessary "to ensure that our staff continues to provide the highest animal care standards in the industry."
According to Animal Equality, Tuls is a major supplier to Bel Brands, producer of Babybel and Laughing Cow dairy products.
The group in its news release encouraged Bel to adopt "meaningful animal welfare standards" for cows and calves.
In a statement, Bel Brands' U.S. Milk Purchasing Manager, Brian Zook, said the company does not do business with Summit Calf Ranch and received only 0.2% of its U.S. milk supply from Tuls Dairies in the past 12 months.
"We were still deeply saddened to see the losses suffered during last winter's harsh weather. All farms that supply us with milk must be members of the National Farmers Assuring Responsible Management Program, which sets best practices for animal health and safety, and ensures compliance through regular audits," Zook said. That includes Tuls, he added.
Nebraska legislators tried unsuccessfully in both 2012 and 2013 to pass a so-called "ag-gag" law that would have criminalized undercover investigations such as the one conducted by Animal Equality.
According to the American Society for the Prevention of Cruelty to Animals, eight states, including Iowa, Kansas and Missouri, currently have ag-gag laws in effect, although two of them are currently being challenged in court. Three other states have passed ag-gag laws only to have them thrown out by courts.