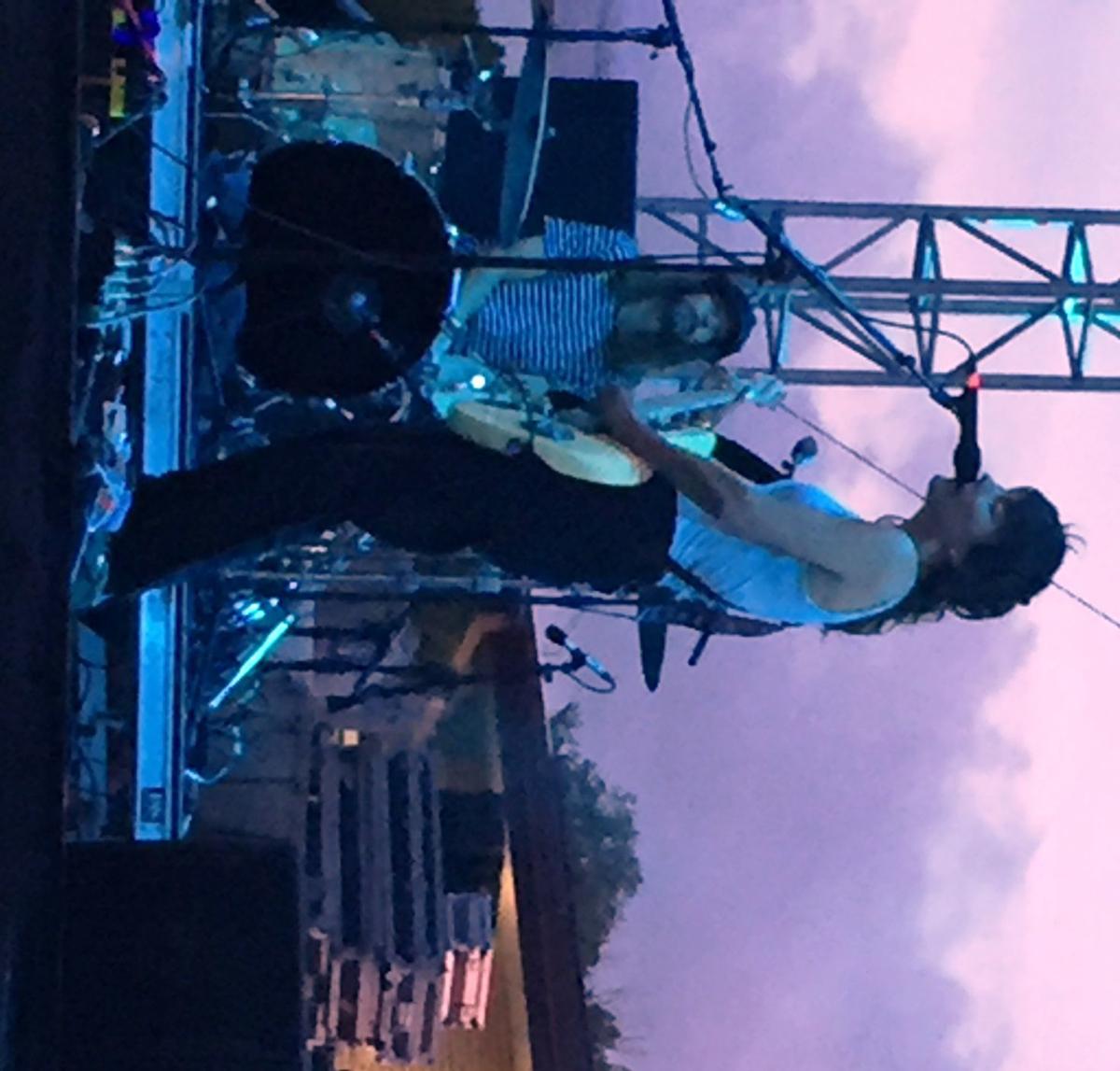 OMAHA — Immediately after Courtney Barnett wrapped up her Maha Music Festival set, a friend said 'They say rock 'n' roll is dead. That was rock 'n' roll."
It was just that, delivered by one of today's top purveyors of the form, someone who appeared to be having a blast leading her power trio through a song-after-song 75 minutes.
The Australian, who started as a garage rocker, has a distinctive style, putting some sunshine on Velvet Underground-style songs driven by a riff with her narrative vocals on top.
That approach is perfect, for Barnett is a great lyricist, the spare arrangements making it easy to hear her sometimes Dylanesque smart, funny rambling verse that can lift the mundane into the profound.
But Barnett isn't a singer/songwriter, she's a guitar-slinging rocker, stepping out in the middle of songs to work her pick-free, low-slung left-handed six-string attack.
Barnett's set spanned her career, following, for example, "Charity," from last year's "Tell Me How You Really Feel," with "History Eraser" from her 2013 EP "How to Carve a Carrot into a Rose."
You have free articles remaining.
And it was a well-paced, fast-moving affair, with some hammering punk and melodic pop mixed in with the VU stylings.
Barnett hasn't had anything like "Truth Hurts," the top-10 smash from Saturday's Maha headliner Lizzo. But she had enough fans in Stinson Park to get a singalong with the lovely pop "Depreston" and shouts of recognition for most of the tunes.
Barnett ended her set shouting "I promise to exploit you over the buzzing rock 'n' roll of 'Pedestrian at Best'" — which her performance definitely was not. It was, to steal another friend's term, "incredible."
Barnett was followed on the Maha main stage by Friday's headliner, Jenny Lewis.
Wearing a silver sequined dress that could have come off the Grand OleOpry stage in the 1960s, the Americana chanteuse took her four-piece band through a tasteful set of country — complete with accordion and string bender guitar — folkish numbers and power pop.
Lewis is a stellar singer and clearly was at home in Omaha, where she once was on Saddle Creek Records with her band Rilo Kiley.
Not surprising, those were the Friday Maha highlights for me. Saturday promises some noisy, guitar-drenched garagey rock from Oh Sees and the headlining set from Lizzo, who sold out the festival's second day.
Be the first to know
Get local news delivered to your inbox!