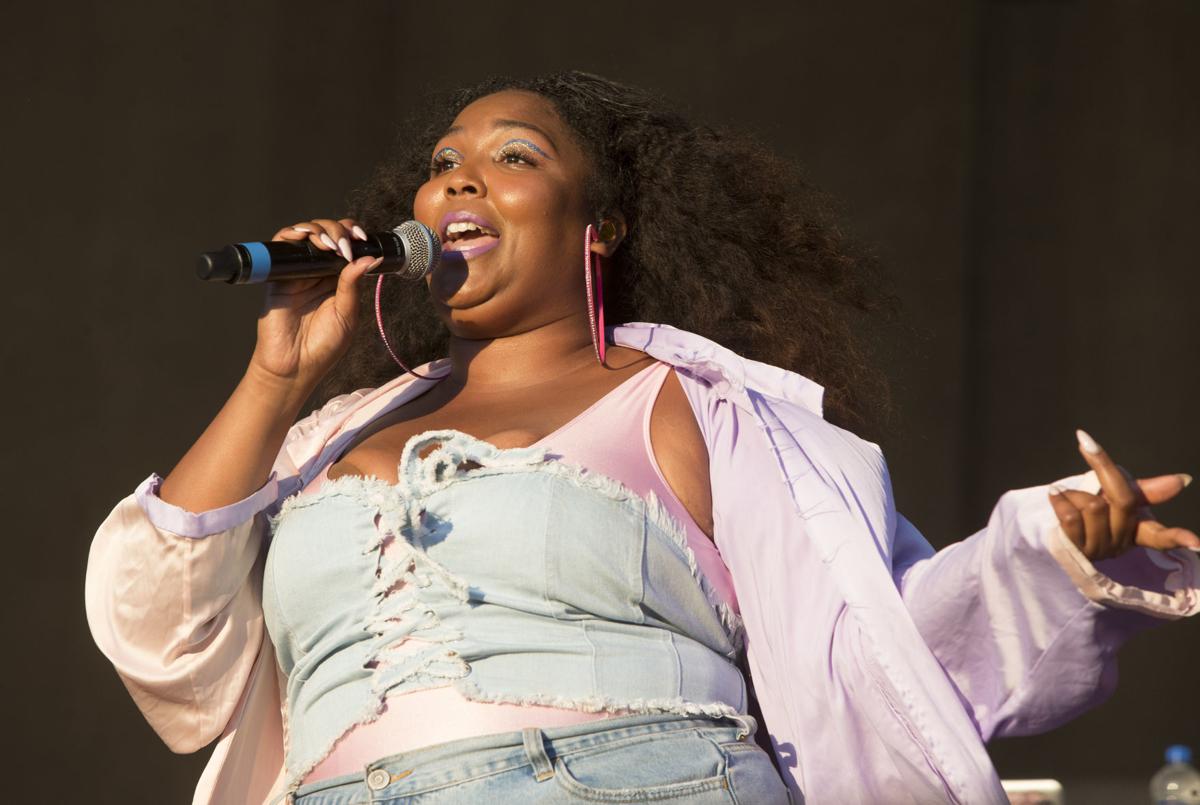 OMAHA — Stinson Park at Aksarben Village was packed with about 10,000 people Saturday night in the first ever sellout of the Maha Music Festival.
That's what you get when you have the good fortune to book one of the hottest artists of the day just before she breaks out.
That would be Lizzo, the singer/rapper who, since January, has seen her third album "Cuz I Love You" ride the single "Juice" into the Top 10 twice and "Truth Hurts" a song she initially released two years ago, go to No. 4 on this week's Billboard Top 100 singles chart.
The crowd got the song it was there to hear toward the end of Lizzo's dynamic festival closing set — with the star wearing a bridal veil, all part of a killer performance by a confident new star.
Lizzo's new to the charts, but at 31, with three albums to her credit, she's a veteran who knows how to put on a show, engaging with the audience through her music and verbally.
Hitting the stage by herself, she belted out "Cuz I Love You," demonstrating she's a great soul singer — something she confirmed when she pulled out an Aretha-style piece of "Respect" a couple songs later.
Then she brought out four dancers and tore through the set that showcased her best songs, rapping and dancing on "Boys," then sitting on a stool to wring the heart out of "Jerome."
And she talked with the crowd throughout the night, expressing pride and disbelief that the song she wrote about having her heart broken has gone double platinum, encouraging and supporting "big girls" like her and urging the audience to get involved in politics to create policy that looks like the country, while praising Reps. Ilhan Omar and Alexandria Ocasio-Cortez.
"Being a singer is cool," she said. "But I want to be Alexandria Ocasio-Cortez."
It was, in short, a terrific performance that more than lived up to expectations — and is evidence that Lizzo's got what it takes to be around for a good while.
Saturday's late afternoon/early evening undercard had quite a one-two punch with Duckwrth and Oh Sees.
L.A. rapper Duckwrth brought fun and energy to his late afternoon set. A charismatic performer, Duckwrth delivered his songs with verve, really getting his point across with voice and body.
I recognized a couple of songs from his excellent new EP "The Falling Man," mixing R&B and West Coast rap to great effectiveness. I knew almost nothing about Duckwrth before he was announced as a Maha performer. After Saturday, I want to hear more from him and see him again — not staring into the sun.
Duckwrth hung out on the side of the main stage to rock out with Oh Sees.
Singer/songwriter/guitarist John Dwyer and company brought 65 minutes of churning, psychedelic garage punk in two to three minute blasts. Some could have come straight out of 1966, which is a good thing. Others, however, were fast and pounding, courtesy of the band's two drummers.
That sent the crowd packed onto the incline in front the stage into a jumping frenzy. Not quite moshing, the wild reaction sent security along stage into 'stop this' mode. That was enough for Dwyer, between songs to say "take it easy down there everybody, don't get into it with blues and yellows (security)."
A suggestion here — if there's a band that's going to crank up a frenzy, it's probably better suited for the main stage rather than the permanently sited second stage with its front incline.
That said, I've seen Oh Sees or Thee Oh Sees as they have been called and a couple of Dwyer's other groups over the years and Saturday's was the longest and best performance of the lot.