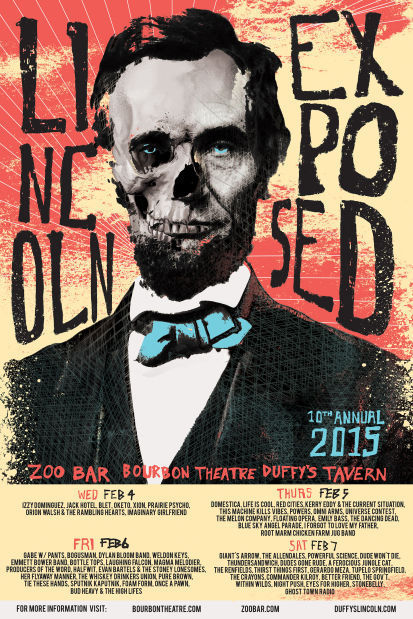 The Jan. 30 cover of Ground Zero -- the one depicting Abraham Lincoln and a skull -- to illustrate Lincoln Exposed came under fire from our readers.
Cody Fenske, a non-Journal Star employee, designed the poster for the annual music event and gave us permission to use editorially.
Here is some of what folks had to say:
* "I was shocked and dismayed to see the horrible depiction of Abraham Lincoln on the cover page of Ground Zero for Jan. 30th ! He was much too great a man to be portrayed like this, no matter the reason. I will avoid even opening the Ground Zero section in the future."
* "I think it was very disrespectful to exhibit a partially decomposed face of Abraham Lincoln on today's cover of Ground Zero. In my opinion, it was a poor choice by the editor and staff to permit it."
* "Maybe it's my age. Is anyone else speaking up to say they are a little offended by the Lincoln Exposed portrait of Abraham Lincoln? I am supposed to recognize Abraham Lincoln, right? A play on the name of the city of Lincoln?
"Well I am kind of offended. He was a great US president, he was assassinated while serving in office, and now he seems to have fallen to some level of pop death culture that I can't quite appreciate.
"And I recognize all the freedom expression issues here, especially in this day and age, so I will just express this opinion and sign off."
This one was my favorite, which came via snail mail anonymously, handwritten on a Post-it attached to the cover: "How dare you! What a horrible picture. You should be ashamed of yourselves."
Interestingly, we've never received any complaints about local restaurant Honest Abe's Burgers and Freedom use of Lincoln with hamburgers on the restaurant's wall. Nor has anybody, to my knowledge, criticized the ad agencies who have used Abe's image for campaigns promoting the Lincoln Marathon.
But since this wasn't whimsical, it struck a different kind of chord. Go figure. Anyway, I found Fenske's design to be clever, artistic and, most of all, inventive. Getting a reaction -- good or bad -- is always what an artist seeks.