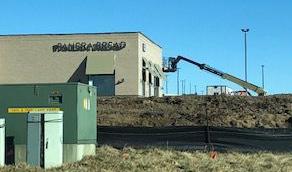 We now know the fourth and final occupant of the land on the northeast corner of 14th Street and Pine Lake Road near Costco.
You have free articles remaining.
Brakes Plus has filed a $1 million building permit for a site at 1510 Pine Lake Road. That would likely be the pad site that is farthest to the east, or closest to Costco.
A Panera Bread and Panda Express are both under construction at the site, and Cattle Bank & Trust last month announced plans to start construction this spring on a bank branch right on the corner of 14th and Pine Lake.
Despite the name, Brakes Plus offers a full range of auto services, including oil changes, mufflers, tune-ups and battery replacement. The company has one current Lincoln location, just north of 48th and O streets.