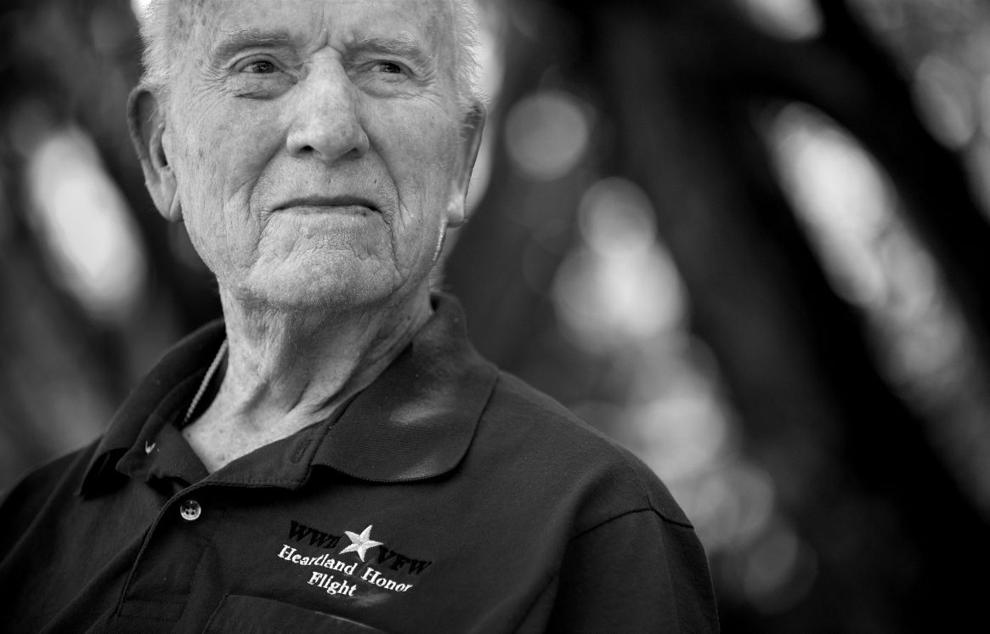 Bill Bush would watch the British war planes gather in the morning above his camp, near Land's End, to cross the English Channel for the fighting in France.
And he would watch them limp home to their airfields in the afternoon.
"When they'd come back, some didn't have a tail, and some had holes in their sides. We'd see that every day."
Now this was a long time ago, the 99-year-old says from his room at the Gramercy. But that's what he remembers.
That those battered planes were giving him a hint of his future.
He'd grown up in Lewiston, in Pawnee County. His dad ran the filling station and the truck service, hauling whatever farmers needed moved: cattle, cornstalks, molasses.
The Army drafted him in 1941 and then moved him from boot camp to boot camp. He remembers training in Arkansas, in California, and in California again.
"It just goes on and on," he says. "That's what the government does."
Bill Bush would sail past the Statue of Liberty on his way to Europe and he'd sail past her again, on his return to America -- where the doctor at Fort Leavenworth would tell him that what he'd been through would take 10 years from his life; where he'd meet and marry Zelda; where he'd get a lifelong job at the Lincoln VA.
But now he wants to talk about those planes, because in July 1944, he was about to cross the Channel and go where they went, and fought, every morning.
"We had no idea what we were getting into," he says. "But we soon found out."
They wore heavy wool uniforms and full field packs as they cruised toward the beaches of Normandy. They were going to try to claim the community of Saint Lo, but first they had to take the German stronghold protecting it.
"Eisenhower got us all together one night and he said, 'Look, if we don't take 122 Hill, they'll drive us back to the sea. The game will be over.'"
The ships dumped the men in neck-high water and they slogged toward the beach, past the bodies of dead men, past mired tanks. They climbed the bluffs, and he remembers seeing a wagon full of bodies.
"Our fellows. All stacked up there."
The Americans were at a disadvantage: The Germans had cannon bunkers and machine guns. They held the high ground and they knew the lay of the land. But Bush and his brothers would eventually take it, battling hedgerow to hedgerow. And they would keep moving, across France to the Battle of the Bulge, past the death camps, within 30 miles of Berlin, so far from Pawnee County.
But he never questioned what they were doing. Or why.
"You just take your orders, do what you're told, and cover your rear."