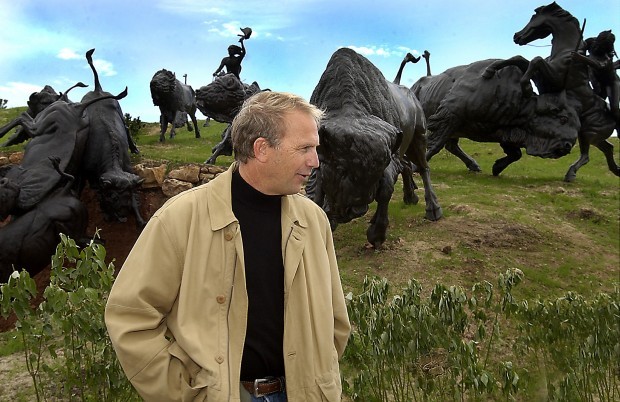 DEADWOOD, S.D. --  Kevin Costner is asking $14 million for 1,000 acres he owns near Deadwood, which includes the site of the ill-fated Dunbar Resort, a $100 million project that would have included a steam-fired passenger train and a championship alpine golf course.
He is selling three parcels, according to his listing agent, who said the movie star and Deadwood businessman has been contemplating the sale for months.
"From what I understand, it has been a hard decision for Mr. Costner and his people and not one they took lightly," said Mike Percevich, co-owner and broker with the Real Estate Center of Lead-Deadwood. "It's been a long process. We've been discussing the listing for six months to a year."
Costner filmed much of his Academy Award-winning movie "Dances with Wolves" in South Dakota.
The listing does not include Costner's Midnight Star, the tallest building on Main Street in Deadwood, or Tatanka: Story of the Bison, the $6 million visitor attraction the actor/director owns on the town's north edge.
The largest parcel, 735 acres with an asking price of $5.4 million, stretches along South Dakota Highway 85 from Tatanka toward Spearfish and is in the process of being annexed into Deadwood city limits, Percevich said.
The second parcel, an 86-acre commercially zoned parcel on Tatanka's eastern edge, is selling for $7.4 million, he added.
The proposed site of the Dunbar had been improved before the project was abandoned, including leveling terrain and adding storm drainage, water and sewer and four acres of parking.
The final parcel, 160 acres priced at $1.2 million, runs from the city limits near the town's slag pile to private ranchland in the forest, Percevich said.
"It includes mountain meadows and timber," he said. "It's got a plateau on top and it's really pretty."
Costner and his brother Dan proposed the construction of the 320-room resort in 1993, shortly after the release of "Dances With Wolves." It was named for Costner's movie character, Lt. John J. Dunbar. The brothers sunk several million dollars into the project before stopping construction when they could not find enough investors.
"They put far more into it than what they're asking," Percevich said.