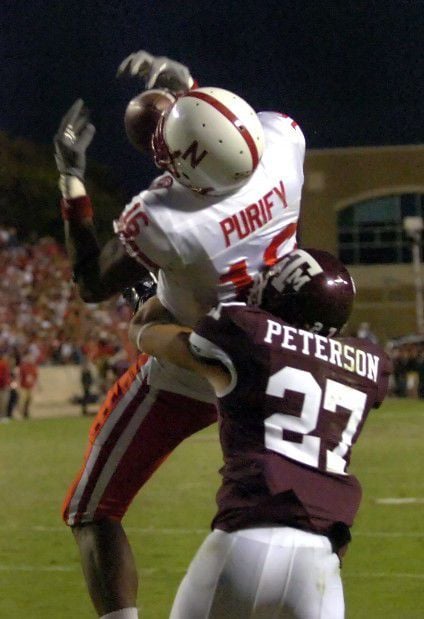 The outcome: Huskers 28, Texas A&M 27
The story: When you think Nebraska football, this is not the play that first comes to mind.
Really, how many times have you seen Nebraska execute a jump ball fade pass and find success? Oh, sure, a few times, but it's been a rare sight.
But there it was: Zac Taylor putting the ball up for grabs in the end zone with 26 seconds left in one of college football's toughest environments, Kyle Field in College Station, Texas.
Maurice Purify was the target. And the 6-foot-4 Purify was a good target to have in such a situation.
But it had been a miserable day for Purify. Drops plagued him all game.
"All the players can tell you I was frustrated, because it was unusual," Purify said after the game. "I couldn't track the ball that good. I couldn't tell you why. I just dropped the ball."
But would he drop this one? Texas A&M had come back from a two-touchdown deficit to take a 27-21 lead. The Aggies had nearly put the game away with two minutes to go, but Nebraska's Barry Turner blocked a field goal, giving the Huskers one last chance to pull it out and clinch the Big 12 North Division.
With the stadium literally shaking, Nebraska drove down the field behind Taylor, converting a fourth down and getting the benefit of a roughing-the-passer call to put the ball at the A&M 9-yard line.
The play call from coach Bill Callahan was to let Purify go get the ball. It was a smart move, considering he was working against a 5-10 cornerback.
And so Taylor floated the pass high, intentionally underthrowing Purify so he could come back and get it.
Purify soared high, higher than the Aggie. When he came down with the ball, you could almost feel the tremor in Nebraska from the celebratory dances in living rooms.
Nebraska had its first division championship in seven years.
And Purify? He had some redemption.
"It's my worst game," he said, "and the biggest catch of my life."