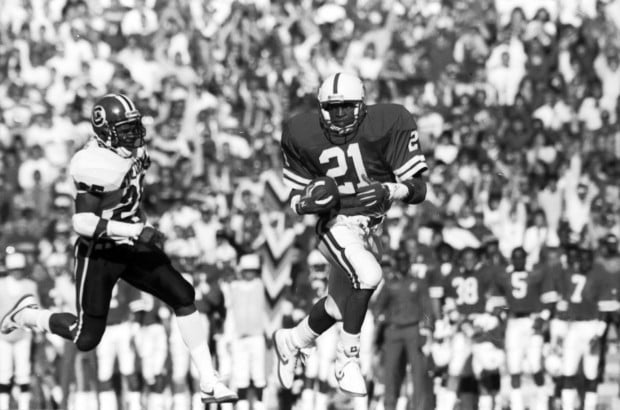 The outcome: Huskers 30, South Carolina 21
Tom Osborne's spread attack made South Carolina pay.
Nebraska trailed 7-6 with time running out in the first half on a sunny October day in Lincoln. Morgan Gregory and Rod Smith were split wide, while Hendley Hawkins and Richard Bell lined up as wingbacks.
South Carolina blitzed its cornerbacks, and quarterback Steve Taylor hit a wide-open Bell over the middle. Bell caught the ball at the South Carolina 45-yard line and outran everyone to the end zone, with help from Gregory on a key block at the 20-yard line.
Bell had not only his first career touchdown, but also his first career catch. A redshirt sophomore, he'd begun the season No. 5 on the depth chart at wingback after recovering from knee surgery the previous year. Bell moved up a couple of spots on the depth chart, and got in on the TD play partly because the formation required two wingbacks, and because Dana Brinson was held out of the game for failing to attend class regularly.
The touchdown gave No. 2 Nebraska a 13-7 lead with 1:12 remaining before halftime, but unranked South Carolina rallied for a 21-13 lead midway through the third quarter, then knocked Taylor out of the game.
With Taylor on the sideline with severe headaches and a sore shoulder, Clete Blakeman directed the final 10 plays of a 96-yard TD drive that cut the deficit to two points. Then Nebraska forced two fourth-quarter turnovers that led to a touchdown and a field goal — and a big exhale from Osborne.
"I'm glad the nonconference season is over," said Osborne, whose unbeaten team had already defeated UCLA and Arizona State.