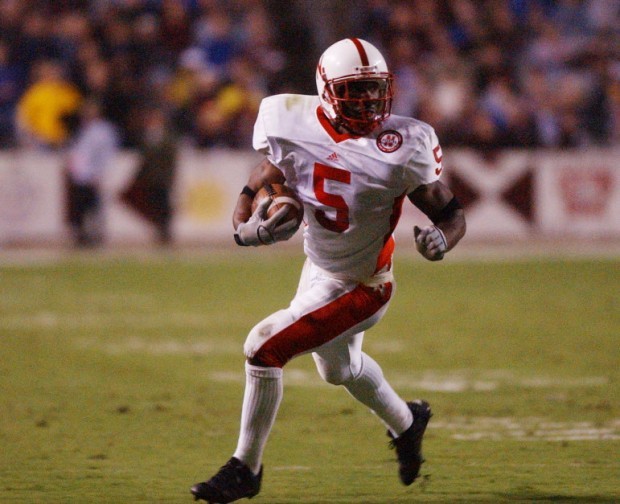 The outcome: Huskers 38, Texas A&M 31
In a season where road games often resulted in torn-down goal posts, Nebraska fans were the ones celebrating on the field this night.
Setting foot on Kyle Field in College Station, Texas — considered sacred ground — is a no-no. Especially if you're not an Aggie. A security guard tackled one wayward Husker fan who stormed the field. A cadet was seen clothes-lining another.
The reason for the commotion?
Nebraska, which had lost five straight road games by an average of 21 points, rallied from a 31-14 deficit at Texas A&M for an improbable victory before 81,054 fans.
Freshman I-back David Horne put Nebraska ahead 35-31 on his 6-yard touchdown run with 11 minutes remaining. Horne, an Omaha Central graduate, rushed for 128 yards and four touchdowns.
Quarterback Jammal Lord ran 30 times – the most ever in a game by an NU quarterback – for 159 yards. He also fumbled twice, including one A&M returned 66 yards for a touchdown and 17-point lead.
Josh Brown's 42-yard field goal marked the last of Nebraska's 24 unanswered points, and Philip Bland intercepted a pass in the end zone with 2:23 remaining after A&M had driven to the NU 9-yard line.
Those final events were something of a rumor for reporters perched high atop Kyle Field — a heavy fog rolled through College Station, and by the fourth quarter, the field was barely noticeable.
Nebraska — wearing those forgettable all-white uniforms with thick red gussets — had a memorable performance on the ground. The Huskers ran for 381 yards against a Wrecking Crew defense that had been allowing 76 rushing yards per game. It was the most rushing yards in a game against A&M since 1970.
It was also a fitting Nebraska tribute for former Husker Jake Young, a two-time All-America center who'd recently been killed in the bombing of a Bali nightclub. A memorial service had been held for Young earlier that day, and players wore an emblem on the back of their helmets that honored Young.