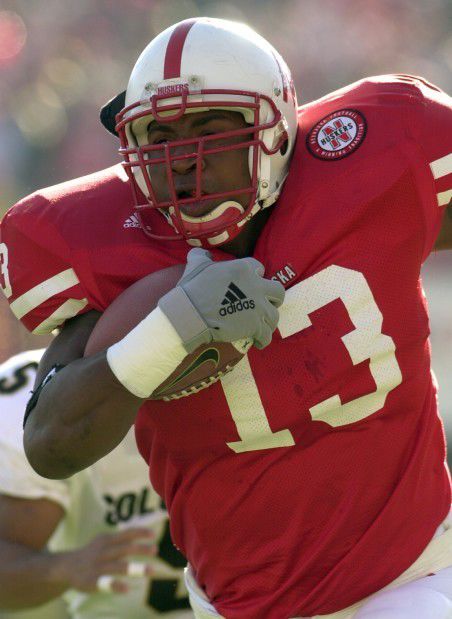 The outcome: Huskers 34, Colorado 32
The story: Guys on defense don't get too many opportunities to celebrate scoring a touchdown. Carlos Polk knew what he'd do if he got his chance.
After his 39-yard interception return for a touchdown got Nebraska going in a nail-biter against Colorado, Polk spiked the football.
"It was a good one," Polk said of his penalty flag-inducing celebration. "I wasn't trying to be discreet about it."
Polk knew NU defensive coordinator Craig Bohl and head coach Frank Solich weren't angry, because they wore smiles as Polk returned to the Memorial Stadium sideline following his big moment.
"I figured I'm going to earn my 15," Polk said, referring to the penalty yards Nebraska was assessed.
On the game's second play from scrimmage, Polk dropped into pass coverage, stepped in front of receiver Roman Hollowell, hauled in Craig Ochs' pass and rumbled 39 yards for the day's first touchdown.
It was the first career score for the senior linebacker from Rockford, Ill., also the Huskers' leading tackler.
The game, however, was too close for comfort, and is remembered for a last-minute drive and a 29-yard field goal by Josh Brown with no time remaining. Nebraska 34, Colorado 32.
After the 10th-ranked Huskers took a 14-0 lead, Colorado kept piling up yards and took a 32-31 lead with a TD and two-point conversion with 47 seconds remaining.
On the game-winning drive, Eric Crouch led a furious flurry that covered 47 yards in 39 seconds.
Then Brown trotted out and kicked the winning field goal. Husker center Dominic Raiola pulled Brown aside before the kick and gave him a "pep talk."
"What are you here for?" Raiola said. "You're a kicker. A field-goal kicker kicks field goals. Kick a field goal."
The win gave NU a 33rd consecutive nine-win season, and Polk and his senior classmates had a 25-1 record in home games.
Nebraska then headed to the Alamo Bowl and beat Northwestern 66-17, finishing eighth in the final AP rankings.