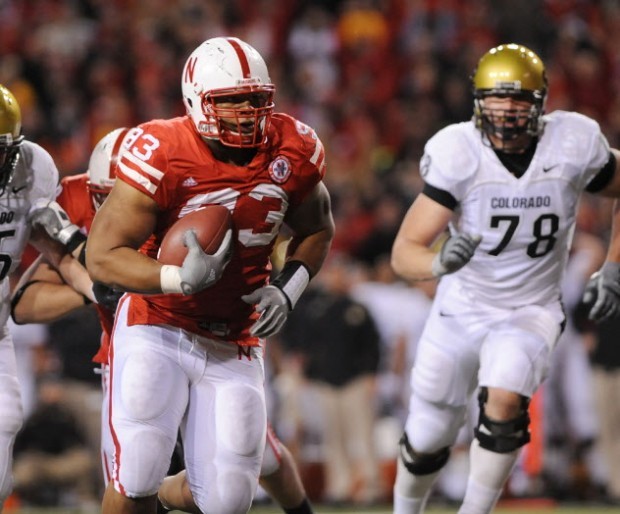 The outcome: Huskers 40, Colorado 31
Ndamukong Suh's signature play for his Heisman Trophy campaign came before anyone really knew Ndamukong Suh would have a Heisman Trophy campaign.
The junior defensive tackle was blossoming in his first season under the tutelage of Bo Pelini. But before he terrorized the likes of quarterbacks Blaine Gabbert and Colt McCoy as a senior, Suh introduced himself to Colorado quarterback Cody Hawkins in a different way:
By avoiding Hawkins' tackle.
Suh swatted away Hawkins "like a gnat," as ESPN announcer Ron Franklin described. Suh had caught a Hawkins pass that NU defensive end Zach Potter tipped near the line of scrimmage. Suh ran 30 yards untouched (save for Hawkins' meager tackle attempt at the 10-yard line) for a touchdown.
"That was impressive," NU running back Roy Helu said. "I saw the quarterback hit his leg, and he just flew off."
Suh spiked the ball into the north stadium concrete. Teammate Ty Steinkuhler ripped off his helmet in the end zone. Neither player was penalized.
Not that it would've mattered. Nebraska had a two-possession lead with 55 seconds to play, and Memorial Stadium, already abuzz after Alex Henery's school-record 57-yard field goal had given the Huskers a 33-31 lead moments earlier, was delirious.
The mood had been much different earlier in the fourth quarter. Nebraska seemed destined to lose to a poor Colorado team (the Buffs finished 5-7), and while the Huskers were bowl-eligible, a home loss in their season finale would've crushed momentum.
Instead, Nebraska improved to 8-4, earned a berth in the Gator Bowl and beat Clemson to finish a nine-win season.
All thanks to a powerful kick and a boy named Suh.