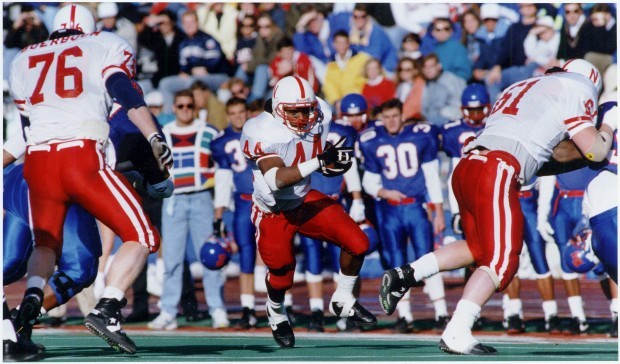 The outcome: Huskers 19, Oklahoma 14
The story: The game was played on an ice rink, oranges occasionally skating across it, the volume button in the stadium getting turned up as the minutes dwindled away.
Certainly there have been better Nebraska and Oklahoma teams than the ones that met in Lincoln in the freezing rain that day in 1991. But as far as just pure entertainment goes, this Huskers-Sooners clash was as good as any.
Bad weather. Drama. Oranges. A game-deciding fourth-and-1. Tom Osborne addressing the fans in the middle of the game. Falling goal posts. Musberger.
"Helloooo, Miami!" Brent Musberger proclaimed as a fourth-down Oklahoma pass fell incomplete to put the game to bed.
But before that, it was a freshman named Calvin Jones who rose to the moment.
Nebraska had trailed all game, spotting the Sooners a 14-0 lead in the first half. The Huskers began to control play midway through the second quarter, but they couldn't quite nab the lead.
To add to their frustrations, they were stuffed on a fourth-and-goal from the 1.
Still, the opportunity to win it remained. Down 14-13, Nebraska faced a fourth-and-1 from the Oklahoma 19. There was just 3:08 left.
Kick it or go for it? Osborne called a timeout.
"When Coach pulled us off to the sideline, he said it was our season and asked what we wanted to do," said Husker quarterback Keithen McCant. "There was no doubt in our mind."
The Huskers gave it to Jones, who worked his way around the left corner for 4 yards. Relief. A play layer, jubilation. 
Jones darted up the middle through a hole "big enough for a garbage truck," a 15-yard touchdown on a slip-and-slide field.
This far from sealed the deal. Though Oklahoma mustered just 187 yards of offense, the Sooners drove into Husker territory in the final minutes. But four straight Cale Gundy incompletions made sure the goal posts would not stay in the ground.
The crowd had been riled up all day. At one point in the second half, Osborne took over a referee's microphone to tell the fans that he asked the refs to penalize NU if oranges continued to be thrown on the field. "It was a bush-league thing to do," Osborne said after the game of the flying oranges. "I don't understand that. … But there are about 100 or 200 hammerheads out there."
Still, his postgame satisfaction was clear. Osborne said that team was the most enjoyable one he had coached to that point.
And on this day, that team had turned a double play. Not only did Nebraska take down the Sooners, the win helped Nebraska knock Colorado out of the coveted Orange Bowl slot. (Nebraska and CU had played to a 19-19 tie in the infamous "snowball game" earlier in the year in Boulder.)
Said offensive tackle Brian Boerboom: "I've never seen the locker room so crazy as it was today."