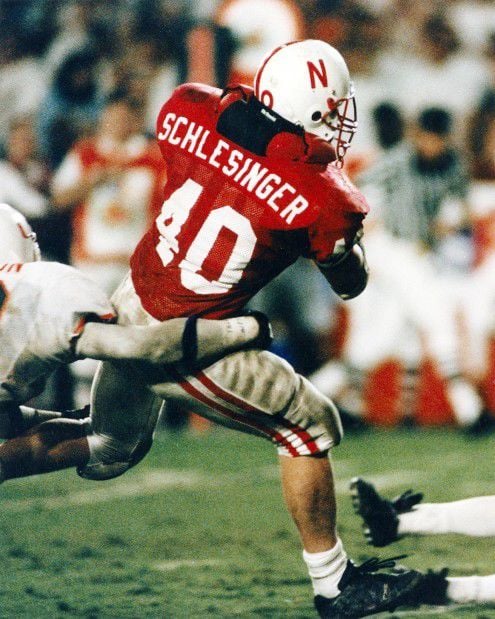 The star: Cory Schlesinger
The outcome: Huskers 24, Miami 17
Where were you the night of Jan. 1, 1995?
Among the crowd that converged at 14th and O streets? (Were you a shirtless one?)
Or were you one of the dozen or so men who climbed atop a chain-link fence at Memorial Stadium, swaying back and forth until the gates busted open?
Yeah, that happened. Imagine their disappointment when they discovered their mischief went for naught.
"I guess they knew if Nebraska won, they'd come here for the goal posts," UNL police officer Mike Pearson said, referring to officials who'd decided to remove the goal posts.
Oh, well. Back downtown to celebrate. There were no arrests.
In fact, the Lincoln celebration of Nebraska's 24-17 national championship victory against Miami was rather peaceful — extremely jubilant, but peaceful.
It was 11:02 p.m. in Lincoln when Nebraska play-by-play announcer Kent Pavelka uttered these words that fans today can still recite:
"The snap to Tommie and the give on the trap play, and it's Schlesinger inside the 5! In there for the touchdown! He's got the touchdown! It's a touchdown for Cory Schlesinger, and Nebraska takes the lead with 2:46 left to go in the ball game!"
That 14-yard TD run followed Schlesinger's 15-yard TD run, also on a trap play, earlier in the fourth quarter. That pulled NU within two points, and Tommie Frazier's two-point conversion pass to Eric Alford — in the same end zone where Turner Gill's two-point pass fell incomplete 11 years earlier — tied the game.
"We kept banging away at them and our defense had done so much, we owed it to them and ourselves to start getting something done on offense," said Schlesinger, a senior fullback from Duncan.
After Nebraska took the lead, Nebraska twice sacked Miami quarterback Frank Costa, forcing a fourth-and-long play from deep in Miami territory.
"Costa, nobody with him in the backfield, takes the snap. He's in the end zone, he throws long down the near sideline. It's a jump ball … And it is almost ... IT'S INTERCEPTED! Intercepted by Nebraska! The Huskers have the ball! The Huskers have the football! Nebraska has the football, Kareem Moss, and the national championship is Nebraska's!"
After a couple of kneel downs, Nebraska had ended its seven-year bowl losing streak, including three straight in the Orange Bowl, and Tom Osborne unofficially had his first national title in 22 years as Nebraska's coach.
Penn State, which won the Rose Bowl the following day, finished 12-0, but voters in both of the major polls selected Nebraska No. 1, making the Huskers' national title official.