Steven M. Sipple: Riley keeps it light amid pressure, but some want more fire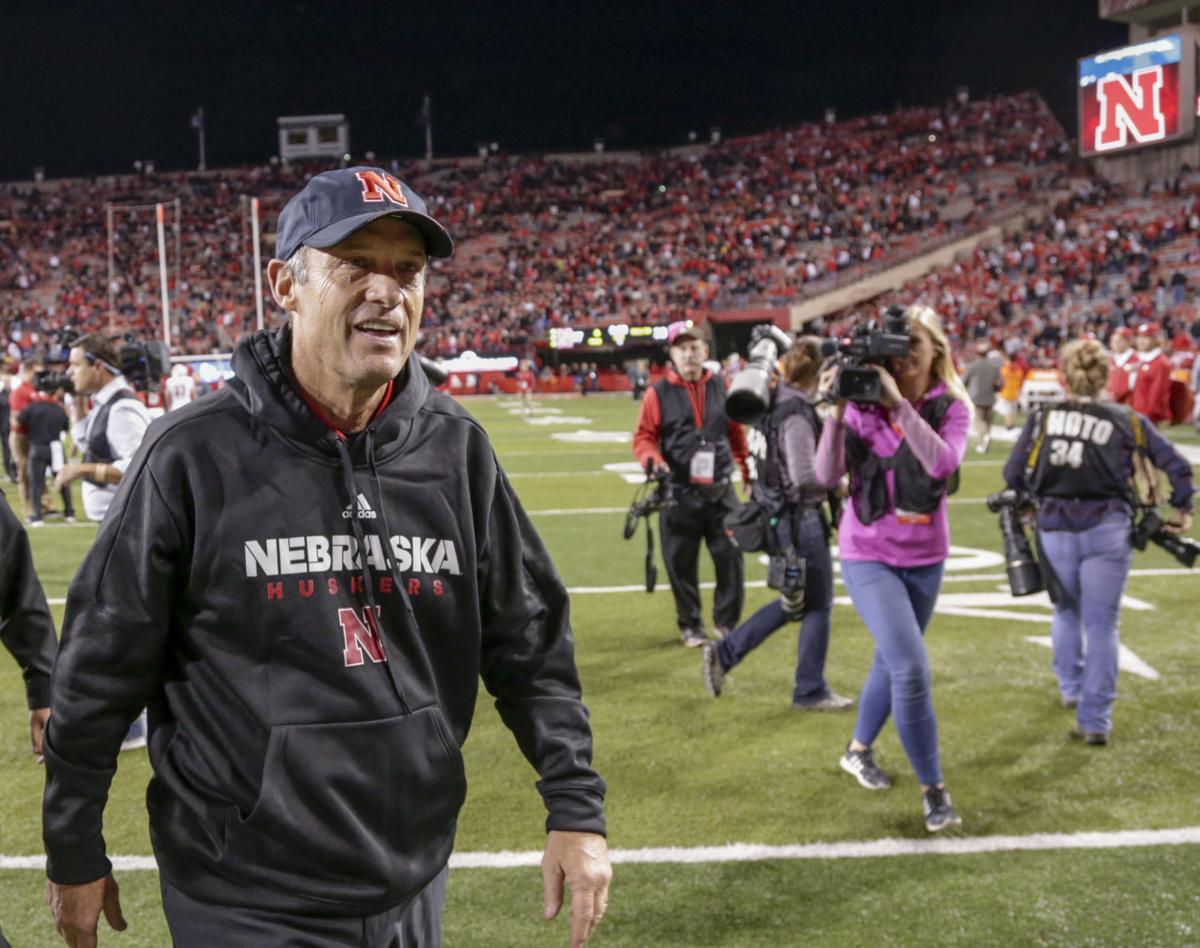 It's here. My heavens, it's here: The "brutal season" of college football, as I call it, when many head coaches feel intense pressure to win, or else.
I've witnessed firsthand Nebraska coaches react to the heat in different manners. Frank Solich in 2003 would seldom show his anger and frustration, but it was there. His staff knew from the start of the season it would have to win at least 10 regular-season games to be retained. I've said it before: The signals from the athletic director's office were clear. NU won nine. It wasn't enough.
Like Solich, Bill Callahan in 2007 was a consummate professional. Our relationship was excellent that season right up until the 45-14 homecoming loss to unranked Oklahoma State in mid-October -- after which I called for the firing of Callahan and his entire staff. At that point, my dealings with Callahan became chilly. He was gone after a 5-7 finish.
As for Bo Pelini, well, his burn raged for all to witness. Because of secretly recorded conversations -- a part of Husker history that seems surreal (and sad) -- we knew pretty much exactly how he felt in 2014 about his bosses and his general situation. That staff also knew it would have to win a lot of games -- probably nine, minimum — to survive. Again, the AD's signals were clear, at least from inside the program. Turns out, nine wins wasn't enough.
The "brutal season" has returned to Nebraska, and third-year coach Mike Riley handles it like a man who's been there because, well, he has been there in previous stops. I bumped into him after practice Tuesday. We spoke briefly about Gary Andersen's resignation at Oregon State as well as Andersen's texts to a columnist that expressed in no uncertain terms the coach's anger and frustration about, among other things, his assistants and the culture he inherited.
Plenty of expletives were deleted from Andersen's rants. Riley joked that in our text exchanges, he mostly asks about my wife's five chickens. True enough.
That's Riley. He keeps it light, an endearing quality in a high-pressure world. His resume -- major-college coach, former NFL head coach, ex-CFL head coach -- suggests he has ample competitive juice, although some people wonder. They want more. A couple callers made that clear this week on "Early Break" (93.7 FM), which I co-host from 6-8 a.m. weekdays alongside Jake Sorensen.
"Mr. Sipple, I think Riley needs to invest some of the money from his salary with you," said caller Eric. "I really think you should be his agent. I watched him walk off the field after that loss (to Wisconsin on Saturday night). I've never seen a coach in my life who just got their ass handed to them and is smiling and talking to people walking off the field. I don't care how competitive you say the guy is. These kids see that … This, right now, has gotten to a point where it's almost ridiculous."
Eric said he wants to see more accountability from Riley. He wants to hear Riley say, "You know what, this isn't cutting it."
Riley knows things have to improve. But he told me he feels confident in what his staff's building at Nebraska. He said he feels upbeat and optimistic about the future.
Still, doubts persist. After all, he's 18-14 overall in his tenure (11-9 in Big Ten play) and staring down the barrel of a Saturday night game against Ohio State in which his team is a 24-point underdog -- on its home field.
That's not what Husker fans envisioned in his third year.
However, I hear from many folks who enthusiastically support Riley. They'll tell you Nebraska's struggles are more about what he inherited than about his shortcomings as a leader. The pro-Riley faction is wary of yet another massive change in the program's culture. They preach patience.
I heard from a reader who pointed out Barry Alvarez was 11-22 during his first three seasons as Wisconsin's head coach (1990-92). I'm guessing there was a tad more patience in the UW fan base than what currently exists here, considering the Badgers were 14-42 in the five years preceding Alvarez's arrival. On the other hand, NU was 47-20 in the five years preceding Riley.
Bottom line, Nebraska is 3-3 (2-1 Big Ten). If Riley can find four more wins in the regular season, he just might be safe. The bar seems to be lower now. Still, NU getting to seven wins will be difficult. Brutally difficult -- 'tis the season.
Thumbs up, down

Thumbs up to NU interim athletic director Dave Rimington. In a radio interview this week on 1620 AM, he said, "We've got the branding. We've got the marketing. We've got to go out on the field and really put a hurting on somebody. That's the name of the game." Yes, results over rhetoric. Dear ol' NU needs a culture shift, or tweak.
Thumbs down to Gary Andersen. I'm surprised by the praise he's received for walking away from $12.6 million in guaranteed compensation. On one hand, he says coaching isn't about the mighty dollar. On the other hand, he did what coaches all over the planet implore athletes NOT to do -- that is, quit. In the absence of a health issue, it's hard to justify him turning his back on the program with six games remaining.
Top-ranked Alabama is a program to behold for a variety of reasons, including this: When wide receiver Robert Foster fumbled against Texas A&M with 6:50 remaining in the third quarter Saturday, it marked the Crimson Tide's first turnover since the second quarter of last season's Auburn game -- a span of 36 quarters without a turnover.
1. Mike Riley, Nebraska, third year. Next year's schedule is an absolute bear. How much patience can school leaders afford to have?
2. Butch Jones, Tennessee, fifth year. The Volunteers (3-2, 0-2 SEC) play South Carolina after having a bye last week -- one of the best bye weeks they've ever had, Jones said. UT will play at Alabama on Oct. 21 and at Kentucky on Oct. 28. Will Jones survive through this month?
3. Brett Bielema, Arkansas, fifth year. The Razorbacks, 10-24 in the SEC under Bielema, play at Alabama this week. In other words, they're poised to fall to 2-4 (0-3 SEC). His situation is complicated by an exorbitant buyout. How's $15.4 million for exorbitant?
4. Larry Fedora, North Carolina, sixth year. Falling to Notre Dame was one of two big losses for North Carolina (1-5, 0-3 ACC) on Saturday. It also lost four-star quarterback commitment Tyler Shough after the 2018 prospect flipped to Oregon.
5. Pat Narduzzi, Pittsburgh, third season. His 18-14 record is the same as Riley's. As is the case at Nebraska, Pittsburgh's program is backsliding. The Panthers look headed for their first bowl-less season since 2007.