Steven M. Sipple: 'Old lion' Walden thought Riley would have stronger bite at Nebraska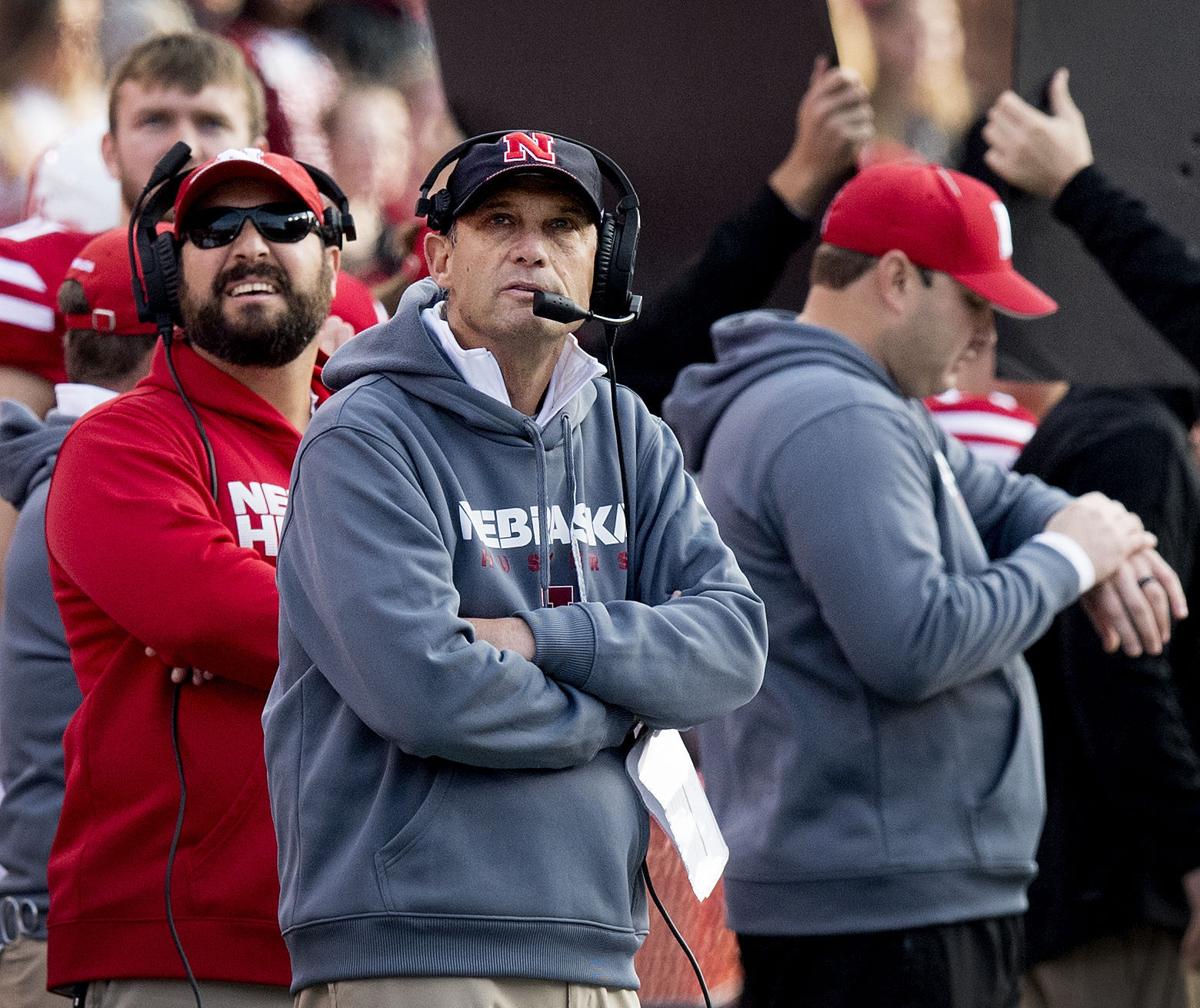 Jim Walden makes no bones about it. He is discouraged about the Nebraska football program's direction.
Walden in late 2014 thought Mike Riley was a good choice to be head coach at NU, where Walden was an assistant from 1969-72 under the legendary Bob Devaney. Walden went on to become head coach at Washington State (1978-86) and Iowa State (1987-94).
He later did color commentary for radio broadcasts of Washington State games, becoming well-acquainted with Riley. In fact, Walden, because of his Pac-12 knowledge and Husker ties, was one of the first people I called in early December 2014 when Riley took the Husker job after serving two stints as Oregon State head coach (1997-98 and 2003-14).
Walden understood my skepticism at the time. But he sold me on the notion that Riley averaging six wins a year at an outpost like Oregon State was essentially akin to winning league championships almost every year.
"Corvallis, Oregon, man — that ain't on main street," Walden said then. "The Greyhound buses have to look for Corvallis. You have a hell of a lot better chance to win in Lincoln."
Riley, though, is only 19-16 overall and 12-11 in the Big Ten. His days in charge appear numbered. That's the prevailing sentiment in Husker Nation, although new NU athletic director Bill Moos said this week no decision has been made.
"I'm disappointed in Mike, to be very honest with you," said Walden, retired and living in Coeur d'Alene, Idaho.
When Riley in January fired defensive coordinator Mark Banker, with whom Riley had worked for 20 years, that told Walden almost all he needed to know.
"That tells me you've lost control of what you're doing," said Walden, an old lion of the sport who still has some roar. 
He pays close attention to Nebraska's program. After all, he played quarterback for Devaney during the late 1950s at Wyoming before Devaney took over as the Huskers' head coach in 1962. Devaney, of course, went on to win national championships in 1970 and 1971. Following the 1972 season, Devaney turned over the reins to Tom Osborne, who kept the program humming.
In fact, during his 25 years as Nebraska head coach, Osborne lost only once to a team that finished with a sub.-500 record. Iowa State, coached by Walden, won 19-10 in 1992 in Ames, Iowa, before winding up 4-7.
So, yeah, Walden is part of Nebraska football lore. He's invested. He has close friends in Shelby and Omaha. He said he's frankly saddened by the program's struggle in recent years.
I like getting input from folks like Walden because he's far removed from the vortex of the storm, so to speak, and therefore sees the big picture very clearly.
"I always come back to the same conclusion — that Nebraska lost its edge when it brought in Bill Callahan (in 2004)," Walden said. "Boy, I'm telling you, it can take 100 years to get a program to a certain point and only a couple to put it back down the tubes.
"I just think when Nebraska fired Frankie Solich (following the 2003 season), it was a bad, bad, bad day. In my heart of hearts, I believe Nebraska has never regained its status because of those tormenting years thorough Callahan. Boy, it has really hurt.
"Now, to be fair, Bo Pelini came in and did a pretty good job. He was a little goofy but kind of got the thing back on track, and I really thought Mike would pick it up from there. …"
Rewind to Riley's introductory news conference at Nebraska. He was asked about the late stages of his tenure at Oregon State, where he had three losing seasons in his last five. If there are struggles in a program, he said, you have to show the players concrete evidence that things are going to get better.
Such evidence seems scarce at this point.
Thumbs up to Frank Solich. His Ohio Bobcats are 8-2 overall and 5-1 in the MAC. Following Wednesday night's home win against Toledo, Frank's center walked into the interview room and asked, "How many rushing yards did we have?" Answer: 393 on 56 attempts, or 7.0 per carry. Great story brewing in Athens, Ohio.
Thumbs down to Indiana. You almost begin to feel badly for the Hoosiers (3-6, 0-6 Big Ten). First-year head coach Tom Allen's mantra this season was "breakthrough," but struggles continue. During the past two-plus seasons, IU has come close to signature victories over ranked teams, including Michigan (twice), Ohio State, Michigan State, Iowa and Nebraska. But the Hoosiers fell 45-17 last week to No. 4 Wisconsin — their last chance of the season for a breakthrough win.
Oklahoma senior quarterback Baker Mayfield's record in true road games, and OU has won an FBS-best 15 consecutive road games after its 62-52 win Saturday at Oklahoma State. A native of Austin, Texas, Mayfield has thrown a touchdown pass in 35 consecutive games, one off the Big 12 record (Graham Harrell). No wonder he has vaulted to the top of Heisman Trophy straw polls.
1. Butch Jones, Tennessee, fifth year. He's still fighting. In fact, he pulled the redshirt off quarterback Will McBride in last week's 24-10 win against Southern Mississippi. The offense is a mess, which is why Scott Frost would seemingly be a logical potential candidate as Jones' successor.
2. Mike Riley, Nebraska, third year. You saw all those empty seats for last week's home loss to Northwestern. You hear stories of Husker fans who can't give away tickets. I'm sure Bill Moos hears those stories, too.
3. Kevin Sumlin, Texas A&M, sixth year. The Aggies have dropped three straight home games in the SEC. Once again, A&M (5-4, 3-3 SEC) is in a late-season slide, which also was the case in the previous three seasons.
4. Jim Mora, UCLA, sixth year. The Bruins are 4-5 (2-4 Pac-12) following a 48-14 loss at Utah. Mora's teams haven't won a Pac-12 road game since November 2015, and this year's defense is allowing more than 303 rushing yards per game. Ugh.
5. Bret Bielema, Arkansas, fifth year. He may have gotten fired Saturday if the Razorbacks had lost at home to Coastal Carolina, a first-year FBS program. Bielema's crew escaped, 39-38, but he's only 29-31 at the school.