Steven M. Sipple: Nebraska's lack of fight gives anti-Riley faction plenty of ammunition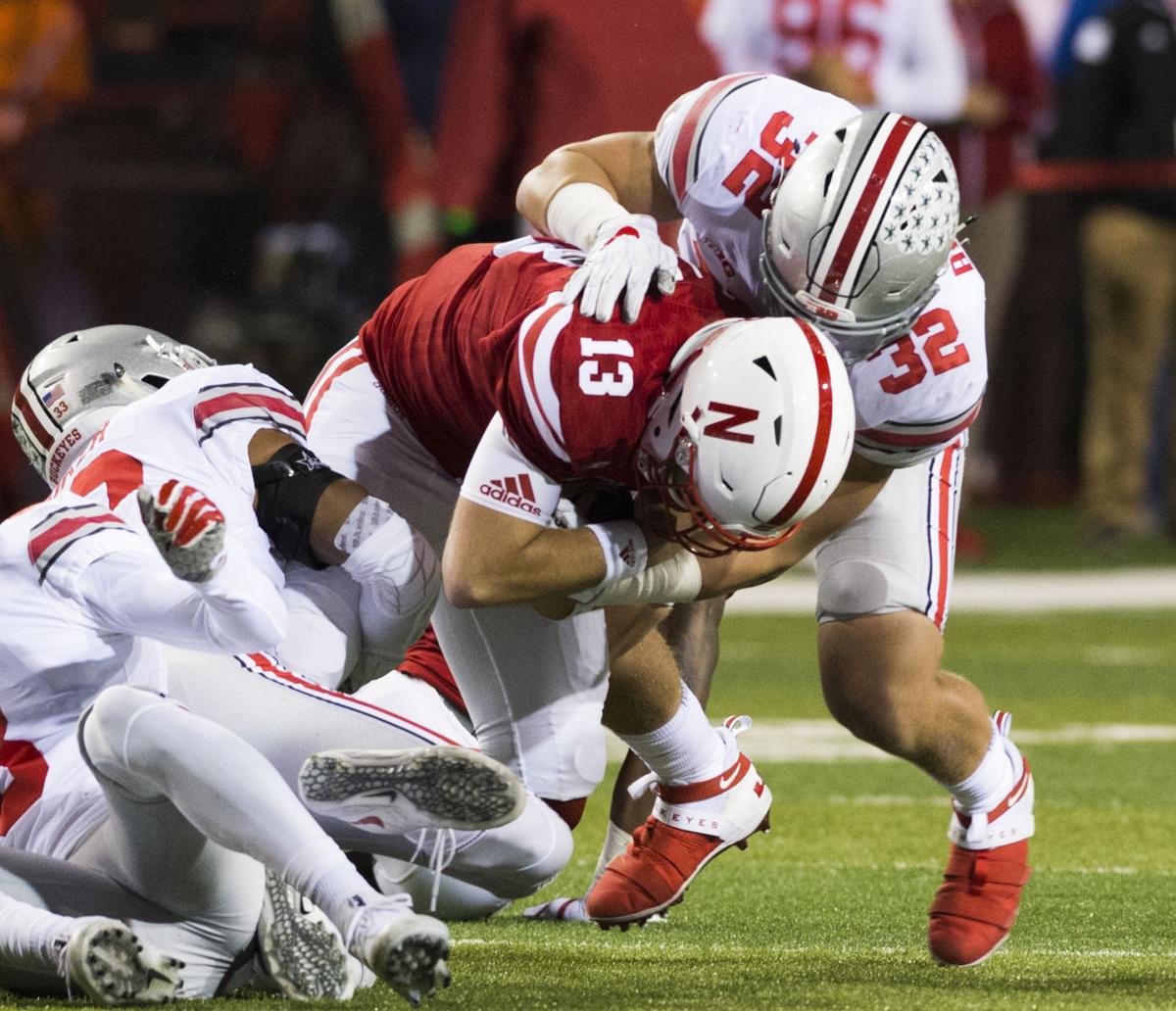 Nebraska evidently read the press clippings and heard the week's chatter.
You know, the chatter that said the Huskers had no chance to win Saturday night's game against No. 9 Ohio State.
That's how they played during the first half, which mattered more than anything, because the game was over at halftime.
Nebraska played without fire. It looked intimidated — beaten before the game began.
The Huskers' pass defense was abysmal. I'm still trying to figure out what the defense was trying to accomplish.
Ohio State led by five touchdowns at the break and cruised to a 56-14 triumph before a crowd of 89,346 at Memorial Stadium. By the end, though, there were about 20,000 fans left in the stands.
In 23 seasons of covering Nebraska football, I've never seen such a sparse home crowd in the final minutes — not even in mid-October of 2007 when Oklahoma State battered Big Red 45-14 in what became Bill Callahan's final season as head coach.
"Resign! Do us a favor!" a red-clad railbird shouted toward Nebraska head coach Mike Riley, who fell to 18-15 overall (11-10 Big Ten) in three seasons in charge.
Yeah, one of those nights. They've become pretty familiar around here in the past 15 years or so. The shock value is gone.
Thing is, this was the result many expected for Nebraska (3-4, 2-2 Big Ten). Trouble is, the Huskers played worse than what was reflected in the final score. They never gave themselves a chance to win. Not even close.
They certainly didn't look like they were fighting for their head coach.
I asked Riley about his team's lack of fire to begin the contest. He didn't see it the way I did. You know they say about witnesses to a crime — two people can see the same crime in a much different way.
Riley said Ohio State's big early lead was more about Nebraska simply being unable to make a play against a high-grade outfit.
"I didn't sense anything about us (Nebraska coaches) not getting the players ready, them not getting ready to really go after it," Riley said. "We really just had a hard time keeping up with what they were doing — with the totality of their offense."
It was more about Ohio State (6-1, 4-0) just being flat-out better, he said. Much better. So much better that it felt ridiculous. 
But c'mon, you don't expect Ohio State to toy with Nebraska the way it did with UNLV and Rutgers.
Riley clearly has a wealth of respect for Ohio State. I get the feeling he maybe overdoes it in that regard, and perhaps that rubbed off on his players.
"That's kind of like I've said for a while — the standard," he said of Ohio State's 633-yard performance offensively. "They have both the talent and execution to make it look like that. We had an impossible time — it looked like — getting off the field."
He added, "It certainly does paint a picture of where you have to go if you really want to do what everybody wants to do here. The competition with that (Ohio State) team, those players, that talent ...
"It's a measuring stick."
Nebraska didn't measure up. The gap between the programs is seemingly growing.
And with the result, a tiresome conversation continues. A large segment of the Nebraska fan base will continue to blame Bo Pelini for leaving Riley without enough talent and depth. But ask yourself this: Did you see the home team playing inspired football Saturday night? Talk about talent all you want. Was the home team laying it on the line?
Granted, Nebraska was down a couple of safeties, meaning redshirt freshman Dicaprio Bootle, usually a cornerback, got his first start at safety. But he was joined in the secondary by four-star cornerbacks Lamar Jackson (second-year sophomore) and Eric Lee (third-year sophomore) — the prized recruits in their respective classes.
"I don't think anybody on our team quit," Riley said. "I think we had a hard time tackling them, stopping them, catching them."
Riley, as usual, struck an optimistic tone. Maybe his team can use the bye week to get healthy.
"Kind of use it as a reboot going into the last five games," he said. "I know not everybody wants to hear that right now. But that's where I'm at, thinking about what's best mentally and physically for this team."
He said this year is about growth. You know, new quarterback, young receivers, the 3-4 defense, all that jazz. But there are still results to think about. He declined to use the term "rebuilding." But he did allow there is a building process transpiring.
Yes, Nebraska winning would've been a major upset. Nobody predicted it.
By the same token, few predicted the Huskers would have a 3-4 record right now.
Which is why Riley's future as NU coach looks shaky.
It also looks shaky in the context of Nebraska President Hank Bounds and UNL Chancellor Ronnie Green's message during the Sept. 21 news conference to announce Shawn Eichorst's firing. The headline in the Journal Star the following day was: "WE WANT TO COMPETE."
That didn't happen on this night.