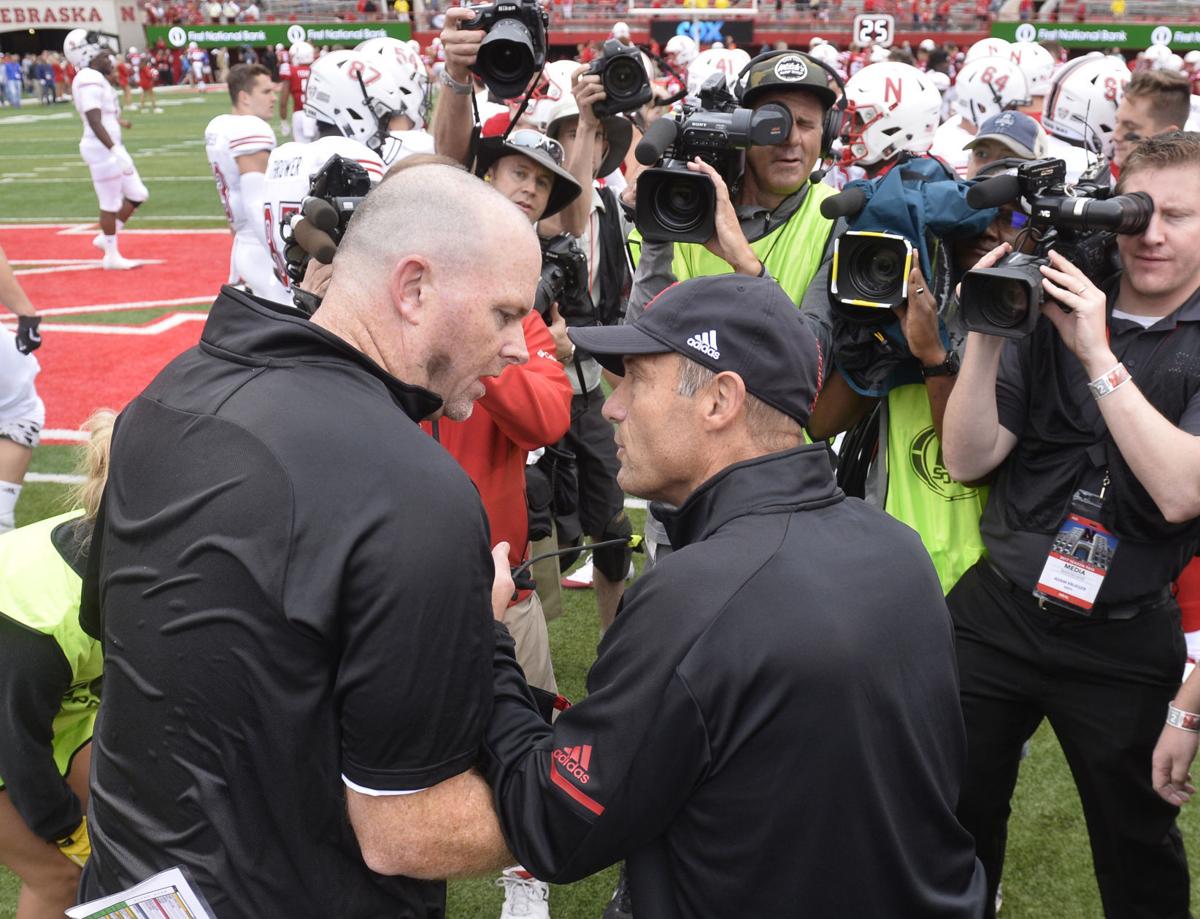 My mom taught me to maintain a sense of humor even in difficult times.
I'm guessing Mike Riley can maintain his sense of humor despite Saturday's proceedings. He's 64. He's seen his share of good times and bad times and everything in between during four decades of football coaching. But, yes, Saturday was a distinctly bad time, as Nebraska dropped a 21-17 decision on its home field to Northern Illinois, a Mid-American Conference team that was 5-7 last season.
Riley obviously was in no mood for humor in the immediate aftermath.
"This will sound like an understatement, but we are just really bitterly disappointed with losing the game," the third-year Husker coach said.
At various points during the game, I found myself mumbling, "What a joke." But I don't think that's the sort of humor my dear mother had in mind.
So, let's go with this: If Nebraska is going to win nine games in the regular season, it will have to go 8-1 in the Big Ten Conference.
Only it's not funny. At this point in Riley's tenure at Nebraska, it's a discouraging commentary on the state of the program.
Even comedian Larry The Cable Guy, an ardent Husker fan, was dour and biting after the Huskers fell to 1-2.
"Sickening loss. No words. We lose to NIU AND are getting squeezed out of our traditional thanksgiving game. Fantastic leadership," he tweeted. 
What an awful end to a terrible week for Nebraska athletic director Shawn Eichorst. First, he did an embarrassing about-face Thursday regarding his stance on Black Friday games. And then came gameday. Egad.
Remember during the Bo Pelini era, when Eichorst said his policy was to avoid comment on coaches during a season? Well, there was Eichorst early Saturday afternoon, telling reporters the loss was "not acceptable" while also saying he remains optimistic about the direction of Riley's program.
We're talking about a program that is 3-6 in its last nine dating to last season. That span includes a 62-3 loss at Ohio State, a 40-10 defeat at Iowa and a 38-24 bowl loss to Tennessee that essentially sealed the fate of Nebraska defensive coordinator Mark Banker, who was fired by Riley in January.
In seven of the Huskers' past nine games, the opponent has scored first — a troubling trend.
In its latest loss, Nebraska looked vulnerable and sloppy on offense, the side of the ball that is supposed to be the program's strength right now. In addition to Banker, Riley last season fired special teams coordinator Bruce Read. Progress under Scott Booker has been minimal to this point.
Riley, 16-13 at Nebraska, hasn't fired anybody on offense, although you wonder about offensive line coach Mike Cavanaugh's future considering the decent talent in his group coupled with its glaringly poor performance against Northern Illinois and general inconsistency dating to last season.
But the offensive line is just one of Nebraska's issues, many of which came to light during one of the most memorable defeats in the history of the program.
Boos rained down from the stands as Husker players jogged to the tunnel at halftime. What we saw during the first half from Riley's crew — at least in terms of sloppy play, especially on offense and special teams — was remarkable. I regarded it all with a degree of sadness.
Thanks largely to first-year Nebraska defensive coordinator Bob Diaco's unit playing an inspired and sound game, the Huskers managed to take a 17-14 lead with 11:14 left in the contest. You thought maybe order had been restored. Fat chance.
Nebraska was playing a lot of man-to-man pass coverage with little safety help. You got the feeling Northern Illinois was waiting for the right time to take advantage. The right time arrived. Daniel Santacaterina lofted a 47-yard strike to Christian Blake, and five plays later, the Huskies took the lead for good with 8:52 remaining.
At that point, the amount of empty seats in Memorial Stadium was troubling. And probably a statement about how many fans feel about the program.
"On the outside looking in, it's hard to objectively say (there's progress )," Eichorst said. "But I do see that on a lot of levels. I'm not concerned about the end of last season and those sorts of things. My obligation is to these young men who are in our program and our coaches and our staff.
"We'll be judged week to week based on our performance, and today's performance was not good and not acceptable … I'm sure Mike would say the same thing."
Riley did express disappointment and concern, as you would expect. But I'm done giving Nebraska head coaches much credit for owning up to poor performances. I did it with Frank Solich and Bill Callahan and Bo Pelini and yeah, here we go again. And again and again.
You start to try to put the magnitude of this loss in perspective and realize there's a long list of bad losses in the past 16 years or so. Take your damned pick.
It's important to avoid overreacting to losses. It's also important to maintain perspective and, yes, a sense of humor.
As for maintaining a strong sense of optimism for where Riley's program is headed, well, good luck with that based on what we saw on a particularly gray Saturday on Stadium Drive.