Steven M. Sipple: Even with adversity, Huskers' meltdown inexcusable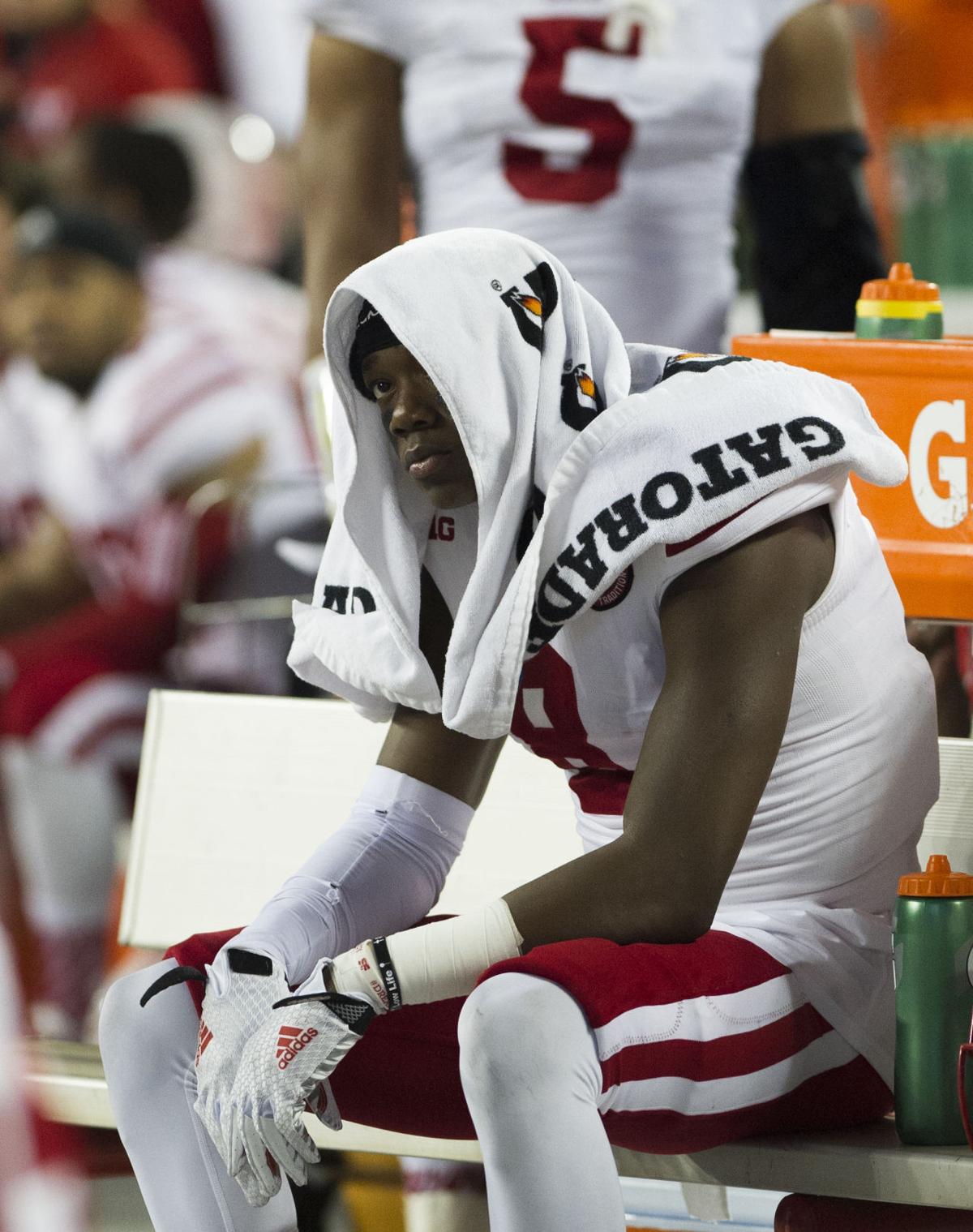 COLUMBUS, Ohio — Tommy Armstrong was flat on his back on the sideline. He wasn't moving.
Several minutes passed. A crowd of 108,750 fell silent.
During that unsettling period, you had to wonder if it was all too much for this Nebraska football team. You thought back to Sam Foltz's death in late July, an assistant coach's DUI arrest in mid-August and then, injury after injury that slowed the offense to a crawl. 
And now, here was sixth-ranked Ohio State on a gorgeous autumn Saturday night, hell-bent on finding its stride for the season's homestretch and a possible run to a College Football Playoff berth.
The Buckeyes found their stride, all right, toying with the 10th-ranked Huskers on a night during which the visitors had so much to gain, but ultimately were knocked so far backward that you wonder how quickly they can recover.
Yes, Nebraska (7-2, 4-2 Big Ten) has valid excuses for faltering. But come on, who saw 62-3 coming, especially after the Huskers pushed No. 8 Wisconsin to overtime only a week ago at Camp Randall Stadium?
Nebraska's patchwork offensive line was beaten soundly, but Husker coach Mike Riley, to his credit, wasn't making excuses.
His team blocked poorly and tackled poorly. The basics were basically awful. The performance was inexcusable.
"We were beaten thoroughly in all the phases, and it really didn't remind me of our team," he said.
He said such a poor showing "came out of the blue." 
Yeah, the black and blue. Nobody saw this coming, and that's partly what makes it so painful for Nebraska and its immensely proud fan base.
Nebraska faithful — many of the faithful, anyway — thought these epic meltdowns on grand stages were a thing of the past under Riley. But here we were again, watching a blue-blood program do almost anything it wanted, whenever it wanted.
Ohio State junior quarterback J.T. Barrett was superb, completing 26 of 38 passes for 290 yards and four touchdowns through three quarters.
Nebraska had no answers for fleet and shifty H-back Curtis Samuel. The Huskers were tentative, said defensive coordinator Mark Banker. They were overmatched, but there exists a gnawing feeling they had no business being this overmatched.
"Bottom line, it wasn't a good game plan, and we didn't play well," said Banker, whose crew had held Wisconsin to 337 yards of total offense.
Ohio State, though, is much faster on offense than Wisconsin. Much more explosive. The Buckeyes also executed in clinical fashion, converting 11-for-15 third-down chances.
The Huskers "never solved the riddle," Banker said.
Meanwhile, Nebraska's offensive funk reached five games. The Huskers once again struggled to run the ball, leaving Armstrong in too many untenable third-down situations.
Against Ohio State's press man-to-man coverage, Nebraska tried deep pass after deep pass in what looked like desperation. It wasn't desperation, Riley said, although he understood why it looked that way.
Then, of course, came a third down that cast a pall on the evening.
On third-and-7 from Ohio State's 35-yard line, Armstrong, the leather-tough Husker senior quarterback, bolted forward on a draw play before peeling outside. Ohio State safety Erick Smith hit Armstrong low, his legs went out from under him, and he landed on his head.
He gave a "thumbs-up" as he left the field on a stabilizing board. That was a good sign. Then, with 10 minutes remaining in the third quarter, Armstrong returned to the playing field in surgical scrubs, having visited a local hospital.
Thank heavens Armstrong is OK. But the situation was a jolt to the Huskers. At least it seemed that way. And if you have a compassionate bone in your body, you allow that perhaps a season of adversity simply caught up with Riley's crew.
It had absorbed too many body blows, and in this case, Nebraska buckled in a historically bad way. The 59-point losing margin was the second-worst in school history, trailing only the 70-10 debacle at Texas Tech in October 2004.
So much for the Huskers strengthening their grip on first place in the Big Ten West Division. They're now tied with the Badgers, (7-2, 4-2), who flexed their muscles in a big way with Saturday's win at Northwestern.
Nebraska "very likely" will proceed this week with Ryker Fyfe as the starting quarterback, although Riley said he would know more Sunday about Armstrong's status.
Minnesota (7-2, 4-2) suddenly looks like a very real threat to push Nebraska's season to a place few could've imagined before Ohio State's blitzkrieg.
Riley, in the postgame news conference, had a matter-of-fact tone. He said his team has played through hard times, and there's no doubting that.
This night certainly qualified as "hard times." For Nebraska fans, it felt all too familiar.