The PG Version: Parker Gabriel's extra points from Huskers-Ducks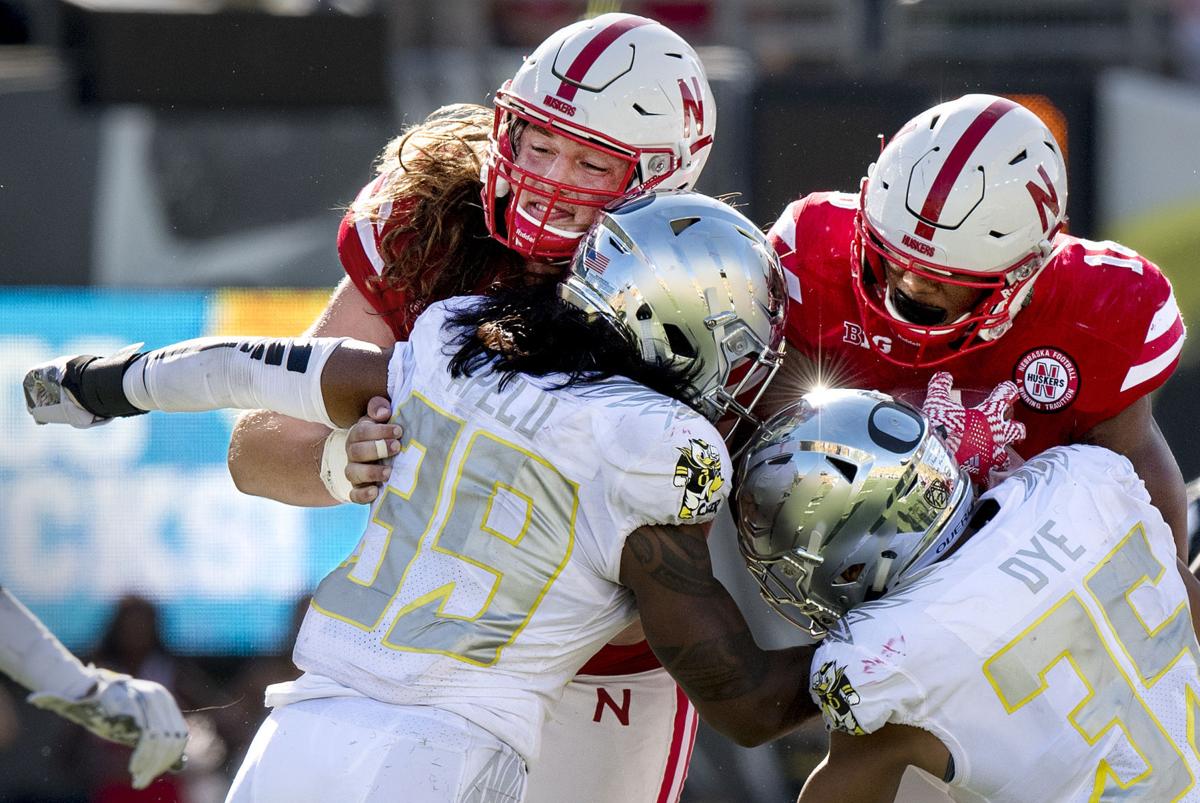 Nebraska football writer Parker Gabriel offers his extra points from Nebraska's 42-35 loss to Oregon on Saturday afternoon at Autzen Stadium.
Turning point: Well, halftime certainly marked a complete turn in how the game felt. Nebraska looked well on the way to embarrassment in the first half. The Ducks were within 247 yards of the most ever given up by a Huskers defense (656 vs. Oklahoma in 1956) with 30 minutes remaining. But then the Huskers got seven straight stops. It of course didn't change the outcome Saturday, but perhaps the more important question is if it marks a turning point for the defense this season.
It was over when: Ducks outside linebacker Jonah Moi pushed his way to NU junior quarterback Tanner Lee and hit his arm as he tried to throw down the field. Lee had Stanley Morgan in one-on-one coverage up the sideline with 2 minutes, 7 seconds, remaining, but Moi's hit made the ball flutter to a waiting teammate for a game-clinching interception. Last week Nebraska's defense earned a timely stop. Saturday, the offense suffered the same.
Quotable: Huskers outside linebacker Luke Gifford on how a young defense responded in the second half: "The games are so long and there are so many things that can happen (after) halftime. Coming from high school or the guys that haven't played as much, it's hard to understand that. We just had to make sure that everybody knew that there was a lot of football still to be played."
Game ball: How about to the three pediatric cancer survivors that helped design the jerseys that Oregon wore? A cool idea from the school and pulled off very well. The field also sported graphics at each 25-yard line with Puddles, the Ducks' mascot, stamping out the word, "cancer."
Notable performance: Junior safety Aaron Williams recorded a career-high 12 tackles (six solo), forced a fumble and intercepted Oregon sophomore quarterback Justin Herbert. Depending on Joshua Kalu's availability moving forward following a hamstring injury, Williams' importance in the defense will only grow.
Deep connection: Herbert took whatever he wanted down the field early in the game. He racked up 200 of his 313 first-half yards on six completions. In the second half, though, the sophomore completed just 4 of 8 for 52.
906 and 78: The number of yards and points NU gave up in its first three halves of the season. The fourth: 157 and 0.
25: Penalty yards for the Huskers, 78 fewer than Oregon and 40 fewer than the season opener.
3: Number of punts NU's Caleb Lightbourn has killed inside the opponents' 5-yard line through two games.
15: Rushing yards from backs other than Tre Bryant. The Huskers will need more.