Driving for 6: NU secondary standing tall; Bookie making folks fidgety; Jaylin Bradley on rise?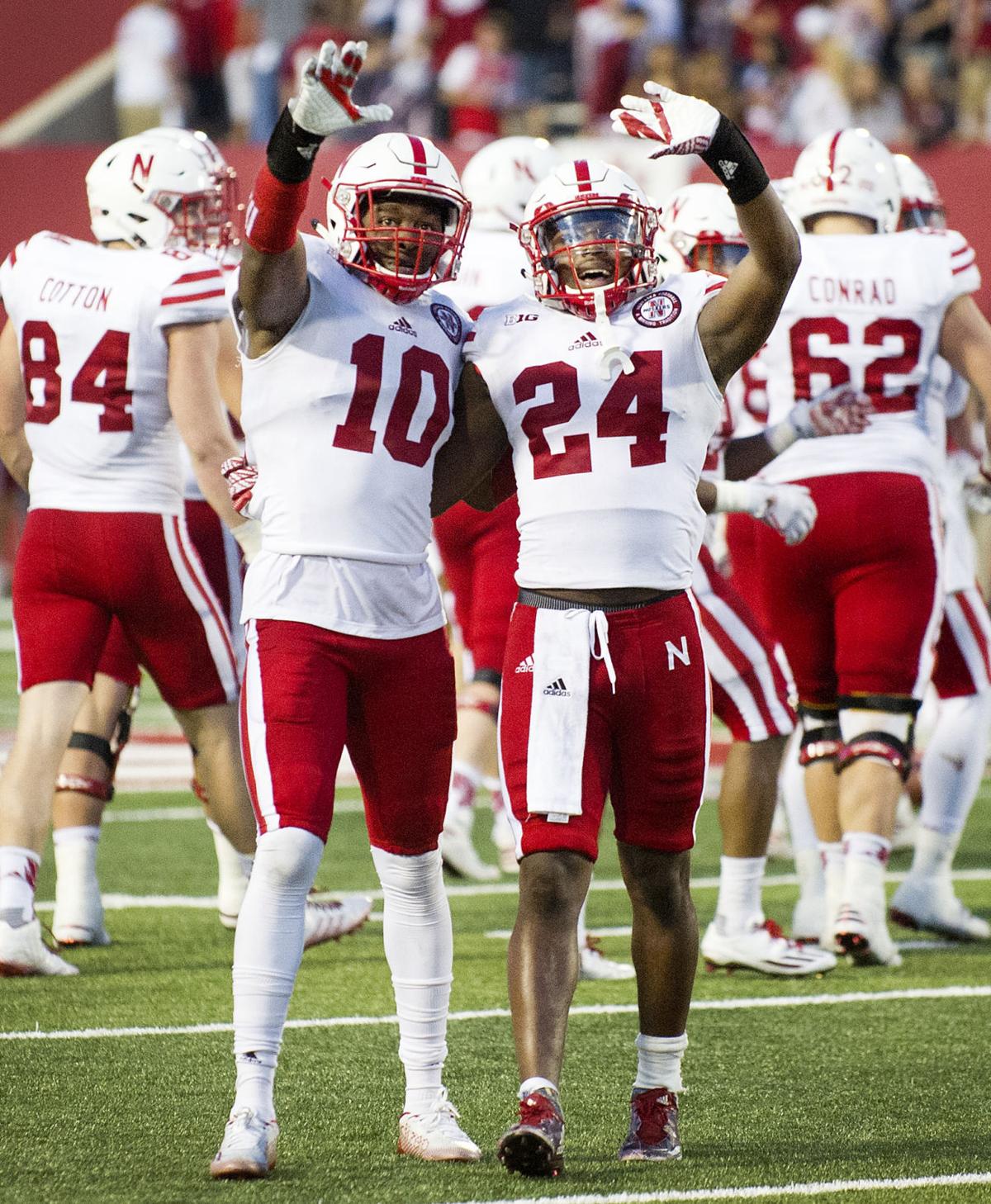 Time for a drive.
1. When Nebraska defensive coordinator Bob Diaco told reporters last week that safety Joshua Kalu possesses the potential to be an All-American, it only reaffirmed something we should already know.
The secondary is the Huskers' strongest position group -- yes, even with standout cornerback Chris Jones sidelined until at least October with a knee injury.
In Jones' absence, two very highly-recruited players -- sophomores Lamar Jackson and Eric Lee -- are being leaned on that much harder, as is redshirt freshman Dicaprio Bootle. NU should be at least adequate at the corner spots.
Bottom line, it's the safeties that give the secondary most of its oomph.
Put it this way: Does Nebraska have another position group that features a player or players about whom a coach could legitimately claim serious All-American potential?
I think you know the answer.
However, Kalu, a 6-foot-1, 195-pound senior, is fast, intelligent, talkative and tackles well. Granted, the All-American discussion may be a bit of a stretch, but it's easy to understand why Nebraska coaches are thrilled about him at safety.
Better yet, he plays alongside an excellent player in junior Aaron Williams.
"I see a calm, confident young man," first-year Nebraska safeties coach Scott Booker said of Williams, who comes off an excellent spring.
Williams grasps the game at a very high level, which enables him to play fast while providing a sense of stability for the entire defense. 
In addition to Kalu and Williams, this conversation is about quality depth at the safety positions, as senior Kieron Williams and junior Antonio Reed add plenty of experience to the equation.
Kieron Williams recorded a team-leading five interceptions last season while starting nine games.
"With Kieron, we're looking for him to come and attack with an enthusiasm and a great mentality, and he's really done that," Booker said. "He's played a lot of Big Ten football, and he's going to have to play a lot of football for us this year.
"He's been in those situations with 92,000 people watching. He's ready to help us in any way he can. Wherever we need to put him, I think he'll be willing and capable."
Meanwhile, seemingly a lot of folks wonder why Reed doesn't have a more extensive role. After all, his size (6-2, 220) provides an imposing presence in the secondary. But Booker said Reed can no longer rely on just his size and athleticism, as he did in high school.
"I'm excited about Antonio," Booker said. "You now see the wheels turning a little bit. You see he has to really be a student of the game, and not just on his side of the field as the boundary safety. He also has to know what the field (safety) is doing because that affects him -- it affects his technique, affects his alignment.
"You can see those wheels start to turn, and it's a beautiful thing. As he keeps on growing and seeing what those other guys are doing on a daily basis, he's just going to take off."
Booker discusses his safeties with a sense of excitement -- and a smile.
It's no wonder.
2. A few weeks ago in this space, I ranked Nebraska's seven position groups. After watching two preseason practices last week, the rankings hold:
(1) Defensive backs -- Lee and Avery Anderson were considered major scores out of Colorado in Nebraska's 2015 recruiting class. Lee has risen at corner, but Anderson remains in the background, working as a reserve corner. Anderson may be even farther down the depth chart if he was still at safety.
(2) Quarterbacks -- Mike Riley said all four functioned well in Saturday's scrimmage.
(3) Linebackers -- Riley mentioned outside backer Sedrick King among those who have been playing well so far in camp. The fourth-year junior is a career backup. It's time for him to make a push for serious playing time.
(4) Offensive linemen -- Keep a close eye on redshirt freshman guard Boe Wilson. He's pushing returning starter Tanner Farmer at right guard, said offensive line coach Mike Cavanaugh.
(5) Defensive linemen -- I like the first-unit players, but quality depth is a concern.
(6) Wide receivers/tight ends -- There's a glaring lack of experience here, but also some very impressive young talent. Keep an eye on sophomore tight end Matt Snyder, who spent a lot of time last week with the first string.
(7) Running backs -- Riley and Danny Langsdorf's glowing comments about Jaylin Bradley have captured fans' imaginations. I'll say this: The rookie from Bellevue West looks awfully fluid catching the ball.
3. Bookie Radley-Hiles possesses a lot of power for a high school kid. Indeed, his value to Nebraska's program can't be overstated.
But the four-star cornerback recruit, who attends the IMG Academy in Florida, has made Husker fans feel a bit fidgety in recent days.
However, Nate Clouse, recruiting guru for HuskerOnline.com, said fans shouldn't be overly concerned even though Radley-Hiles' Twitter profile no longer shows he's a Husker commit.
In addition, Radley-Hiles recently tweeted out a photo of himself wearing a Florida Gators cap, and he's been following Florida coaches on Twitter.
"I'm pretty confident that this is nothing to really wring your hands over," Clouse said on 93.7 FM "The Ticket" in Lincoln. "I don't see Bookie going anywhere else but Nebraska at this point. So I wouldn't get too worried about it.
"At the same time, I can't really explain why his tone has changed a little bit maybe, or why he's taken 'Nebraska commit' out of his Twitter profile, or why he wore a Florida hat in that picture, or why he's been following some Florida commits and players and coaches and whatnot ..."
Clouse noted Radley-Hiles is still recruiting for Nebraska and that he's a cousin of Husker true freshman receiver Tyjon Lindsey. What's more, Radley-Hiles has known Husker cornerbacks coach Donte' Williams for more than a decade.
And there's this: "(Radley-Hiles') relationship with Mike and Dee Riley is about as close as I've ever seen between a recruit and a head coach before," Clouse said. "I just don't see any way Bookie would de-commit from Nebraska."
At the same time, "I'm not naive enough to believe there's not a little smoke there, or that this isn't a little strange," Clouse said. "It's definitely a little strange."
Yeah, strange. Fred Hoiberg would totally understand (click here).
4. With six practices of preseason camp in the books, Riley offered a glimpse Saturday into his team's personality.
He indicated there are a few of what he describes as "dynamic" leaders on the team -- you know, guys who lead well verbally.
The coach also noted there are some strong leaders by example, and brought up two of them.
"There's no doubt those two inside linebackers ... You just don't have to worry about those guys in any phase -- the football phase, school phase, life," Riley said of senior Chris Weber and junior Dedrick Young. "To me, that's tremendous leadership. I mean, they do everything they're supposed to do. They're great examples."
Riley also mentioned junior nose tackle Mick Stoltenberg as a player to whom others are drawn.
"I think that leadership in the program has grown and developed," Riley said. "But I think this group in general has been really, really easy to handle throughout the camp."
5. Ohio State head coach Urban Meyer told BTN of one major change we can expect from the Buckeye offense with Kevin Wilson now in charge.
Ohio State is going to rev up the pace.
Will it make the Buckeyes even harder for the Huskers to catch?
"When Tom Herman was here (from 2012-14), he introduced us to the (fast) tempo because that's something I've never been an expert at," Meyer said. "We dabbled in it at Florida. But now we want to go fast. We want to play fast, and I have two guys, Kevin Wilson and (quarterbacks coach) Ryan Day -- that's part of their DNA.
"So, even when we're not going fast, we're going fast. And I like that."
It wasn't as if Ohio State was a plodding offense last season. It scored 39.4 points per game to rank 13th nationally.
Ask Nebraska players if OSU had a plodding offense.
The Buckeyes come to Lincoln on Oct. 14.
6. Stumbled on this quote from Bellevue West head coach Michael Huffman, who in January had these words of wisdom for Jaylin Bradley soon after he verbally committed to Nebraska:
"I told him, 'You've got to go down and you've got to do it for everybody that plays football here (in Nebraska). You've got to compete with those boys from Day One, in the weight room, in the film room, on the practice field, and give them no choice but to play you.'"
Gives me the chills.