Driving for 6: Moos likes what he sees in Miles' program; Shepard shines for Irish; do the shuffle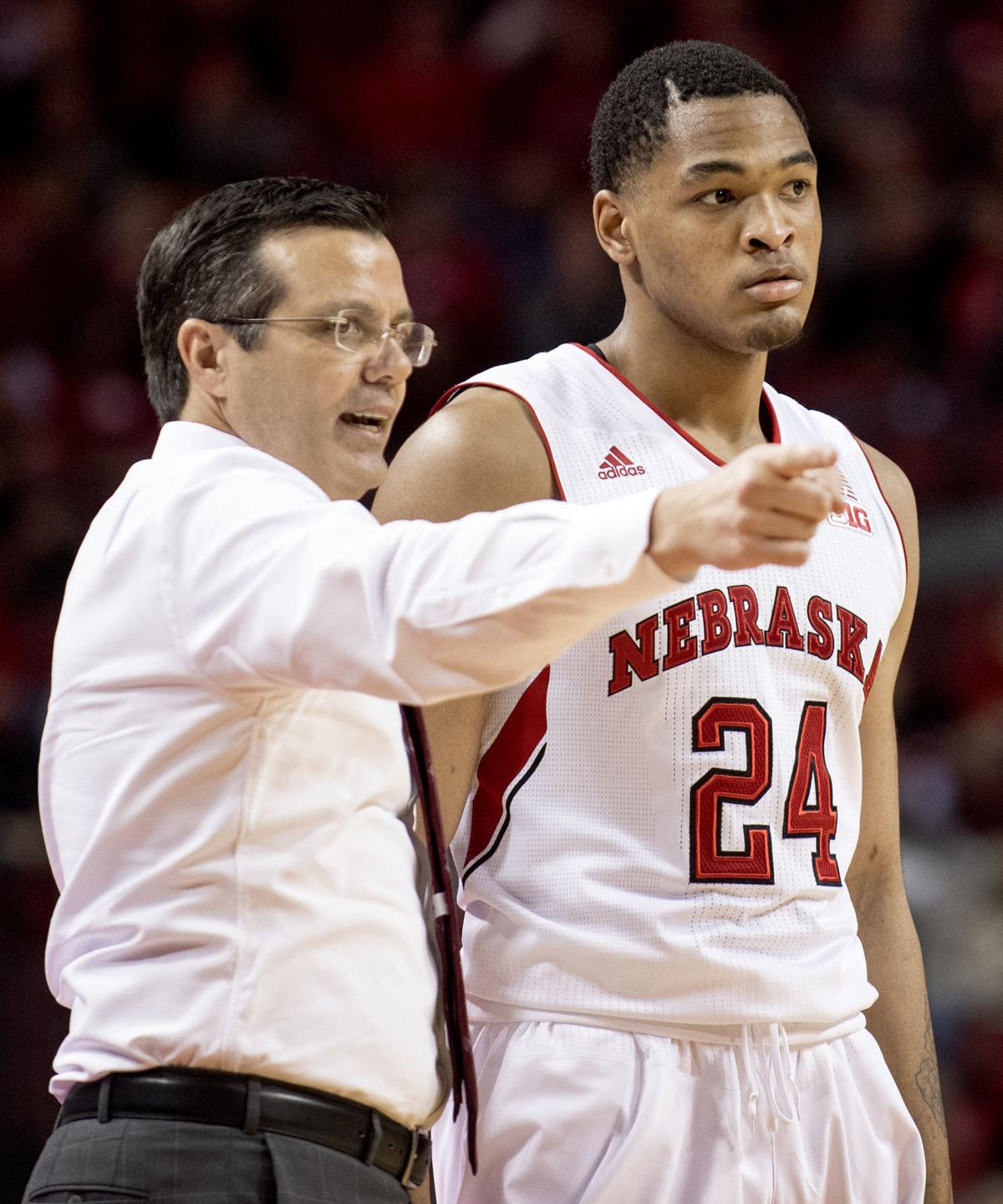 1. We can say this now, at this moment in time, even though the most critical part of the season remains:
Tim Miles has pushed the right buttons for the Nebraska men's basketball team.
In fact, Miles' team has played well enough (17-8, 8-4 Big Ten) that fan and media discussion about the coach's future at the school – his contract will be down to two years remaining at season's end – has been pushed deep into the background.
Asked Wednesday if he's given much thought to Miles' contract situation, Bill Moos, the new Husker athletic director, said we should know from football discussions that he doesn't like to set win-loss benchmarks for his coaches when pondering extensions and such. He mainly looks for growth in the program, and even gauges fan enthusiasm.
He sees plenty of that aspect – for good reason.
"I've been impressed with Tim's program and the way the team is competing," Moos said. "I think we're really playing hard. It appears to me the team is dialed-in to what the expectations are. They're playing well together.
"I thought Tim did a masterful job against Wisconsin the other night (Monday's 74-63 win in Madison) in regards to changing things up and throwing the Badgers out of sync and getting back into that game and ultimately winning it.
"He and I will sit down at the end of the season. I'm not going to micromanage during the season. He does know I'm here if he needs me. I'm just really pulling for him and excited to see how we finish out the season and get into the Big Ten Tournament."
The A.D. is acutely aware of Nebraska's lackluster postseason history – seven NCAA Tournament appearances (1986, 1991, 1992, 1993, 1994, 1998 and 2014) with not a single victory. In fact, NU is the only Power 5 program without a triumph in the Big Dance.
I get the impression Moss has reasonable expectations for a program that is coming off a 12-19 season (6-12 Big Ten).
"We've got to finish strong," he said. "It'd be great to get the byes early on in the Big Ten Tournament to be fresh, and then see where the chips might fall. Yes, it would be great to get back to the NCAA Tournament and then go about our business once we get there. But there's a lot to accomplish before that.
"I think we're in good position at this point. We've proven this year we can play with pretty much anybody. But I do believe we have to finish strong to be considered (for an at-large bid)."
As for Miles' contract, Moos said, "We'll evaluate everything when the dust settles at the end of the year."
2. If I were Miles, my biggest concern about the team would be its ability to handle pressure -- extreme pressure.
Mind you, Nebraska has handled its business well so far this season. But there exists ample discussion that the Huskers may have to win all of their six remaining regular-season games to get a comfortable position for an NCAA Tournament at-large bid.
All six!? Now that's pressure.
Even going 5-1 would be difficult for a Nebraska team that is very good but far from great.
There's no way Miles can shield his players from speculation. It's too pervasive. Americans (and others) get lost in NCAA Tournament discussions. I'm guessing Miles will tell his players to focus on what they can control and enjoy being in the hunt. What else can he say?
3. Richard Pitino surely would welcome the situation in which Miles finds himself.
It beats being 14-10 (3-8 Big Ten), as is the case with the Gophers.
If Minnesota continues to deteriorate, and Pitino's seat gets hot, I wouldn't be shocked if Craig Smith gets mentioned prominently as a possible successor.
The former Nebraska assistant has guided South Dakota to a record of 18-6 overall and 6-2 in the Summit League this season. The Coyotes were 22-12 and 12-4 last season (first place), losing in the NIT's first round.
Keep an eye on Smith, a 45-year-old native of … Minnesota.
4. A bit of skepticism accompanied former Nebraska athletic director Shawn Eichorst's hire of Amy Williams from South Dakota in April of 2016.
Then, the Huskers were 7-22 last season (3-13 Big Ten).
Williams, though, is silencing doubters with a startling turnaround season (16-6, 7-2), even without Jessica Shepard, who transferred to Notre Dame.
This has the look of a win-win story.
The 6-foot-4 Shepard, of Fremont, is averaging 15.9 points for the fifth-ranked Fighting Irish (20-2) while shooting 56.7 percent from the field – up from 40.8 in 2016-17 for the Huskers.
"Jessica has a unique skill set and will fit in perfectly with the Princeton offense," Notre Dame coach Muffet McGraw said upon Shepard's transfer. "She's a great offensive threat who can face up, stretch the defense with her perimeter game and can dominate on the block."
Shepard's apparently doing most of her work near the basket. She's taken only one three-point shot this season (she missed it) after going 28-for-89 from distance last season.
5. Back to A.D. Moos as we wind up this drive. He co-captained Washington State's 1972 football team and was first-team All-Pac-8 as an offensive lineman.
We mention his playing days only because I asked him Wednesday how the discussion about player safety in workouts has evolved since his playing days.
He chuckled at the question.
"There was no discussion back then," he said. "You just sucked it up and tried to get through it. There's a lot more input and a lot more science to it these days – a lot more knowledge.
"Gosh, back in my day you didn't even have a strength coach. Back in those days it was boot camp and how tough are you and we're going to thin the herd. That was the whole thing. We're going to find out if you're tough enough to play at this level and this place, and you're going to have to prove it.
"The discussion has evolved in a lot better fashion."
6. Yeah, I like thinking back to the 1970s. I was still fully engaged back then. Still full of wonder. These guys had a lot to do with that sort of fascination ...