Shakeup at the top of the latest Big Ten power rankings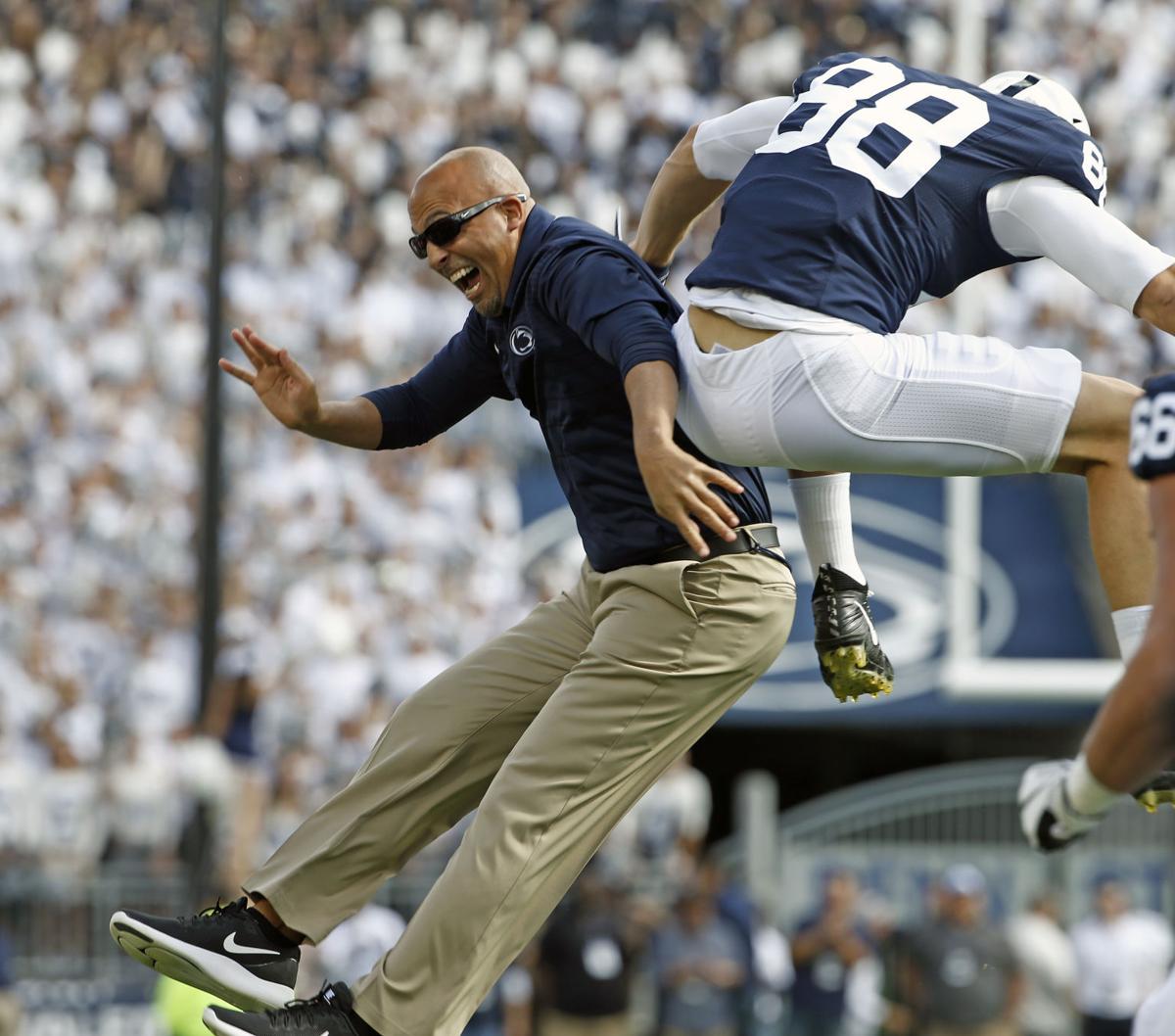 Last week: W, 33-14 vs. Pitt. Previous: 2.
The No. 4 Nittany Lions ascend the Big Ten rankings in the first major shakeup of the season. James Franklin's team did what it needed to against an in-state opponent. PSU closes out its nonconference slate at home against Georgia State before traveling to Iowa to open league play.
Last week: W, 36-14 vs. Cincinnati. Previous: 4.
The No. 7 Wolverines scored a pair of defensive touchdowns against the Bearcats, giving them three on the season. Jim Harbaugh's young, talented defense is off to a great start. If UM's offense finds its stride, look out.
Last week: W, 31-14 vs. Florida Atlantic. Previous: 3.
The No. 10 Badgers hold steady at this spot despite movement all around. The Ohio State would likely be favored on a neutral site, but UW is better positioned after two weeks. True freshman running back Jonathan Taylor has 310 yards, the No. 7 mark in the nation and tops in the Big Ten.
Last week: L, 31-16 vs. No. 5 Oklahoma. Previous: 1.
The No. 8 Buckeyes tumble after a home loss against Oklahoma. No doubt, the Sooners are a title contender. The concern for OSU is the lack of scoring punch. The Buckeyes mustered just one touchdown and quarterback J.T. Barrett finished 19-for-35 for 183 yards and an interception. They still will have plenty to say in the Big Ten race. 
Last week: W, 44-41 (OT) at Iowa State. Previous: 5.
In Week 1, the Hawkeyes' defense dominated and its offense was rather pedestrian. In Week 2, the script flipped. Quarterback Nathan Stanley threw for 333 yards and five scores without an interception, but the defense allowed 467 yards. Iowa trailed by 10 with 6:30 remaining, but found a way.
Last week: W, 63-17 vs. Towson. Previous: 8.
The Terps followed up their Week 1 win at No. 23 Texas with a dominating showing against an FCS opponent. Running back Ty Johnson had 124 yards on just five carries, while Kasim Hill was effective in his first start at quarterback after Tyrrell Pigrome tore his ACL against the Longhorns. D.J. Moore has 230 receiving yards and three scores already. The Terps are perhaps the early surprise of the league.
Last week: W, 28-14 vs. Western Michigan. Previous: 9.
Four sacks and eight tackles for loss against the talented Broncos constituted a good sign for a defense that hasn't produced many big plays recently. The Spartans are fourth in the conference in total offense and second in total defense after two weeks.
Last week: L, 42-35 at Oregon. Previous: 6.
The Huskers have showed flashes against both Arkansas State and Oregon, but haven't sustained success on either side of the ball for long periods. Quality of opponent varies wildly in nonconference play, and the Huskers have played two potent offenses, but they're last in the Big Ten in scoring defense (39 points per game allowed) and total defense (531.5 yards).
Last week: W, 34-17 at Virginia. Previous: 10.
The Hoosiers bounced back from a tough second half against Ohio State to beat the Cavaliers handily. Coach Tom Allen used freshman quarterback Peyton Ramsey more than Richard Lagow against Virginia and said he plans to continue rotating the pair. IU's Week 3 game against Florida International has already been canceled due to Hurricane Irma, and the Hoosiers are looking for a home game to play Oct. 7.
Last week: W, 44-21 vs. Ohio. Previous: 12.
The Boilermakers played Louisville tough in Week 1 and then dominated Ohio, which some think will win the MAC. David Blough needed just 13 attempts to rack up 235 yards and three scores and Purdue rushed for 263 (6 per carry). Blough leads the league in completion percentage (74.4) and pass efficiency through two weeks.
Last week: L, 41-17 at Duke. Previous: 7.
Not only did the Wildcats lose at Duke, they got dominated. Blue Devils quarterback David Jones threw for 305 yards and rushed for 108, while Northwestern's standout running back, Justin Jackson, mustered a career-low 18 yards on seven tries. A troubling performance for a team some thought could challenge for the West title. They could rise in these rankings fast, but they'll have to prove this was a fluke.
Last week: W, 48-14 at Oregon State. Previous: 11.
The Golden Gophers broke out offensively against a woeful Oregon State team. Minnesota threw it eight times and rushed 58 times. P.J. Fleck's team held OSU to 225 total yards and forced three turnovers. Minnesota wraps up nonconference play by hosting Middle Tennessee State.
Last week: W, 20-7 vs. Western Kentucky. Previous: T13.
The Illini got a much-needed win over the Hilltoppers despite not scoring an offensive touchdown until midway through the third quarter. Illinois has a tougher road from here, visiting No. 22 South Florida before opening up Big Ten play with Nebraska and Iowa.
Last week: L, 16-13 vs. Eastern Michigan. Previous: T13.
The Scarlet Knights followed up a respectable Week 1 performance against Washington with … a home loss to a MAC team in which the hosts mustered 326 yards of offense and surrendered 374.