Report card: Huskers 27, Scarlet Knights 17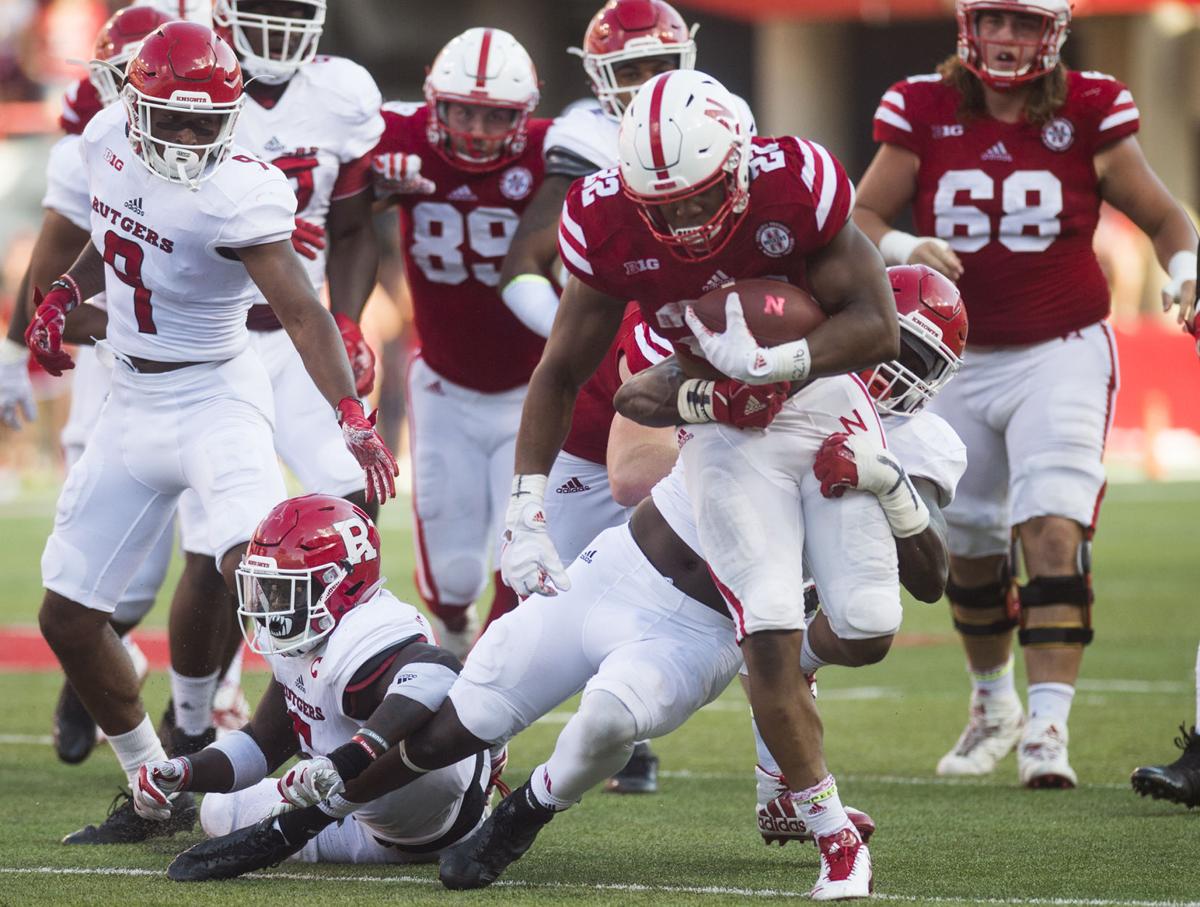 Nebraska got it going early, as Mikale Wilbon had rushes of 9, 11 and 14 yards on the opening touchdown drive. Note that true freshman Jaylin Bradley entered the game on the first drive, ahead of junior Devine Ozigbo. Ozigbo, though, entered the fray in the second quarter. He picked up confidence as the game progressed. All in all, the committee looked strong — with Ozigbo (24 rushes for 101 yards) leading the way after having only two carries in the first three games.
Tanner Lee's first-half interception was an awful throw — off his back foot, 30 yards downfield into double coverage, not to mention a strong southerly wind. Rutgers turned the turnover into a field goal. His second pick was underthrown into zone coverage and returned 33 yards for a touchdown. Lee, though, was 6-for-8 for 51 yards on the 97-yard TD drive that consumed 8:10 of the third quarter. Keep in mind, Lee was missing his favorite target, the injured Stanley Morgan Jr.
The Blackshirts came up with big stops on third-and-1 and fourth-and-1 late in the first half. Nose tackle Mick Stoltenberg was in on both plays. Safeties Kieron Williams and Antonio Reed also got in the act, Williams on third down and Reed on fourth. Running back Gus Edwards managed just 3.9 per rush.
Rutgers broke from the gate with a long drive during which Kyle Bolin had completions of 16, 11, 14 and 19 yards. Nebraska couldn't get its pass rush going in the first quarter, but started getting more and more heat as the game progressed. Bolin cooled off, and the Huskers came up with two interceptions.
De'Mornay Pierson-El's first two punt returns were adventures — his back was turned as he fielded both balls — and both went for negative yardage. But he soon became the Pierson-El of old, returning a second-quarter punt 63 yards to set up a touchdown. Earlier in the first half, NU chose not to rush on Rutgers' 33-yard field goal on fourth-and-6. That's playing it awfully safe. Caleb Lightbourn wanted to pin Rutgers deep on his first punt, but hit a 28-yard wobbler. He averaged 38.8 yards on five punts.
NU starting safety Aaron Williams was disqualified for targeting on Rutgers' opening drive. There was nothing malicious about the hit, but his helmet did strike Hunter Hayek's helmet. Husker center Michael Decker was called for a rare "snap infraction" early in the third quarter. Late in the third, Antonio Reed's interception return for a TD was nullified (the TD part) by Eric Lee's block in the back. The Huskers ended up with a field goal.
You won't hear complaining about Danny Langsdorf this week. He called run plays on first down 10 of 11 times in the first half and continued in that vein in the second half. On the 17-play, 97-yard TD drive, Nebraska ran the ball 11 times. On the 12-play, 50-yard fourth-quarter drive that led to a field goal, NU ran nine times. That was the story here.
Considering the week's tumult, no wonder Mike Riley was smiling afterward. Kudos to the offensive line, which responded to ample criticism.