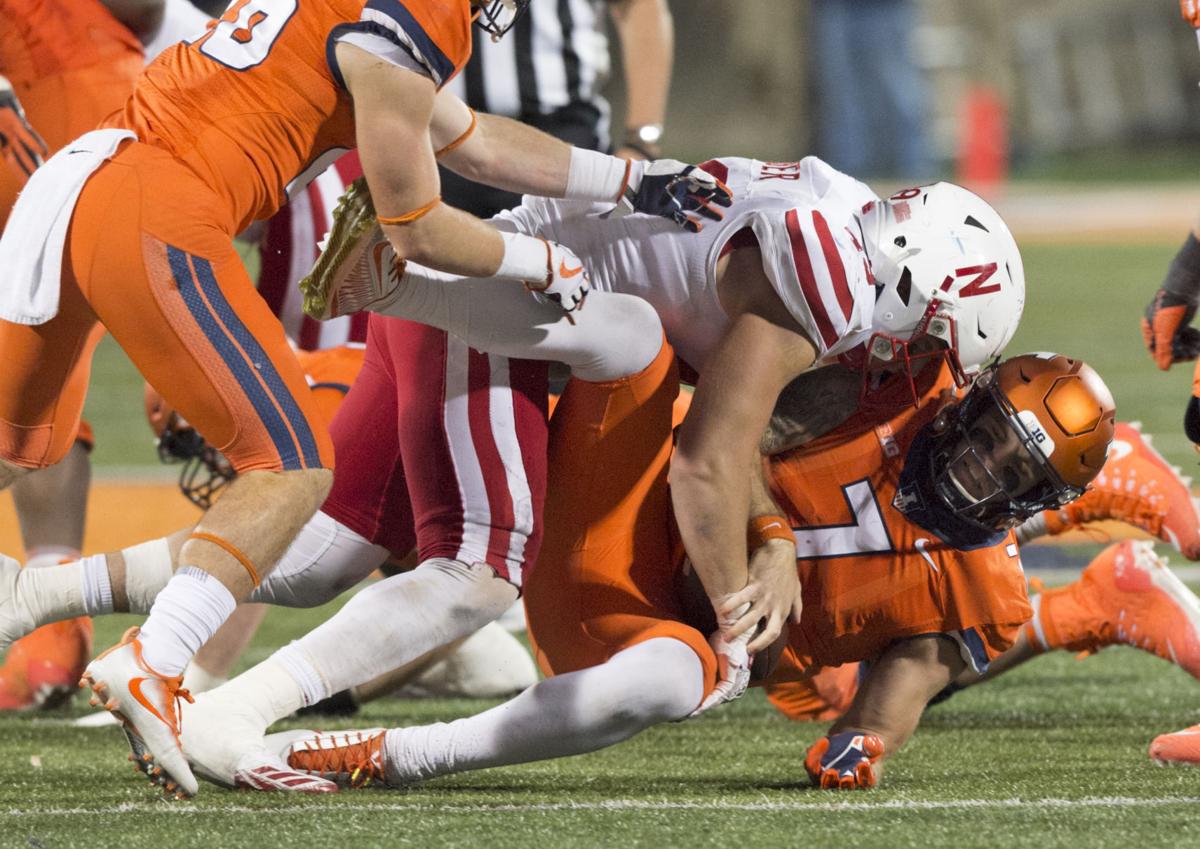 Nebraska's top two running backs — Mikale Wilbon and Devine Ozigbo — found openings and ran hard, although Ozigbo's third-quarter fumble zapped momentum. Even so, Mike Riley is correct when he says both backs have improved since last season. Also, credit true freshman receiver Tyjon Lindsey for his seal block on Wilbon's 15-yard run in the second quarter that set up a TD. Wilbon made a nice move to pick up 2 yards on fourth-and-1 to begin the fourth quarter, and Ozigbo closed the game strong.
Tanner Lee came out firing on the first series, and that set the tone. He capped NU's opening possession with a 45-yard TD pass to De'Mornay Pierson-El on which Lee showed excellent patience waiting for the fleet receiver to break free over the middle. Lee made it look easy much of the night, as his receivers often ran wide-open. Troublesome were Stanley Morgan's three drops, although his return to action was key.
Illini QB Chayce Crouch was a headache for the Blackshirts early on, gaining yards on draws and read options. Nebraska's tackling at times was substandard. On the other hand, inside linebacker Chris Weber threw Kendrick Foster for a 5-yard loss on a big third down in the second quarter. Weber (nine stops) was excellent. Illinois finished with just 93 rushing yards on 37 attempts.
Ben Stille and Carlos Davis came up with critical sacks in the third quarter, and the Huskers wound up with five sacks. On the down side, cornerback Eric Lee drew a pass-interference flag on a first-quarter deep ball intended for Mike Dudek, handing Illinois a first down. Lee got flagged for the same penalty on another deep ball in the second quarter while defending Malik Turner.
Foster bobbled two first-half kickoffs, but Nebraska was unable to recover even though its coverage was strong. Caleb Lightbourn's first punt — which didn't occur until early in the second half — traveled only 32 yards, setting Illinois up with good field position. Pierson-El muffed a fourth-quarter punt. But Drew Brown was strong on kickoffs, as usual.
Nebraska benefited from a targeting penalty on Illinois freshman defensive back Bennett Williams, giving the Huskers a first down on their first scoring drive. Nebraska managed to overcome Jerald Foster's fourth-quarter holding penalty. The Huskers finished with five penalties for 70 yards.
Danny Langsdorf settled into quite a rhythm in the first half, adeptly mixing runs and passes. Granted, it helps that Illinois' defense ranks last in the Big Ten. Even so, credit Langsdorf and Lee for locking in hard on the Illini's weaknesses and making them pay. Also, we liked that double-reverse in the second quarter, which perhaps was designed to loosen up Illinois' middle.
You have to take into account that Illinois is the worst team in the Big Ten. That said, Nebraska did what it was supposed to do to that sort of team in a road environment.