Report card: Ducks 42, Huskers 35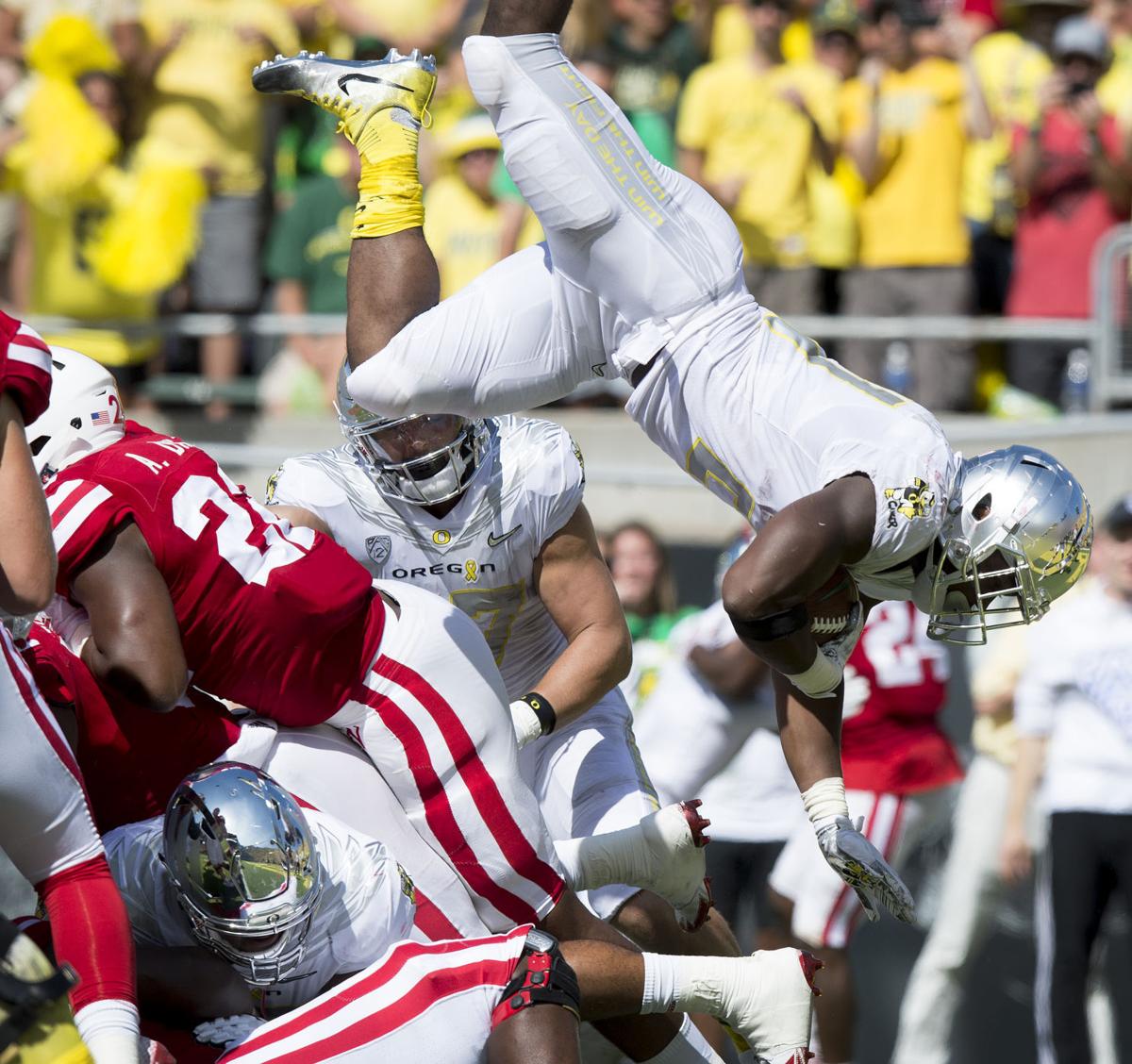 Tre Bryant picked up steam in the second quarter, peeling off runs of 25 and 10 yards during a four-play, 75-yard drive that pulled Nebraska to 21-14. He hit holes hard and showed good vision. He was a bright spot — until he went down with a knee injury on the first play of the fourth quarter. He finished with 20 carries for 107 yards and a TD.
Lee misfired on too many throws you expect him to make, and had four interceptions. His interception on the first series wasn't a terribly thrown ball. Credit to the defense on that one. Nebraska got its first TD on a leaping grab by De'Mornay Pierson-El, which capped a 10-play, 95-yard march. But Lee too often threw under duress. And his second interception, late in the first half, was thrown right to a freshman corner. Credit Lee for being resilient. But there's plenty of room for improvement.
Royce Freeman popped free for a gain of 29 on his first carry. Oregon predictably leaned hard on him in the second half, but Nebraska held up well. He ended up with 153 yards on 29 attempts.
Oregon's first two touchdowns came off completions on third-and-long. That put the Huskers in a serious hole. When speedster Charles Nelson shook loose for a 42-yard reception on third-and-3, heavy frustration had to have set in for Bob Diaco's crew. Justin Herbert often had far too much time to survey the field, and his receivers often had wide lanes. Oregon had 313 passing yards at halftime, but threw only eight times in the second half.
Caleb Lightbourn's early shank was forgiven when his third-quarter punt pinned Oregon at its 5-yard line. That proved beneficial when the Ducks' ensuing drive stalled. NU probably enjoyed a slight advantage overall in this department, thanks in part to Aidan Schneider's missed field goal in the final quarter.
Mike Riley had to be pulling out what's left of his hair after Nebraska's second-quarter illegal formation — Pierson-El lined up behind the line of scrimmage — negated Lee's sneak for a first down. Oregon, of course, capitalized with a quick touchdown drive to lead 35-14. That was a debilitating turn of events for NU. Another illegal procedure stymied NU's momentum as it mounted its second-half comeback.
We didn't necessarily like the call for a deep fade on third-and-7 on Nebraska's second possession. It's a low-percentage pass in a spot where the Huskers needed to stave off the Ducks' early momentum. However, we did like the call that led to Pierson-El's leaping touchdown grab to begin the scoring for Nebraska. It showed a high degree of confidence in Lee and the passing game in general. Bottom line, offensive play-calling wasn't an issue.
First off, a tip of the cap to Nebraska's fans who showed up and made noise throughout the game. Those fans endured the Husker defense's awful first half and a surprising amount of inefficiency on offense. The teams' talent was comparable. Oregon came ready to play.