Ameer Abdullah chuckles.
Yes, 37-year-old Muhammad Abdullah, Ameer's oldest brother among his eight siblings, can more than keep up in workouts with Nebraska's legitimate Heisman Trophy candidate.
They compete. It often gets intense.
"Last time I went home (to Alabama), he got the best of me because the time before then, I got the best of him," said the Husker senior running back. "We go back and forth."
Muhammad Abdullah is a personal-injury attorney with offices in four Alabama cities. He's not the type that an average 30-something would want to challenge to a bench-press battle or squat-lift competition.
"He looks like he's 25, but he's 37," Ameer Abdullah told reporters proudly after a recent practice.
One of the writers wondered aloud, "You're getting beat by a 37-year-old?"
"Next question," Abdullah said, and I think he was joking but I detected a small bite.
He's been asked a million questions by local reporters during the last few years, but Abdullah has a few questions of his own entering the 2014 season:
1. Can he be a more physical runner?
2. Can he fumble less?
3. Has he improved his endurance?
It isn't as if the 5-foot-9, 195-pound Abdullah doesn't already run forcefully between the tackles. He's a hard-charger. And it isn't as if he's ever maintained anything but elite-level condition at Nebraska. He's an impressive specimen.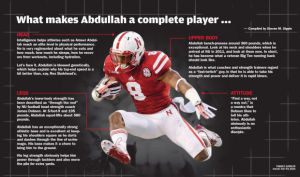 But he carried a heavy load last season — 281 carries and 26 receptions — and the load could increase this season because of his desire to contribute on special teams.
Is he ready?
He appears so.
Watching him practice — his speed, power, balance, play-to-play bounce, everything — it almost seems a silly question.
If he were unprepared physically, if Nebraska coaches were at all questioning Abdullah's capability of handling an adult-sized load, they wouldn't be allowing him to not only return kicks, but also try his hand at blocking punts.
Yes, Abdullah said, he blocked a couple in preseason drills.
What would he say to those who question using the team's most important offensive player on the punt-block unit?
"That means your desire to win isn't good enough," he said flatly. "We have a fiery passion to win this year, and that's how you do that, to put the best players out there."
He also understands injuries happen. His friend and workout partner — redshirt freshman running Adam Taylor — suffered a broken ankle Aug. 9. Abdullah's new workout partner is junior running back Imani Cross, arguably the team's foremost physical specimen.
No way Abdullah could stand for training with anyone who isn't fully committed to the regimen.
Abdullah's commitment ranges beyond the field and weight room. Lately, he's picked the brain of former Husker great Ahman Green, the program's No. 2 all-time rusher, "just to get a better perspective on the running back position."
Abdullah understands at least one reason for Green's success. His down-field vision was excellent.
"He took a lot of runs the distance," Abdullah said. "That's what I really want to do this year. Take a lot more runs 60, 70, 80 yards. What he did was get to the second level and make the last guy miss.
"I ask him what was his peripheral vision on this certain play? What made him cut back? What was his thought process? ... He's really insightful. He gives me a lot of knowledge I need."
As good as Abdullah already is — he's eighth on Nebraska's rushing list with 2,977 yards — he still works as hard as anybody, if not harder. Don't think for a second that his teammates and coaches don't notice.
Don't think they don't notice those occasions when he's stopped at the line of scrimmage in practice and still sprints 30 or 40 yards down the field, for conditioning purposes.
His maturity is striking. When he speaks to reporters after practice, he almost takes on the tone of a coach. At one point in fall camp, he lamented the offense's "repeat errors."
He said he's looking for the offense to make a big jump.
His teammates listen to him.
Nebraska senior wide receiver Kenny Bell has a theory about leadership on a team: Good friends, you take to the movies. Great teammates, you take to battle.
"What's great about Ameer is he's both," Bell said. "When it's time to go to work, don't step on his shoes, because he's ready to go to work."