Nebraska head football coach Mike Riley shares his thoughts on the passing scheme for Nebraska at Big Ten Media Days. Sponsored by Fremont Contract Carriers.
Although he coached in the NBA Development League last season, Tim Miles' new assistant, Phil Beckner, considers himself a "college guy."
Huskers junior safety Nate Gerry believes Nebraska has some unproven players who are about to grab people's notice.
×
Media Days: Nate Gerry on defensive scheme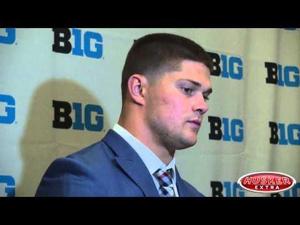 Media Days: Riley talks about Ryker Fyfe, roster

Nebraska head football coach Mike Riley touches on personnel situations at various positions…
Media Days: Riley on his expectations for Armstrong

Nebraska head football coach Mike Riley talks about what he is looking for from quarterback …